Qualifying events for the Fortnite World Cup continue today across the world as players try to lock in their place for the finals in New York City this July.
The top players from the Open Qualifiers will enter the battlefield once again, but only 19 players from around the world can guarantee their spot in the grand finals. All qualifiers start at 4pm local time.
Here are the final and semifinal standings for this weekend's event. Our standings will feature the top 10 players. You can find the rest of the top 100 on Epic's website or in-game.
Final standings (April 28)
These tables will be updated after the competition concludes in each region.
Oceania
| | | |
| --- | --- | --- |
| Placement and Points | Player | Status |
| First: 80 | Cat taking walls | Qualified for World Cup Solo Finals |
| Second: 77 | Jynx. | Not qualified |
| Third: 76 | Link | Not qualified |
| Fourth: 75 | Lucid_FN | Not qualified |
| Fifth: 75 | JAM zoreh | Not qualified |
| Sixth: 73 | Jaylyn | Not qualified |
| Seventh: 72 | Predepression | Not qualified |
| Eighth: 70 | slaya | Not qualified |
| Ninth: 70 | Gheez | Not qualified |
| 10th: 69 | Flexah_ | Not qualified |
Asia
| | | |
| --- | --- | --- |
| Placement and Points | Player | Status |
| First: 102 | TOP_Banny | Qualified for World Cup Solo Finals |
| Second: 85 | TAKAMURAMM | Qualified for World Cup Solo Finals |
| Third: 81 | CR.RizArt_o | Not qualified |
| Fourth: 75 | ちーむ探してるとりです | Not qualified |
| Fifth: 72 | SV_peach.CN | Not qualified |
| Sixth: 72 | BobKun xd | Not qualified |
| Seventh: 70 | Meta Peterpan | Not qualified |
| Eighth: 70 | KGA SexyBoy | Not qualified |
| Ninth: 69 | Meta Hood.j | Not qualified |
| 10th: 66 | Shin gwan | Not qualified |
Europe
| | | |
| --- | --- | --- |
| Placement and Points | Player | Status |
| First: 69 | luKi tjk | Qualified for World Cup Solo Finals |
| Second: 68 | COOLER LeftEye | Qualified for World Cup Solo Finals |
| Third: 67 | Fledermoys | Qualified for World Cup Solo Finals |
| Fourth: 63 | Tchub_ | Qualified for World Cup Solo Finals |
| Fifth: 62 | TTVCoreGamingg | Qualified for World Cup Solo Finals |
| Sixth: 62 | wakie. | Qualified for World Cup Solo Finals |
| Seventh: 60 | FACT lolb0om | Qualified for World Cup Solo Finals |
| Eighth: 59 | Secret_Domentos | Qualified for World Cup Solo Finals |
| Ninth: 58 | Atlantis Letshe | Not qualified |
| 10th: 57 | S2V DiegoGB | Not qualified |
North America East
| | | |
| --- | --- | --- |
| Placement and Points | Player | Status |
| First: 69 | Tfue | Qualified for World Cup Solo Finals |
| Second: 69 | Rise XXiF | Qualified for World Cup Solo Finals |
| Third: 67 | TTV UnknownxArmy | Qualified for World Cup Solo Finals |
| Fourth: 64 | FaZe Funk | Qualified for World Cup Solo Finals |
| Fifth: 64 | NittleFN | Qualified for World Cup Solo Finals |
| Sixth: 64 | CLG psalm | Qualified for World Cup Solo Finals |
| Seventh: 64 | Dubs fn | Not qualified |
| Eighth: 63 | MSF Clix | Not qualified |
| Ninth: 60 | Destroy | Not qualified |
| 10th: 60 | Ghost Snood | Not qualified |
North America West
| | | |
| --- | --- | --- |
| Placement and Points | Player | Status |
| First: 81 | KNG EpikWhale | Qualified for World Cup Solo Finals |
| Second: 73 | stepbro karhu | Qualified for World Cup Solo Finals |
| Third: 71 | Liquid Cented | Not qualified |
| Fourth: 70 | Ghost Kayuun | Not qualified |
| Fifth: 64 | Bolt Jonny | Not qualified |
| Sixth: 63 | Bloom Falconer | Not qualified |
| Seventh: 61 | flx | Not qualified |
| Eighth: 60 | wefccwefw | Not qualified |
| Ninth: 58 | fright. | Not qualified |
| 10th: 58 | AK Symetrical | Not qualified |
Brazil
| | | |
| --- | --- | --- |
| Placement and Points | Player | Status |
| First: 79 | ImLasers | Qualified for World Cup Solo Finals |
| Second: 76 | kurtz | Qualified for World Cup Solo Finals |
| Third: 76 | 9z Lagarto | Not qualified |
| Fourth: 74 | kingssj | Not qualified |
| Fifth: 73 | RED technoviking | Not qualified |
| Sixth: 67 | PLDS Propi | Not qualified |
| Seventh: 67 | 9z zEkO | Not qualified |
| Eighth: 65 | Taizunboy | Not qualified |
| Ninth: 64 | INTZ Faah | Not qualified |
| 10th: 63 | FebasSZ | Not qualified |
Semifinal standings (April 27)
Europe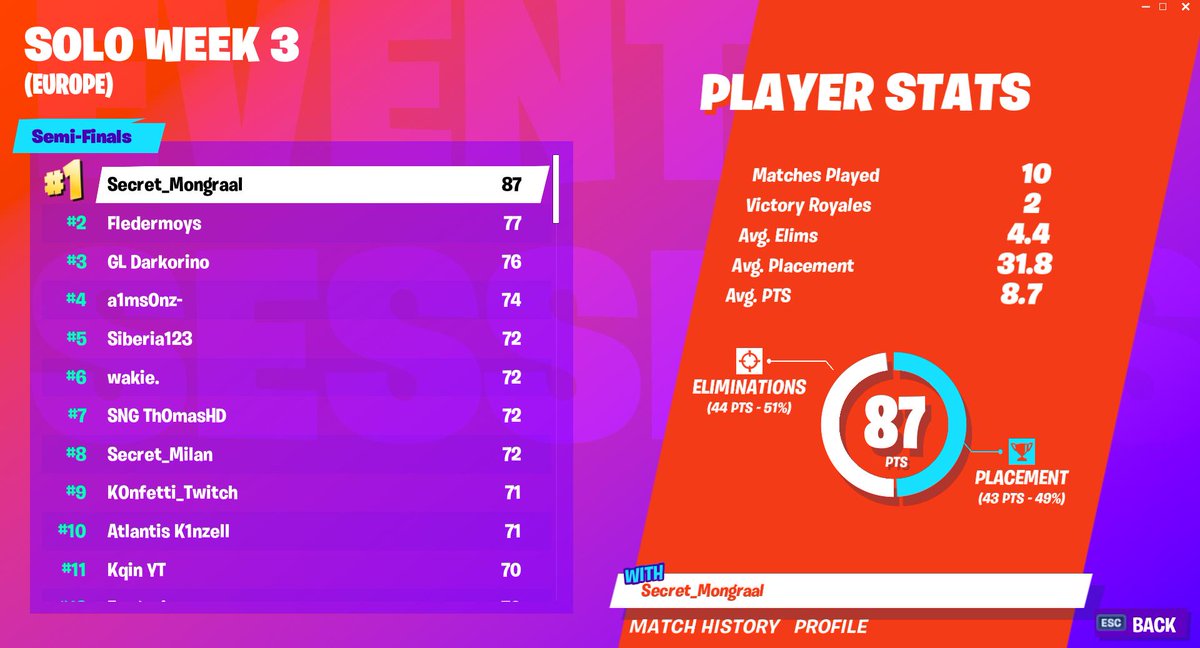 North America East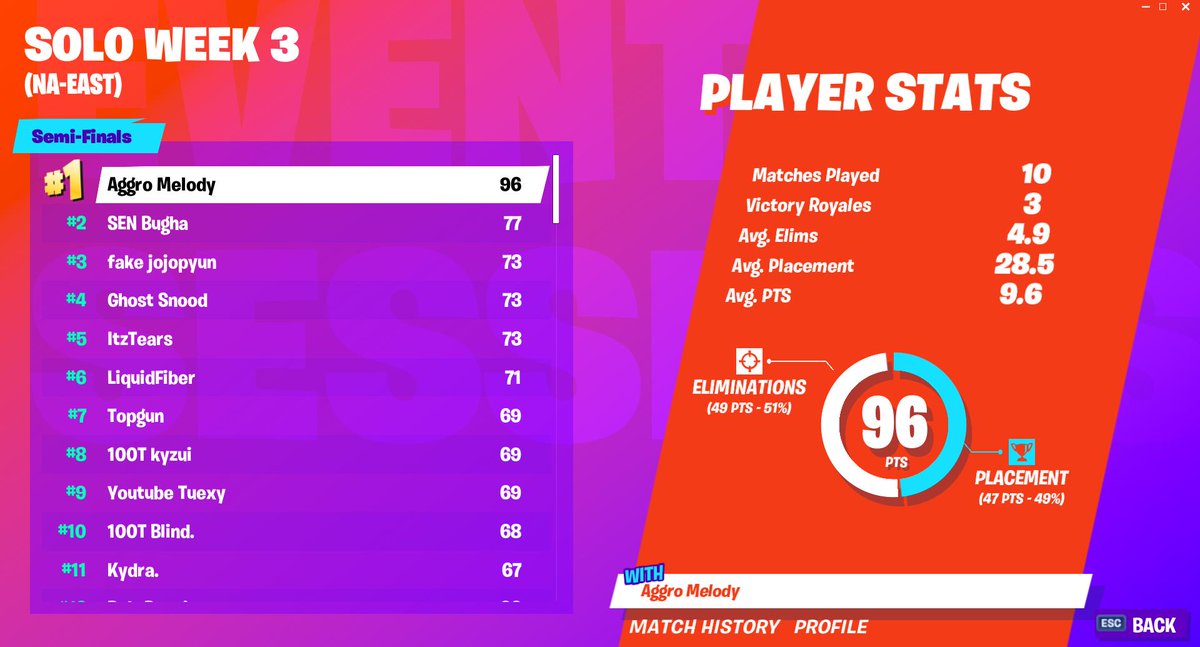 North America West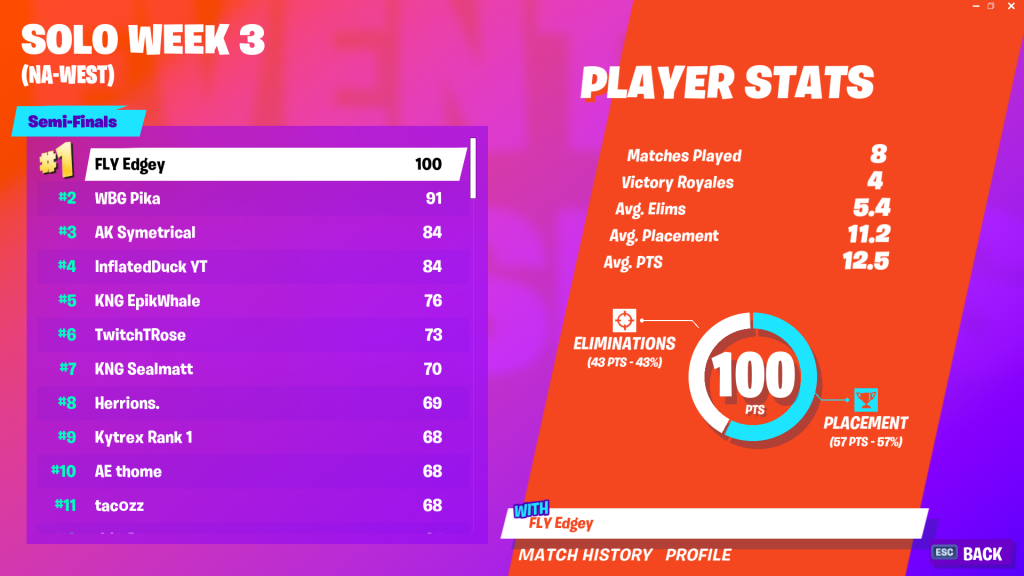 Brazil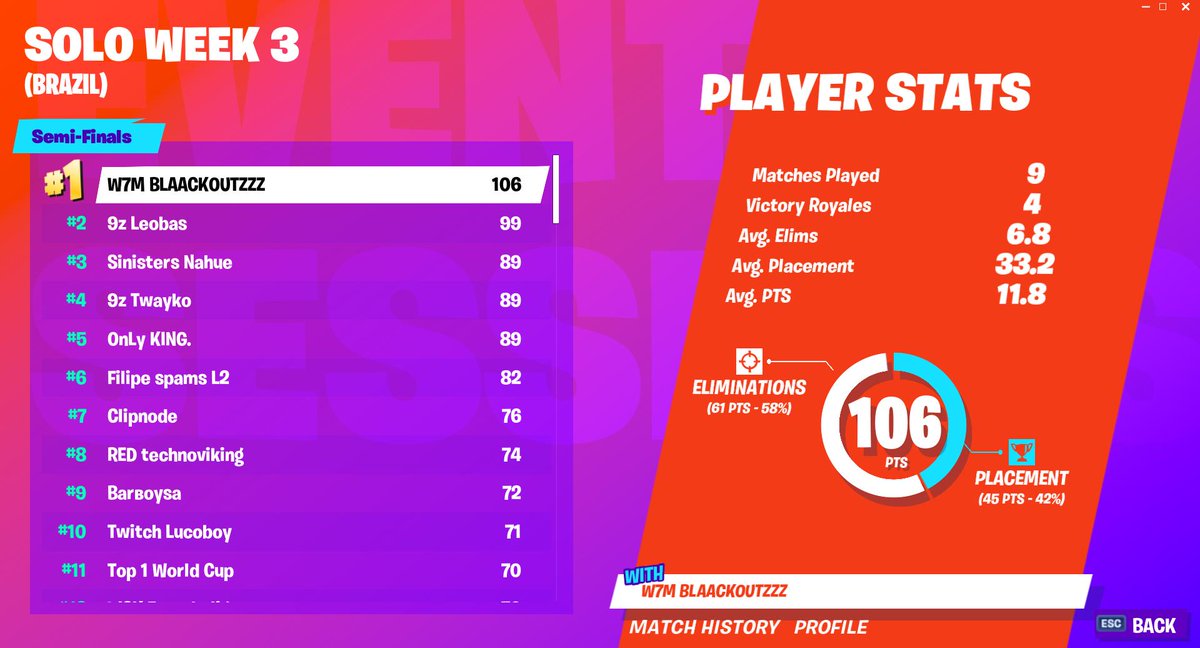 Oceania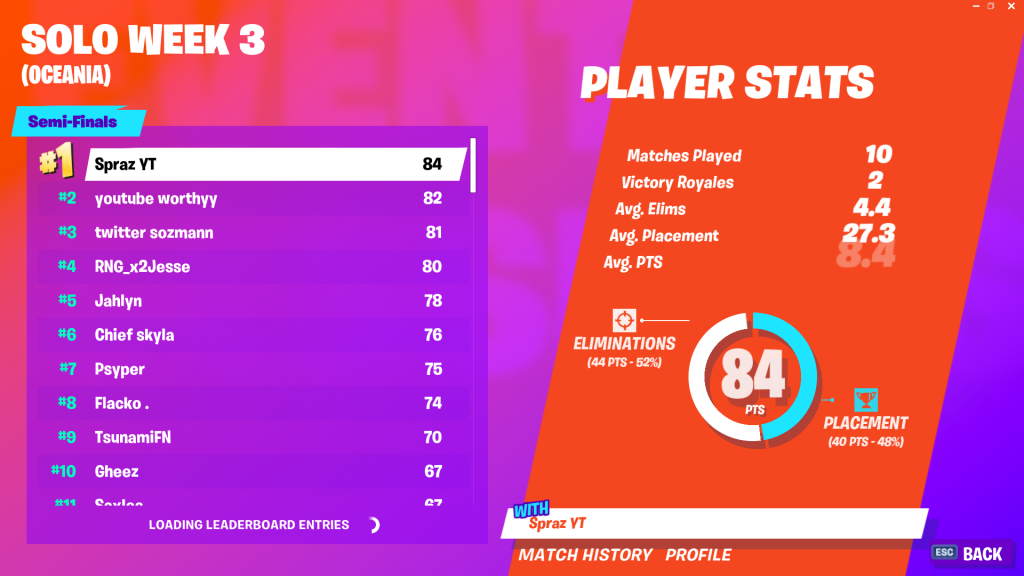 Asia