Fortnite developer Epic Games will launch the Epic Games Store, a "digital commerce ecosystem" that's focused on fair economics and a "direct relationship with players," the developer announced today. The Game Store will be available "soon," first with a curated slew of games for PC and Mac players. Other platforms, like Android, will be available "throughout 2019," Epic said.

The system is a lot like Valve's Steam, which sells third-party PC games. But Epic's platform will take less profit than Valve's—Epic said developers will receive 88 percent of revenue from their sales, with no tiers or thresholds. Epic will earn 12 percent. For developers using Unreal Engine, an Epic-developer program, Epic will cover five percent engine royalty sales on the store from the 12 percent it takes. For comparison, developers on Steam earn 70 percent to the 30 percent share that Valve takes. (Valve takes a smaller percentage down to 20 percent for highly-profitable games.)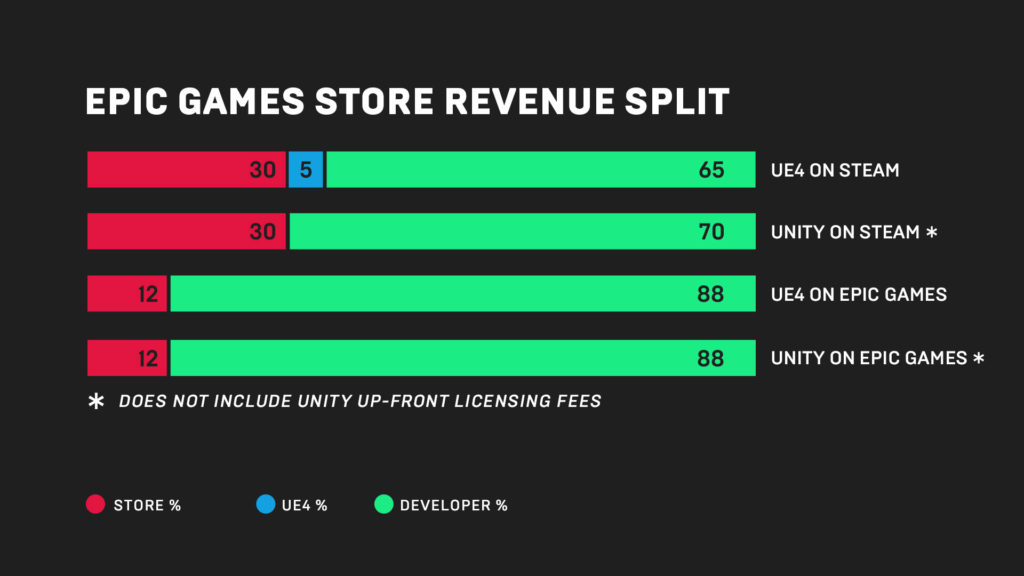 Related: Support-A-Creator is now permanent

Game developers will also have a "direct relationship" with players through a front-page newsfeed that shows game updates and news about releases. Developers have control over their game pages and newsfeed—no ads or cross-marketing will be posted from competing games, Epic said.

Epic will also pull its Fortnite's Support-A-Creator program into the Epic Games Store. Developers can participate in the program and collaborate with creators as a way to reach new players. Creators can drive players to a game, and the developer will then choose a percentage of revenue to share with that creator, tracked by "code or affiliate marketing link." Epic said it will cover the first five percent of creator-revenue sharing for the first 24 months to jumpstart the program.

"We've built this store and its economic model so that Epic's interests are aligned with your interests," Epic said in its announcement. "Because of the high volume of Fortnite transactions, we can process store payments, serve bandwidth, and support customers very efficiently. From Epic's 12 percent fee, we'll have a profitable business we'll grow and reinvest for years to come."

Epic hasn't announced what games the Epic Games Store will launch with, but noted that more information on releases will be revealed at The Game Awards on Dec. 6.