Turning out to be the crossword puzzle of the digital era, Wordle began taking the internet by storm in late 2021, starting around October and turning into the social (media) phenomenon that it is today, five months into 2022.
Your objective is to guess a five-letter word. For this, you have six tries, and following each guess, the tiles on your screen will start changing colors: the letters which are present in the word and in the right position will turn green; the letters which are in the word but are in the wrong position will turn yellow; the letters which are not in the word at all will turn gray.
Once you have completed the Wordle of the day, you can share your results on social media, letting everyone know how many tries it took for you to complete the Wordle without spoiling what the word is. Everyone who plays Wordle receives the same word every day, and the game can only be played once per day.
This certainly was a winning formula for Wordle creator Josh Wardle, but unlike most software developers, Josh was quite lenient with how fans played around and got inspired by his creation. Soon after the game blew up, Wordle clones began to pop up in every nook and cranny of the internet.
These clones, usually being named as a play on words of Wordle (like Quordle), change the rules and mechanics of the game in a way that lets players tackle a tougher challenge and diversified themes while keeping the essence of this simple word game intact.
For this list, we are going to skip the games that simply modify Wordle in a minor way, like giving the player infinite games in one day, and rather talk about the Wordle clones that innovate and bring something fresh for players to dig their paws into.
Below are the best word games similar to Wordle.
Quordle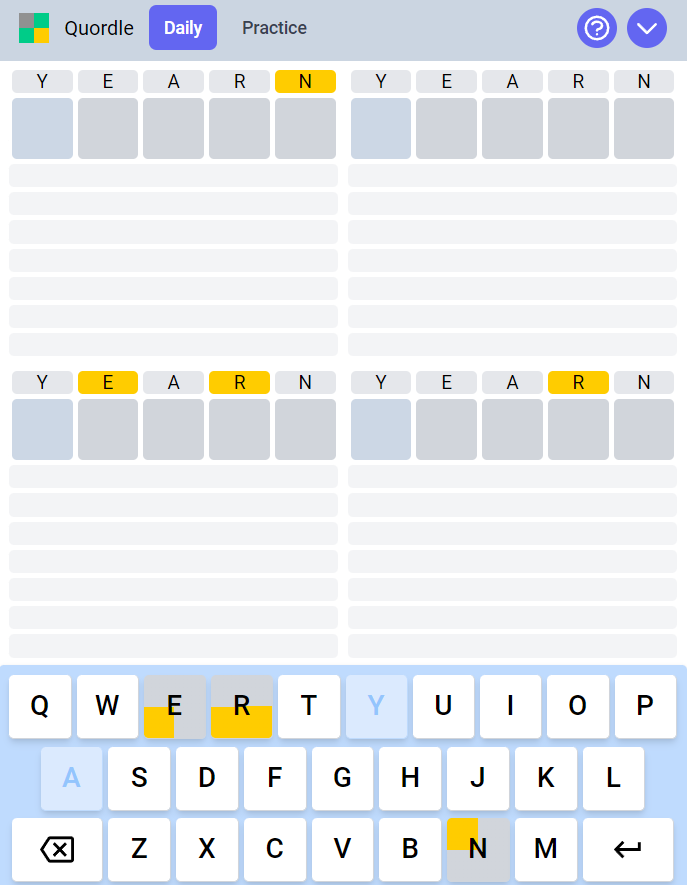 Absolutely love Wordle, but your super awesome skills have gotten the best of the game, making it too simple for you? Well, have you thought of making the game exactly four times harder?
Quordle is four Wordles at the same time (kind of). Wordle tasks you with guessing a mysterious five-letter word in six attempts, while Quordle expects you to complete the monumental task of guessing four five-letter words at the same time with nine attempts, only three more than the total attempts Wordle offered you.
Other than there being four words to guess at a single time, the other mechanics of the game remain the same. The tiles turning green denote that the letter is correct and in the right position, while yellow means that it is one of the correct letters, just in the wrong position, with gray denoting that the letter simply is not a correct one.
Whether you manage to triumphantly finish a game, or pitifully fail, you are able to share an image of your final color grid on social media. Quordle's designer, Freddie Meyer, said that he has no future plans of monetizing the game and that he gets all his joy from watching fans enjoy this "monstrous creation" of his.
Octordle was another contender for a spot on this list, but since it is so similar to Quordle, and the fact that the difficulty of the game is a little overboard for a majority of Wordle fans, it will remain an honorable mention.
Absurdle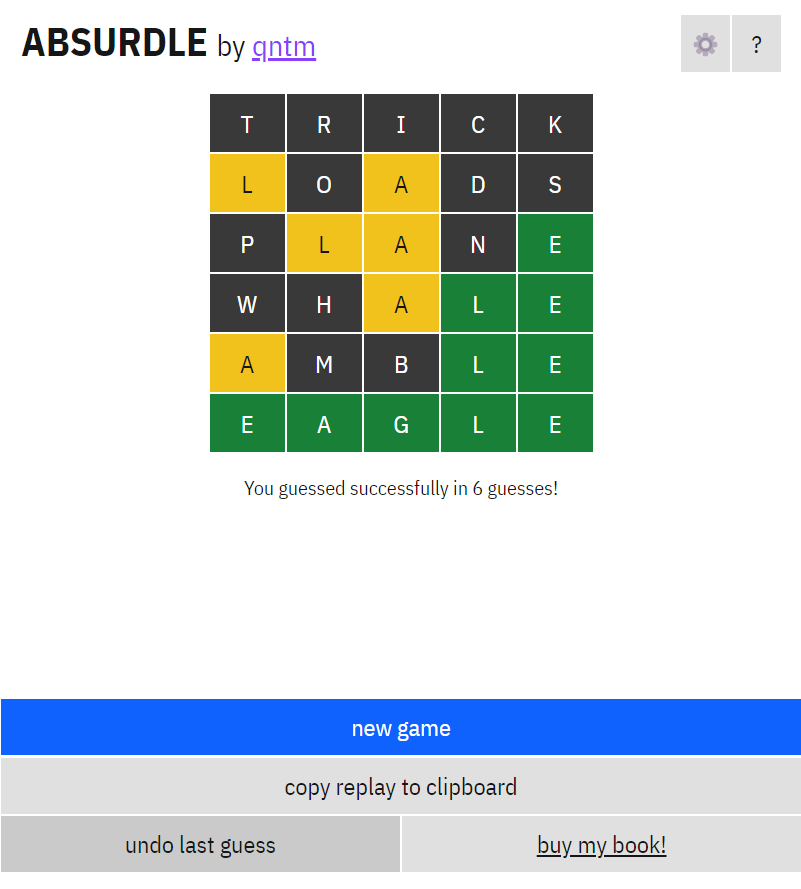 Popularly dubbed as Wordle's evil twin, Absurdle is every masochist's dream word game. The basic premise remains the same as Wordle: you still need to guess a five-letter word in every game. But unlike Wordle, Absurdle's answer is never constant, and continuously changes as you keep playing the game.
In Absurdle, the answer hasn't really been chosen by the AI in the beginning, as it behaves in a reactionary manner. Each time you make a guess, the AI will look at its word list and disregard any words that contain the letters you guessed, narrowing down the possible answers every time you guess.
For example, if you were to guess the word 'FEARED,' the AI will tell you that your answer is wrong, and proceed to delete all answers in its list that contain the letters in the word 'FEARED'. At around the third or fourth attempt, you may notice that you're starting to get a couple of yellow letters and a stray green one, which is expected. It is also implied that the tactics you have used to beat Wordle easily definitely won't apply here.
As you may have guessed, the process of 'guessing' the correct answer can and will take dozens of attempts, which is why the creators have given players an infinite number of tries for you to win any individual game.
Squabble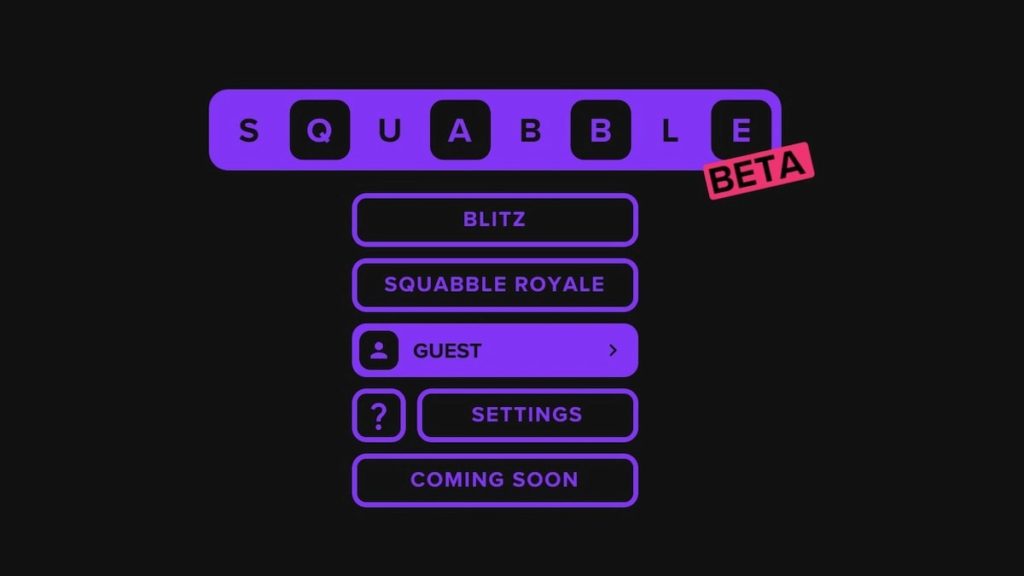 Wordle lets you take your time, deliberate, and play at your own pace, which can be relaxing. For some people, a little too relaxing. Ever felt like you needed a little more action and competitive spirit in your favorite online word game? Enter Squabble.
Squabble is a fast-paced version of Wordle, revitalizing the feel of the mundane word game by pitting you against real players from around the world, as well as the ticking clock. In every game, guessing a correct word damages the opponents you are playing against, and guessing a word wrong damages yourself. If that wasn't stressful enough, you have a timer that damages every player for each second they're in the game.
The game features two game modes: Blitz and Squabble Royale. Blitz has anywhere between two to five players competing to guess the Wordle, while Squabble Royale hosts up to 99 players guessing a single Wordle, with the player at last-placed eliminated periodically, until there is only one player remaining, who is crowned the winner.
Squabble lets players join existing games in its lobby, or alternatively, create a game yourself while being able to share the lobby code with anyone you like, letting you play with friends and family in an environment similar to Wordle, albeit with much higher stakes, a quicker pace, and dynamic gameplay.
Worldle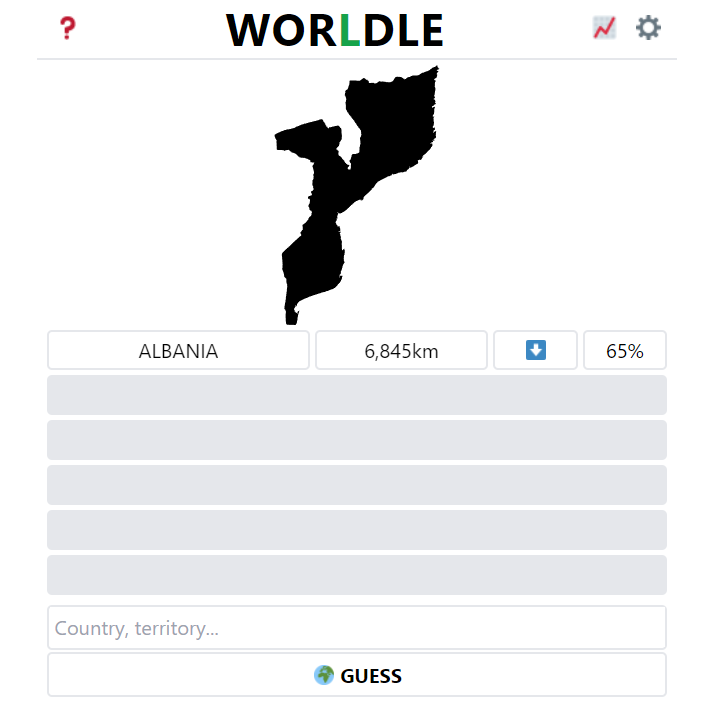 No, that wasn't a typo of Wordle. That's the entry on this list that is going to tickle every geography buff's fancy. Worldle aims to test its player's geographical knowledge by tasking you with identifying countries from all around the world.
At the beginning of every game, you are provided with the outline of a certain country. By examining this outline, you are supposed to guess the country that is being depicted in front of you, with six tries to do so, just like Wordle.
Unlike Wordle, however, you are not given any hints through correct letters but are instead provided with the geographical proximity of the country. Let's say that the Worldle of a certain game was Mozambique. If you guessed wrong and chose Albania, the game will provide you with the distance of how far the correct country is from your guess.
Further, it will also show you the direction that the correct country is in with relation to your guess. Finally, it will show you how accurate your guess was in percentage form. Unless the country is immediately recognizable to you solely through its outline, you will need to use these very clues to pinpoint the country that the game has selected for the current Worldle.
Redactle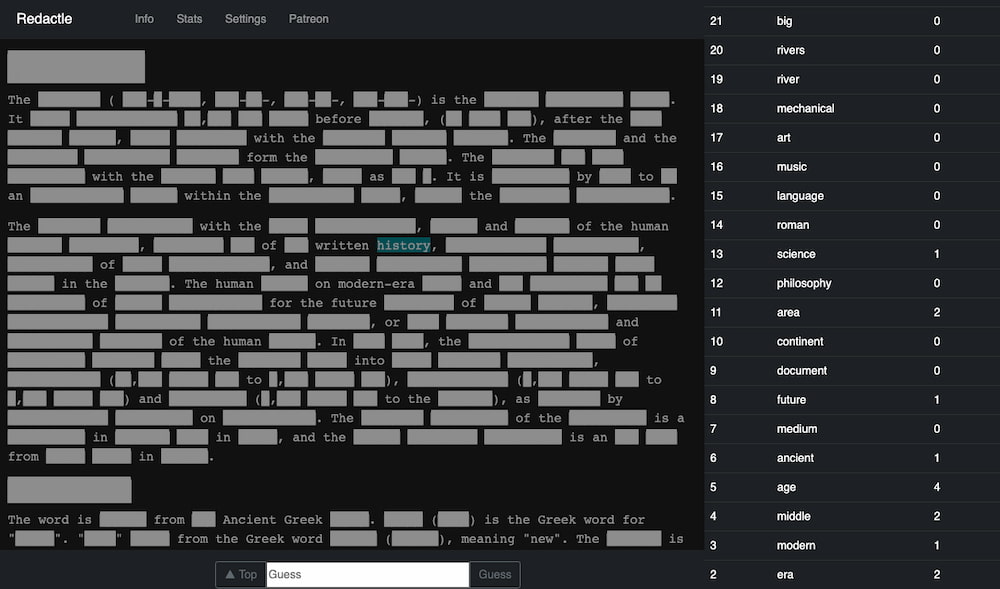 Have you read about every entry on this list and thought none of them were challenging enough for you? Well, then this Wordle clone is here to change your mind. Buckle up.
If you happen to be one of those obscure Wikipedia page enthusiasts, you might have an easier time with this one. Redactle has players reveal a redacted Wikipedia page one word at a time until you have finally revealed what the redacted Wikipedia page subject is.
The game will give players common words such as 'to,' 'from,' 'in,' and so on, upfront, to prevent the game from being almost entirely impossible. Once you guess a certain word, it will appear on the tally on screen, telling the player how many times the word appears in the article, or if it simply does not exist in the article entirely. The words are also revealed on the page itself, and with every correct guess, you should be closer to guessing what the subject matter of the page could be.
Once you have finally found the answer, a couple of neat statistics will pop up on your screen, such as your accuracy, guess count, as well as how you fared with other players who played the game that very day. Yes, just like Wordle, you only get one game to play per day.
Also similar to Wordle, the game lets you show off your results. If you don't mind sharing how badly you crashed and burned, or how you actually managed to get an impressive win that day, you can do just that; no yellow and green grids plastered over your socials from Redactle, however.