CS:GO battle royale dropped into the game today, and with it came a new cosmetic skin case.

The Danger Zone Collection is the latest set of weapon skins introduced to CS:GO, and it contains 17 new community-made designs. The case, which is meant to commemorate the release of the battle royale mode Danger Zone, is the second collection to be released this year, with the clutch case being the first.

Related: CS:GO becomes free-to-play as Valve introduces a battle royale mode, Danger Zone

Many of the skins in this case are already in the game, but with slightly different designs. Those include the Asiimov (AWP, M4A4, and P250), Neo-Noir (M4A4 and USP-S), Mecha Industries (M4A1-S and FAMAS), Flashback (M4A1-S), and Oxide Blaze (Desert Eagle).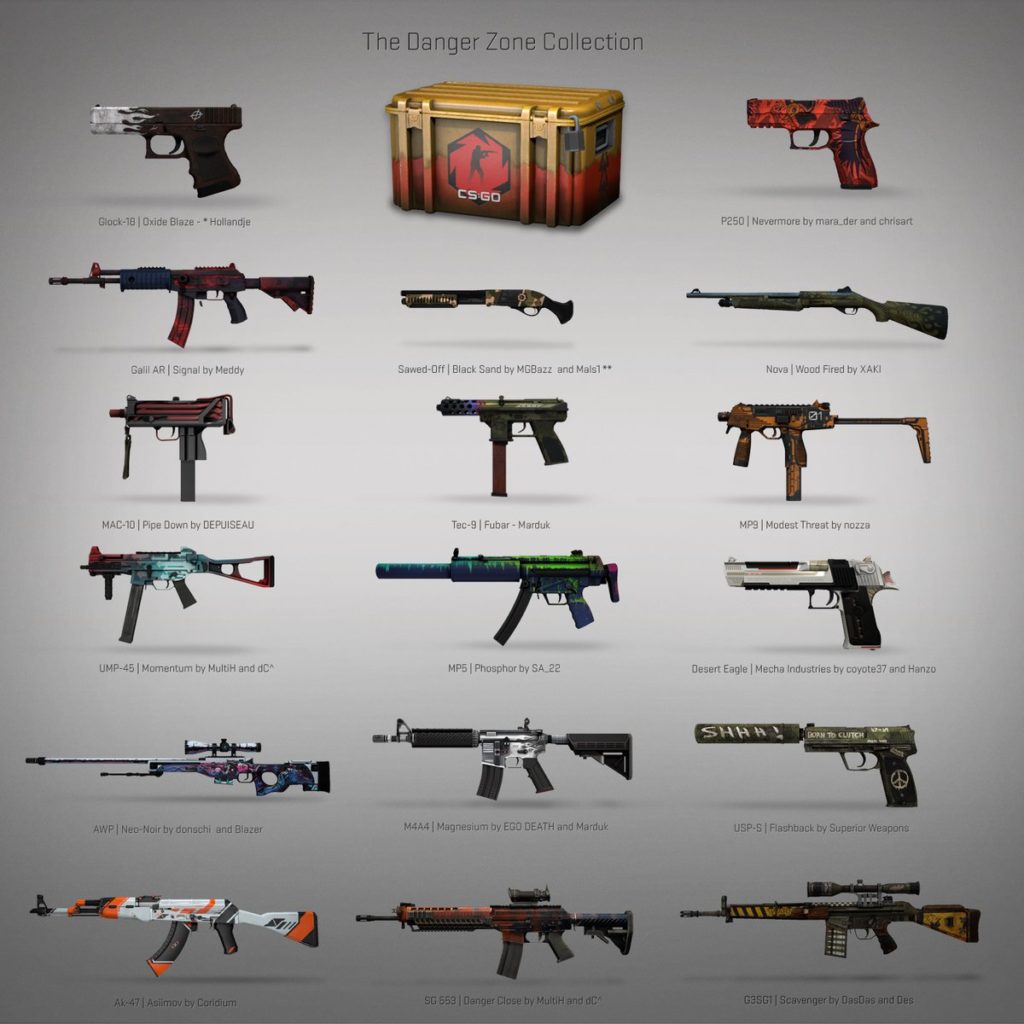 Here's a list of all of the skins, with all of their rarities and names.

Covert (Reds)
AK-47 | Asiimov
AWP | Neo-Noir
Classified (Pinks)
MP5-SD | Phosphor
Desert Eagle | Mecha Industries
UMP-45 | Momentum
Restricted (Purples)
USP-S | Flashback
Galil AR | Signal
P250 | Nevermore
G3SG1 | Scavenger
MAC-10 | Pipe Down
Mil-Spec (Blues)
M4A4 | Magnesium
Glock-18 | Oxide Blaze
Tec-9 | Fubar
MP9 | Modest Threat
Nova | Wood Fired
SG 553 | Danger Close
Sawed-Off | Black Sand
For Steam community market prices on all of the new skins, check out the Danger Zone Case section on CS:GO stash. If you're lucky enough to obtain a case after a match, you quickly can sell it on the Steam community market for a large profit because of the current high demand for the case.