Magic: The Gathering is releasing a new set style for the Modern format in 2019 called Modern Horizons.

The set will include 249 cards, releasing in Magic Online on June 13 and in card form on June 14. The set isn't legal in Standard play and won't be on MTG Arena.
The Modern Horizons set features reprints, including some that were previously illegal in the Modern format, along with brand-new cards like Serra the Benevolent and Cabal Therapist.

Serra the Benevolent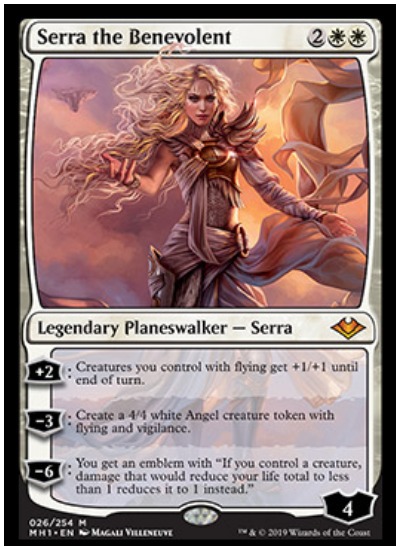 Costing only four mana (double white) to cast, Serra the Benevolent is the planeswalker version of Core Set 2019 Serra Angel. She's a mythic rare with a plus-two loyalty counter that gives all creatures you control with flying plus one/plus one until the end of the turn.

Since her positive loyalty counter is a plus-two and Serra the Benevolent starts at four loyalty counters, she can go ultimate after just one turn. "If you control a creature, damage that would reduce your life total to less than one reduce it to one instead," the card reads.

Serra the Benevolent also has a minu- three, producing a four/four flying angel token with vigilance. She has the potential to make B/W token decks a threat, and Serra's ultimate emblem shouldn't be overlooked. On the grand scale of cards in the Modern format, however, Serra the Benevolent is nice—but not amazing.

Artwork for the Modern Horizons Serra the Benevolent was done by Magali Villeneuve.

Cabal Therapist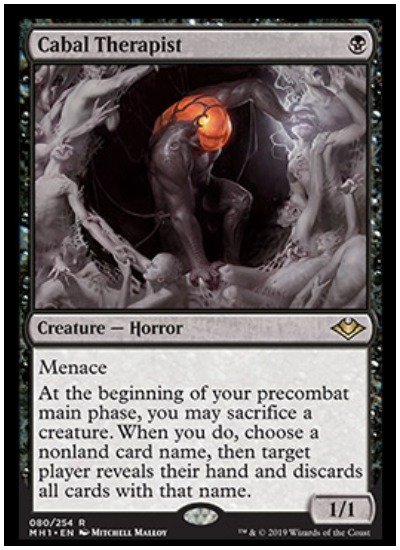 Cabal Therapist is ready to wreak havoc on your opponents. This single black mana creature is a one/one with menace, but also comes with a static ability.

"At the beginning of your pre-combat main phase, you may sacrifice a creature," the card reads. "When you do, choose a nonland card name, then target player reveals their hand and discards all cards with that name."

In any MTG format, decks are constructed around several main cards. Each player will create their own variations, but many will use the same cards as the foundation of the deck. Cabal Therapist exploits this by allowing a player to remove all cards from an opponent's hand by naming a specific nonland card.

Cabal Therapist falls slightly short of Cabal Therapy, but it's still a decent card, especially for the sideboard. Mitchell Malloy is the artist for the Modern Horizons Cabal Therapist.
The Magic: The Gathering Modern Horizons set is having a pre-release event on June 8 and 9. More spoilers and card reveals are expected toward the end of May.