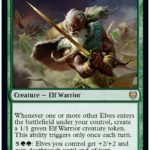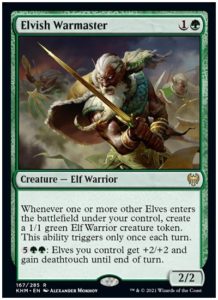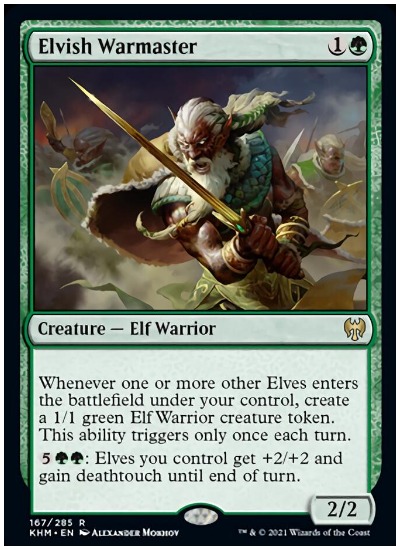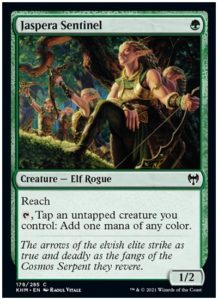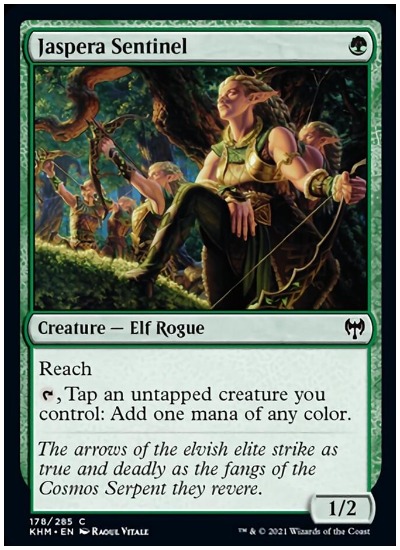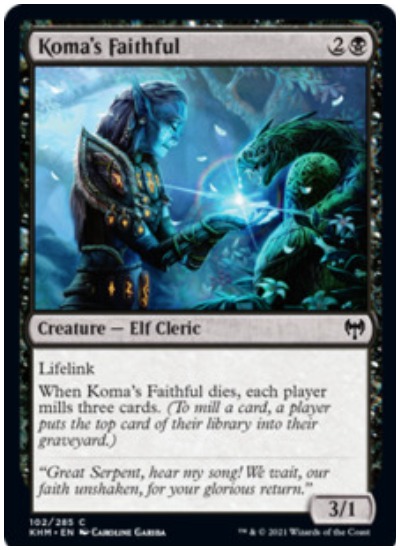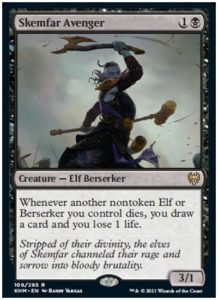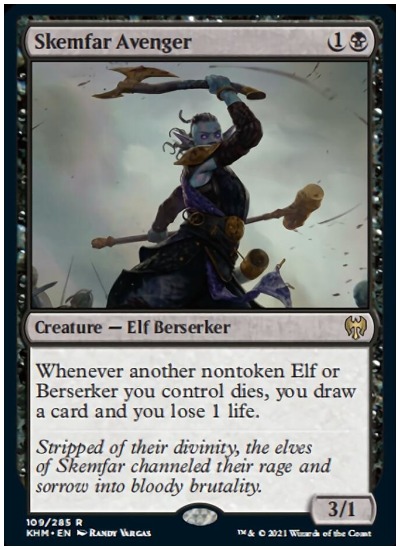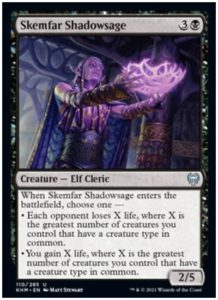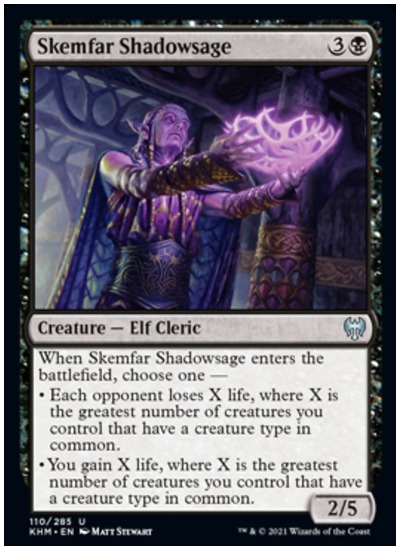 In Magic: The Gathering, Elves are usually weak creatures that focus on giving you mana ramp and other powerful effects.
This tradition continues with the upcoming Kaldheim set. There's a couple of new Elves providing powerful effects that can turn the tides of battle in your favor. With their abilities, you should be easily able to fit them into your Elven tribal decks.
Here are the five best Elves in MTG: Kaldheim.
Elvish Warmaster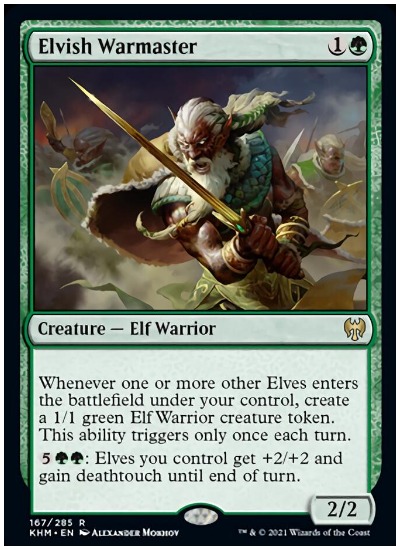 CMC: 2(G)
Type: Creature – Elf Warrior
Stats: 2/2
First ability: Whenever one or more other Elves enters the battlefield under your control, create a 1/1 green Elf Warrior creature token. This ability triggers only once each turn.
Second ability: 7(RR), Elves you control get +2/+2 and gain Deathtouch until end of turn.
This two-mana cost Elf Warrior has a powerful effect early on, allowing you to create a 1/1 token with combined 3/3 stats. On top of that, it has a late-game ability to make your small Elves deadly with +2/+2 and Deathtouch until the end of the turn for a seven-mana cost. This card can thrive in both the Modern and Historic formats due to its great stats and effects.
Jaspera Sentinel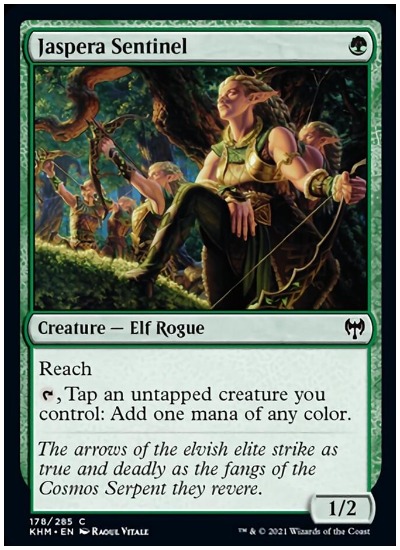 CMC: 1(G)
Type: Creature – Elf Rogue
Stats: 1/2
Keywords: Reach
First ability: Replayable every turn, tap an untapped creature you control: Add one mana of any color.
This one-mana Elf is similar to Loam Dryad, which was used in various decks. The cheap mana ramp effect is versatile and can be added into a deck which focuses on playing higher-cost mana creatures or aggressive decks that want to to create a wide board to overwhelm opponents early on. The added Reach effect is a nice touch, allowing you to block early opposing Flying creatures if needed.
This will work out great for a tribal Elf deck in Standard or supplement Historic decks when used in conjunction with other cards such as Saruli Caretakers.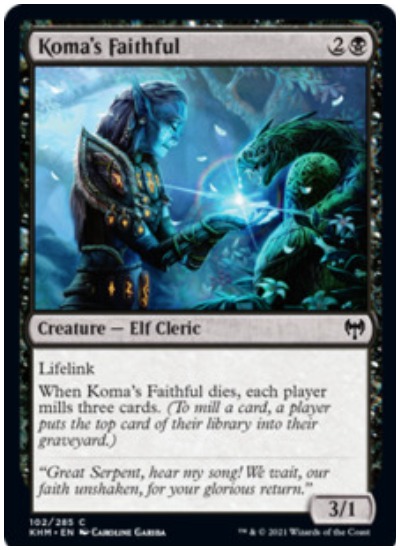 CMC: 3(B)
Type: Creature – Elf Cleric
Stats: 3/1
Keywords: Lifelink
First ability: When Koma's Faithful dies, each player mills three cards. (To mill a card, a player puts the top card of their library into their graveyard.)
This three-mana Cleric is great for mill decks. It has a statline of 3/1 and Lifelink to help you regain some health, while also allowing you to mill three cards from both you and your opponent. It will thrive in Limited where there aren't many effects to deal one damage and get rid of the creature before it gets at least one hit to give you three life.
With similar stats and effects as Vizkopa Vampire, which was a staple pick in the past, this card is going to see play as well.
Skemfar Avenger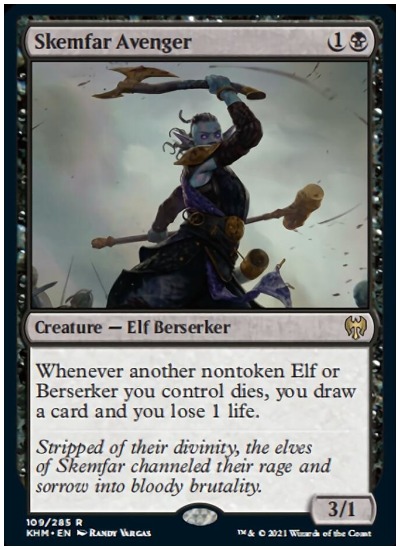 CMC: 2(B)
Type: Creature – Elf Berserker
Stats: 3/1
First ability: Whenever another nontoken Elf or Berserker you control dies, you draw a card and you lose one life.
Skemfar Avenger is a two-mana Elf with an amazing effect on top of its great 3/1 stats. It allows you to draw cards for the cost of one life for each other nontoken Elf or Berserker that dies. Such effects are usually found on higher-cost cards so it's going to see a lot of play due to how strong it is.
While it doesn't interact with itself, it is going to be a staple in aggressive decks with Elves or Berserkers to allow you to refill your hand quickly.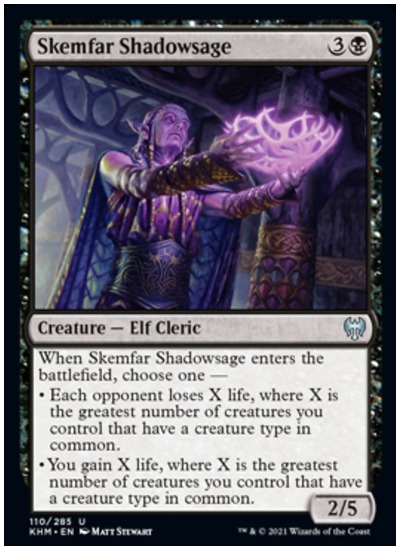 CMC: 4(B)
Type: Creature – Elf Cleric
Stats: 2/5
First ability: When Skemfar Shadowsage enters the battlefield, choose one:

Each opponent loses X life, where X is the greatest number of creatures you control that have a great type in common.
You gain X life, where X is the greatest number of creatures you control that have a creature type in common.
With a four-mana cost, Skemfar Shadowsage is a great creature that can empower either your Elf or Cleric decks with 2/5 stats and life gain. It can work well in an EDH format since it targets multiple opponents.