São Paulo was home to Friday's Grand Prix Modern Mythic Championship Qualifier (MCQ), with over 500 entry players and one top deck. With a $35,000 prize pool and an invite to the Mythic Championship in Barcelona at stake, players came prepared with decks like Izzet Phoenix, Hardened Scales, and Grixis Shadow.

The final round featured Filipe Lima with his Izzet Phoenix deck and Carlos Olea with a Hardened Scales deck. Lima emerged victorious, capturing an invite to the MTG Mythic Championship IV in July and a chance to win $500,000.

Champion Filipe Lima's Izzet Phoenix deck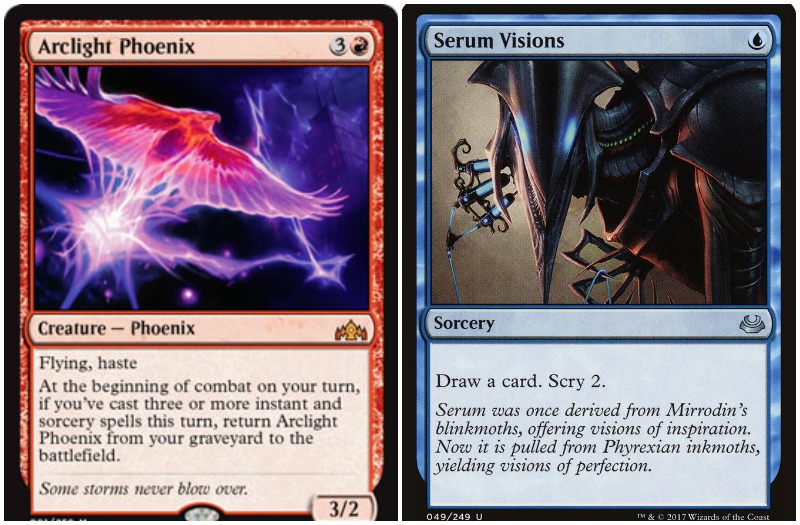 Known as one of the hottest decks in Modern, Izzet Phoenix proves itself worthy once again. Lima will now have the chance to showcase it in Barcelona during the Magic: The Gathering Mythic Championship IV event in July.

Lands:
4 Scalding Tarn
4 Spirebluff Canal
1 Polluted Delta
3 Steam Vents
4 Island
2 Mountain
Creatures:
4 Arclight Phoenix
4 Thing in the Ice/Awoken Horror
2 Crackling Drake
2 Snapcaster Mage
Spells:
4 Serum Visions
4 Thought Scour
4 Faithless Looting
4 Manamorphose
2 Surgical Extraction
1 Pyromancer Ascension
1 Echoing Truth
2 Lightning Axe
4 Lightning Bolt
4 Opt
Sideboard:
1 Surgical Extraction
1 Beacon Bolt
2 Abrade
2 Blood Moon
1 Engineered Explosives
2 Anger of the Gods
2 Spell Pierce
1 Flame Slash
1 Shatterstorm
2 Dispel
Carlos Olea second-place Modern MCQ deck Hardened Scales

Hardened Scales is a consistent and hard-to-beat deck in a Modern format. Olea played it well during the São Paulo Grand Prix Modern MCQ final, falling just short to Lima.

Lands:
4 Blinkmoth Nexus
4 Darksteel Citadel
1 Phyrexia's Core
3 Llanowar Reborn
1 Pendelhaven
2 Horizon Canopy
5 Forest
Creatures:
4 Hangarback Walker
4 Walking Ballista
4 Arcbound Worker
4 Arcbound Ravager
4 Steel Overseer
Spells:
3 Animation Module
1 Throne of Geth
4 Ancient Stirrings
4 Mox Opal
4 Welding Jar
4 Hardened Scales
Sideboard:
1 Tormod's Crypt
2 Grafdigger's Cage
4 Nature's Claim
3 Damping Sphere
2 Spellskite
3 Dismember
Mauro Sasso third-place MCQ Modern deck Grixis Shadow

Grixis Shadow is another consistent Modern deck, having a healthy mix of creatures and spells. Mauro Sasso didn't make it to the final table, but finished strong in third during the Grand Prix Modern MCQ tournament in São Paulo.

Lands:
4 Bloodstained Mire
4 Polluted Delta
3 Scalding Tarn
2 Blood Crypt
2 Watery Grave
1 Steam Vents
1 Island
1 Swamp
Creatures:
4 Death's Shadow
4 Gurmag Angler
4 Street Wraith
2 Snapcaster Mage
1 Jace, Vryn's Prodigy/Jace, Telepath Unbound
Spells:
4 Stubborn Denial
4 Serum Visions
4 Thoughtseize
2 Inquisition of Kozilek
4 Thought Scour
4 Fatal Push
1 Kolaghan's Command
2 Temur Battle Rage
2 Dismember
Sideboard:
3 Surgical Extraction
1 Hurkyl's Recall
2 Tormod's Crypt
1 Jace, the Mind Sculptor
1 Liliana of the Veil
1 Liliana, the Last Hope
2 Engineered Explosives
1 Anger of the Gods
1 Kolaghan's Command
2 Disdainful Stroke
---
The next Grand Prix Modern MCQ MagicFest will be held in Yokohama from April 19 to 21. Another Grand Prix MagicFest will also be held that same weekend in Niagara Falls, featuring a Legacy tournament.
H/T Channel Fireball