The highly anticipated Magic: The Gathering expansion, War of the Spark, has launched on MTG Arena and players are already groaning every time they see certain cards.

Whether playing Draft or Constructed on MTG Arena, certain War of the Spark cards are tearing up the meta-game. Everyone predicted the 36 planeswalkers and insane copy spells in the new expansion would change the landscape, but not this much. Everyone is scrambling to build the best deck possible and rank up while the rest of the free-to-play players are left in the dust.

From the God-Eternals and their abilities to insane combos with Nicol Bolas, Dragon-God—there's more than a dozen cards players are spending money on and praying to get during Limited Drafts, or not see in their opponent's hands.

God-Eternals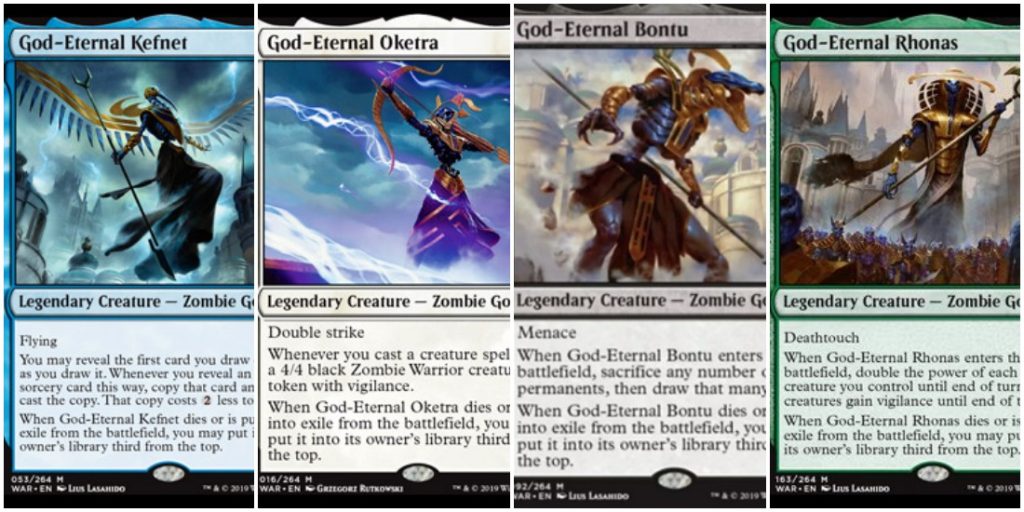 Prior to the release of MTG War of the Spark, God-Eternal cards were spoken highly of but not given very high scores during reviews. Upon the launch of the expansion on MTG Arena and the War of the Spark pre-release, opinions on the God's quickly changed.

Besides never being able to permanently remove them from the battlefield, each God-Eternal holds enough power and abilities to disrupt and change the tide of a match.

God-Eternal Oketra has double strike and kicks out four/four tokens with vigilance every time you cast a creature spell. God-Eternal Kefnet has flying and can copy spells and instants, costing you two less to cast. God-Eternal Bontu has menace and gives you card advantage. Meanwhile, God-Eternal Rhonas has deathtouch and doubles the power of your creatures until the end of a turn when he enters the battlefield.

Feather, the Redeemed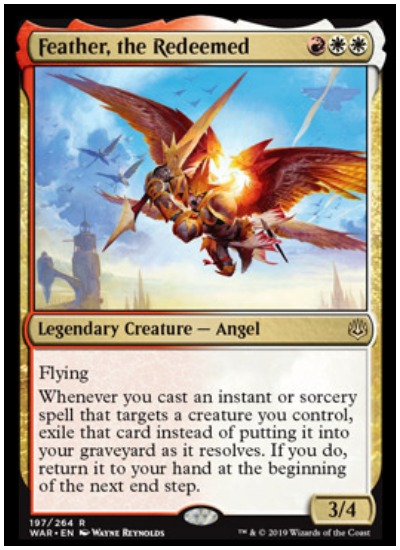 Red/white aggro and Burn decks are all about Feather, the Redeemed. This flying creature not only causes damage while being able to block but also allows you to bring back instant and sorcery cards you used to target your own creatures. Combat tricks have never been easier to play.
Liliana, Dreadhorde General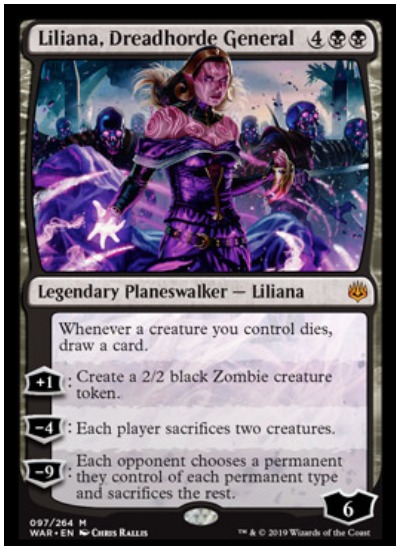 Liliana is a fan favorite already, but Liliana, Dreadhorde General has promoted her to bomb status. This mythic-rare planeswalker poses more than a few serious threats. Each turn she kicks out tokens to be used as attackers or chump blockers while her minus abilities remove threats from the board.
Ashiok, Dream Render and Jace, Wielder of Mysteries combo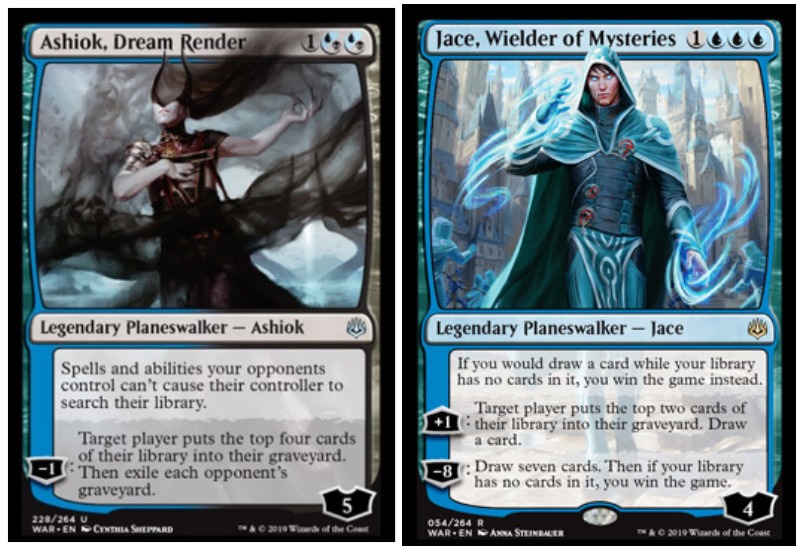 While not as popular in Constructed play, Ashiok, Dream Render and Jace, Wielder of Mysteries is a very dangerous combo in Limited. Ashiok is a great pick in Draft as they can be used to mill yourself or your opponent. And when there are only 40 cards in a Limited deck, it only takes 10 turns for Ashiok to eliminate an opponent from turn one.

The combo of Ashiok, Dream Render and Jace, Wielder of Mysteries on yourself mills even faster, and can end a match not long after they pair on the battlefield. Jace also provides card advantage while milling your opponent, as you mill yourself with Ashiok and with Jace's minus eight loyalty counter.

Gideon Blackblade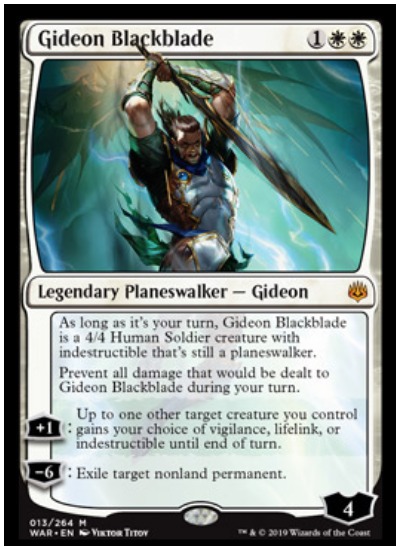 Perhaps the most underrated planeswalker heading into the launch of MTG War of the Spark, Gideon Blackblade provides stability, defense, attacking power, removal, and lifegain. For a single card, Gideon is a flexible and reliable fit into just about any deck using white.
No Escape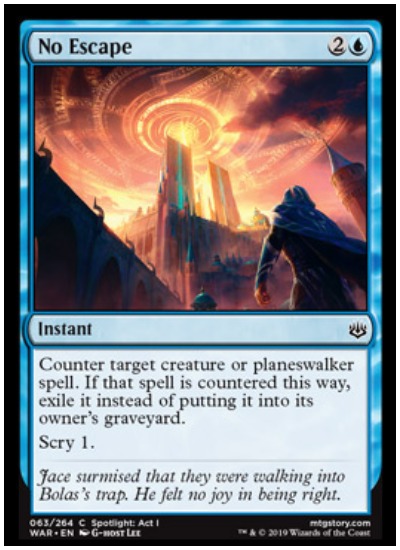 There's nothing worse for a player than to witness their card being countered and exiled. Especially, by a counterspell that only costs three mana to cast. No Escape is one of a few blue counterspells in War of the Spark, but it has easily become one of the most popular in Standard.
Vraska's, Swarm Eminence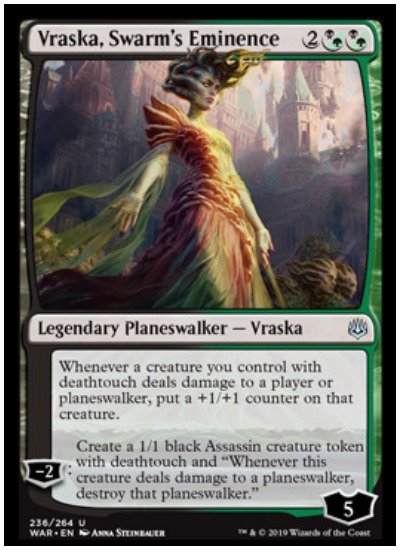 Deathtouch is often an underrated ability on MTG Arena and in Magic: the Gathering overall. Vraska's Swarm Eminence, however, is changing that. As a three mana green/black hybrid planeswalker, she's easy to cast and will disrupt most aggro and midrange decks.

Vraska's, Swarm Eminence creates tokens with deathtouch (who can deathtouch planeswalkers) while adding counters to your deathtouch creatures and tokens who damage other creatures and your opponent. For Golgari decks using Poison-Tip Archer and Ochran Assasin, Vraska's Swarm Eminence is a no-brainer of an addition.

Karn's Bastion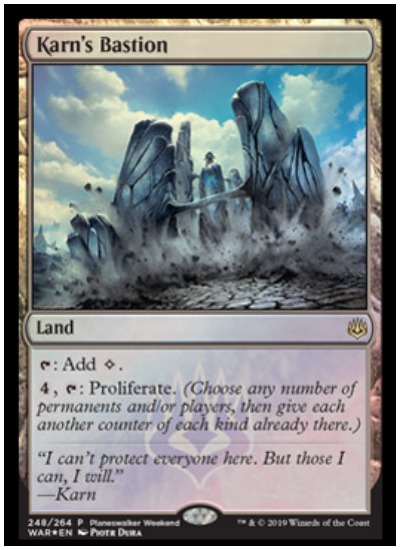 Land cards with abilities are often used as sideboard cards, but Karn's Bastion is quickly earning its keep in main decks. It only provides one colorless mana when tapped (not a big deal), however, when tapped with four other mana sources it proliferates. When playing with planeswalkers and amass ability cards, proliferating whenever you want is a big a deal.

In addition, land cards are harder to remove since most players don't have those types of removal spells in their main decks.

Massacre Girl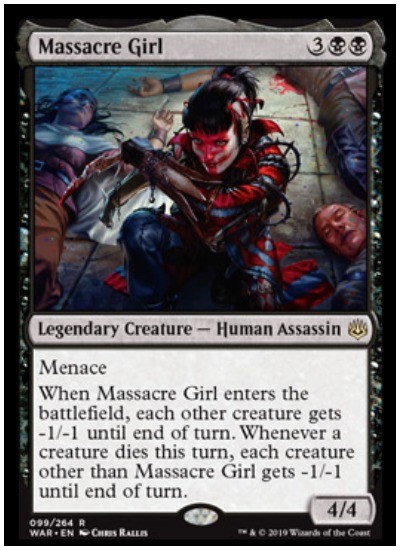 For decks playing planeswalkers that pump out tokens, or use amass to create chump blockers, Massacre Girl is their worst nightmare. She essentially acts like the sorcery card Ritual of Soot but is a creature with four/four and menace. Many assumed she'd be a shoo-in for sideboards, yet Massacre Girl is seeing plenty of main deck play.
Ilharg, the Raze-Boar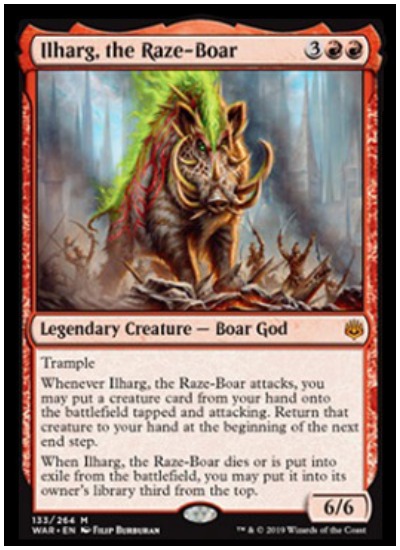 Gruul decks contain one of the most potent enchantment cards to combat control decks, Rhythm of the Wild. The problem, however, was players couldn't capitalize on it before an opponent would cast a Cleansing Nova and wipe it out.

Ilharg, the Raze-Boar changes that, allowing players to finish off a match quickly with Rythm of the Wild in play. For Gruul based decks, Ilharg, the Raze-Boar is a welcome addition. For everyone else, he's a feared card.

Nicol Bolas, Dragon-God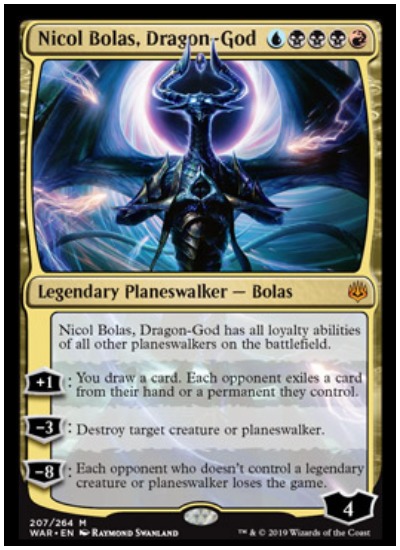 No one doubted the disruptive power of Nicol Bolas, Dragon-God in Constructed. It was assumed, however, that in Limited he wasn't a top bomb pick. That is until Yuyya Watanabe played a five-color deck during the War of the Spark Limited draft at the Mythic Championship II and went undefeated through three rounds.