Nicol Bolas seeks to destroy Ravnica with his army but Ugin and heroes are ready to defend it in the upcoming Magic: The Gathering expansion, War of the Spark. Releasing at the end of April, it features over 30 planeswalkers and God-Eternals. Guilds are stacking their power levels deep while colorless cards, however, have been far and few. Until now, with Ugin's Conjurant.

Ugin's Conjurant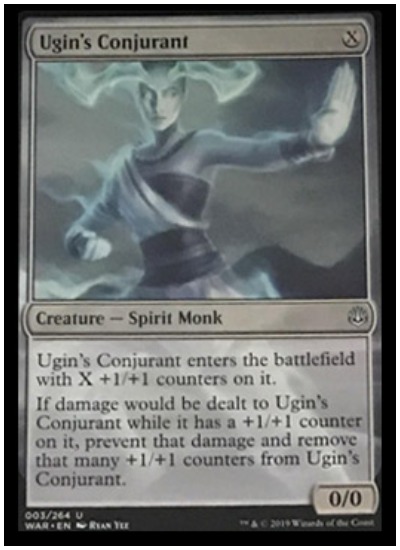 Ugin is the twin of Nicol Bolas, and he's set on bringing his big bad brother down. Ugin's Conjurant is zero/zero colorless spirit. It's casting cost is X (X equalling the number of lands you choose to tap). "Ugin's Conjurant enters the battlefield with X plus one/plus one counters on it."

Getting power and defense equal to the number of lands tapped is a good bargain. But Ugin has another trick up his sleeve. " If damage would be dealt to Ugin's Conjurant while it has a plus one/plus one counter on it, prevent that damage and remove that many plus one/plus one counters from Ugin's Conjurant."

This means an opponent who is seeking lifelink won't get any, and deathtouch won't have an effect either. Ugin's Conjurant is a deadly and fun combo with Celestial Kirin (Saviors of Kamigawa). How much play he'll get in Standard and Limited, is uncertain. If not in the main deck, Ugin's conjurant is a decent card for sidedecks in a variety of formats. Plus, it's always nice to have more colorless cards in Magic: The Gathering.

Ugin and Bolas go head-to-head in War of the Spark, set to release in MTG Arena on April 25. Pre-release for the expansion is on April 27.