Following his first League of Legends Champions Korea top two finish, Park "Untara" Ui-jin's 2017 season was cut short.
SK Telecom T1, who wanted to take both junglers Han "Peanut" Wang-ho and Kang "Blank" Sun-gu to the 2017 World Championship, needed to make a decision. Either bring Untara or Heo "Huni" Seung-hoon to Worlds.
SKT chose Huni.
The team's decision to bring Huni brought applause from LCK pundits. Despite the fact that Untara played 19 more games than Huni throughout the entire Summer Split, many thought that Huni gave SKT a better chance to win Worlds. This was mainly due to the different strengths Huni and Untara had, and their effectiveness on a global stage.
While Untara performed better than Huni for the majority of the Summer Split, Untara's successes came in part from him yielding the laning phase to his opponents, while quietly scaling. But after the LCK Summer Split final, where Kim "Khan" Dong-ha abused this overly passive play, SKT knew that they needed to bring in a top laner who could go toe-to-toe against the likes of Khan or Lee "CuVee" Seong-jin. And between Huni and Untara, only one of these two players displayed this ability to win lane and carry the game. That was Huni.
Now, one bitter World Championship defeat followed by a hopeful offseason later, and Untara is SKT's primary top laner—at least for the time being. Unlike a University professor's tenure, SKT can easily revoke this title from Untara if he can't consistently perform. And after SKT's offseason acquisitions, there's another player on the roster aiming for Untara's newly gained title.
Park "Thal" Kwon-hyuk, a 19-year-old top lane rookie whose signing to SKT hit the news one week before the LCK's Jan. 16 start, will work alongside Untara in 2018. Though he's a relatively inexperienced rookie who only played in the European Challenger Series, Thal seems unlikely to immediately garner a starting position. Unlike the EU LCS, Korea's LCK teams rarely give rookies a starter role, in an attempt to slowly ease them into the already established team dynamic. This leaves only Untara to inherit the heavy title that is SKT's starting top laner.
Contrary to the substitute role, the starting top laner position for a team as well-regarded as SKT carries a weight. This includes the pressures of the community and the responsibility to perform. Being a master at one top lane style is unacceptable for a team of SKT's calibre, who are expected to contend for the Summoner's Cup annually. An innate versatility in one's play is all but required to aptly assume a role previously filled by legends Jung "Impact" Eon-yeong and Jang "MaRin" Gyeong-hwan. Untara has yet to show any such versatility.
Untara's strength lies in his ability to mitigate early losses or deficits. Almost always on whatever tank is most popular at the moment, Untara plays out the lane in a safe, and risk averse manner. Instead of dueling his opponent for a chance at a solo kill, Untara bides his time while scaling until the mid to late game, when he becomes a major factor in the match. Untara may die in lane, or accrue a large creep score deficit, but as long as he can reach the 25-30 minute mark as a Maokai, he will be useful.
Luckily for Untara, the current top lane meta, which still favors scaling tanks, allows him to somewhat continue to play this defensive style on the likes of Maokai, Gnar, Shen, and even Ornn if the champion can make it through the ban phase.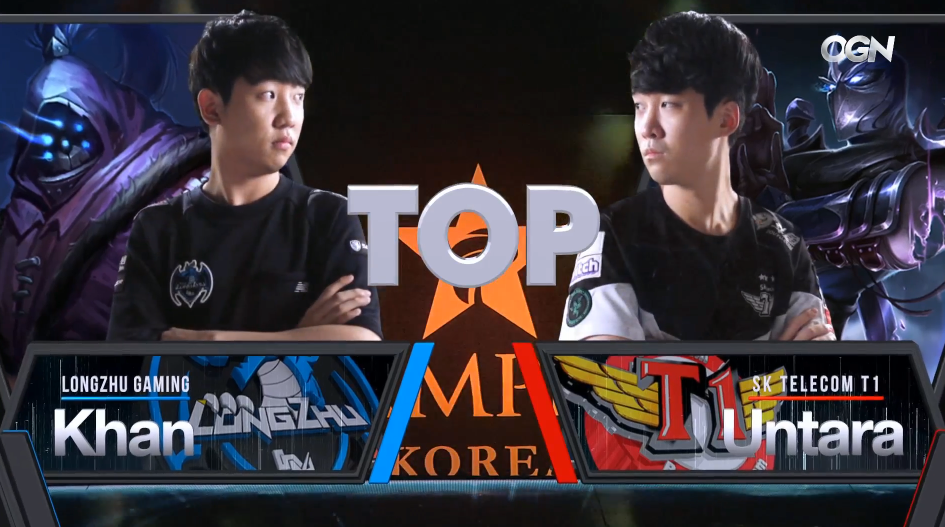 The problem lies when the meta shifts and starts to favor top lane carries, which—if they win lane hard enough—can practically win a game by themselves. This new season will be Untara's test to see if he can adapt to this future meta, lest he find himself in situations similar to the 2017 LCK Summer Split final, where Khan completely demolished him for the entire series. To let Untara really flourish as a top laner, however, a slight overhaul in SKT's playstyle is necessary.
Untara can't play aggressively if no one else on SKT generates pressure in lane. If any lessons can be garnered from Kim "Ssumday" Chan-ho on KT Rolster during the tail end of 2016, or even Huni last summer, it's that if you play the top lane aggressively without pressure from your other lanes, you will die. The enemy jungler will pitch a tent near the Baron pit, and kill you. And then kill you again. And again.
No, unless SKT's bot lane end their year-long pacifism streak and finally start to once again contest their lane, the risk would be too great for Untara to embrace the carry lifestyle. SKT seem to have realized this, and brought on two more rookies in jungler Park 'Blossom' Beom-chan and support Lee "Effort" Sang-ho to fix this problem. This set of young talent hold the dreams of SKT fans, who want nothing more than to see their favorite team's early game, which has long since gone stale, be imbued with vitality. 
If SKT's plan prevails, and the team's bot lane duo becomes a fighting force in the laning phase, Untara will face a fork in the road. He will either rise to the upper echelons of top lane, where Song "Smeb" Kyung-ho, CuVee, and Khan exist, or face a more permanent position on the bench.