It wouldn't be an LPL final without EDG and Royal Never Give Up.
The two organizations have played each other in three of the last four LPL finals. The one outlier happened last spring when Royal eliminated EDG in the semifinals before losing to Team WE. But order has been restored once again with the two Chinese stalwarts set to meet this Saturday at 3am CT for yet another title fight.
With two teams so familiar with each other, it's hard to see either really pulling ahead. Last summer's final went to five exciting, blood-filled games and ended in a shocking reverse sweep in favor of EDG.
We can only hope that this series will be just as good. Buckle up, because this could be one of the best finals of the year.
Can Uzi finally win the big one?
Of course, these two teams weren't even supposed to meet in the final. That's because Royal were big underdogs in the semifinals to league-leading Invictus Gaming. Once the kings of the LPL, IG overcame years of mediocrity behind the transcendent play of rookie ADC Yu "JackeyLove" Wen-bo. For the entire regular season, nobody could handle this new iteration of IG.
Poor JackeyLove didn't even see what hit him against Royal in the semifinals. RNG's star ADC Jian "Uzi" Zi-hao absolutely dominated the series, eviscerating his much-hyped younger counterpart in the process. Game after game, IG would storm to a lead only to see everything fall apart against Uzi's unparalleled teamfighting ability.
Over the years, Uzi has become the most star-crossed player in competitive League of Legends. He's perhaps the most beloved Chinese player, and yet he's tragically never come home with a title. It's almost unthinkable that, coming into his sixth year, Uzi has yet to win even a single LPL title.
His big chance was that final last summer in EDG when his team helped stake him to a 2-0 lead. But Uzi and the rest of Royal just couldn't close the door. There were a lot of people to blame for that collapse. Top laner Yan "Letme" Jun-Ze went from hero to zero, literally posting zero kills in games three and four. But at the end of the day, it was Uzi getting caught in the final game that swung the series to EDG.
Uzi has admitted over the years that the pressure of the playoffs really gets to him. Always one to wear his emotions on his sleeve, the constant failures on the biggest stages have worn on him. But this year, there's been a change. He seems more at ease with himself, more confident that however he performs, it will be his best.
Beating EDG in a playoff final would mean everything to Uzi's career. But at the same time, he's had a hell of a career, titles be damned. As Irv Blitzer said in the movie Cool Runnings: "A gold medal is a wonderful thing. But if you're not enough without it, you'll never be enough with it." Uzi finally seems at peace, and that could be exactly what he needs to finally win the big one.
Scout shows who is boss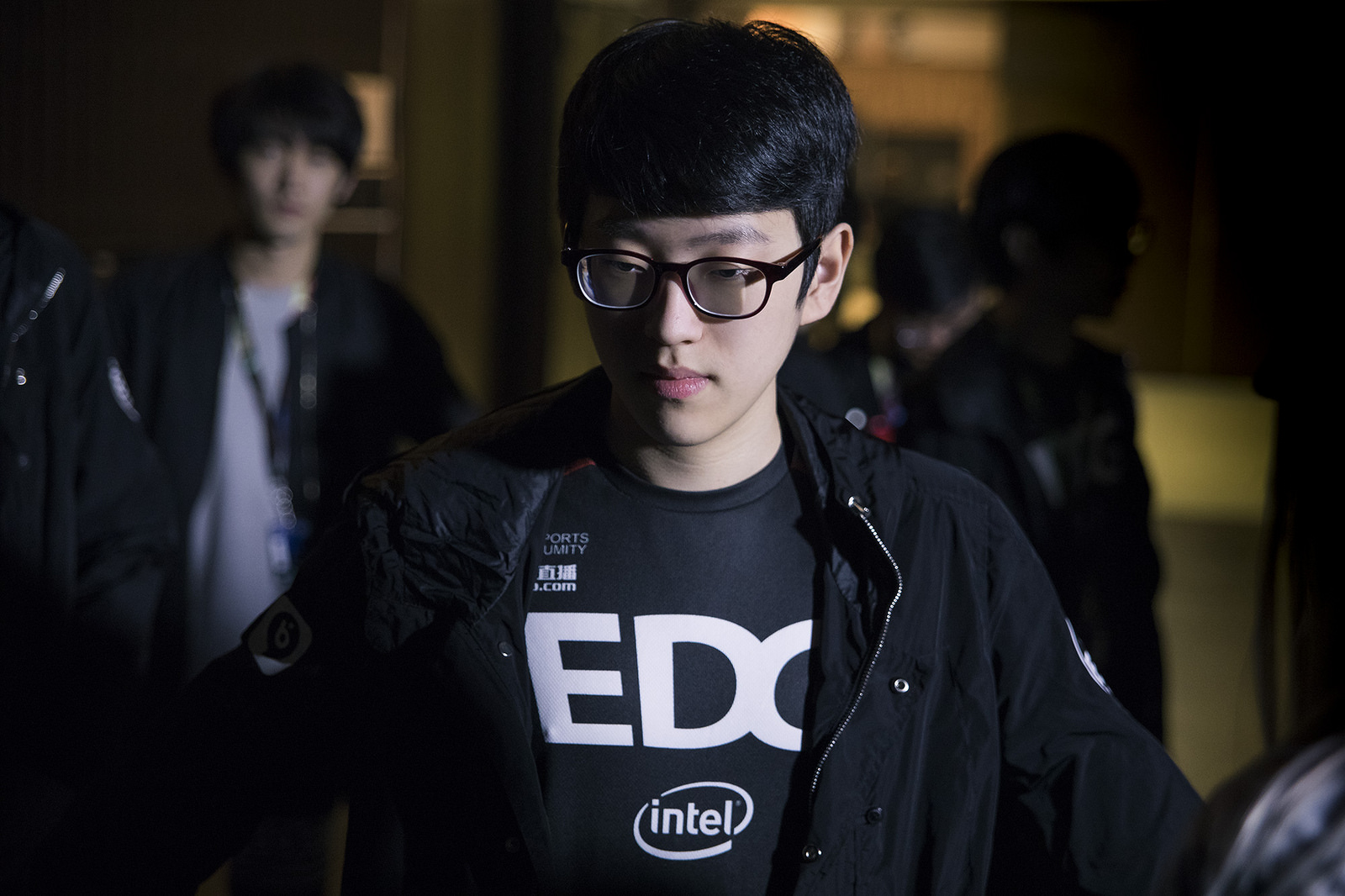 For much of the spring split, the most hyped player was Song "Rookie" Eui-jin, IG's mid laner. As an import, Rookie has completely immersed himself in the region, becoming tremendously proficient in Mandarin while ingratiating himself with the fans. That, plus IG's dominant regular season, is why Rookie earned the MVP honors for the split.
But there was one other import mid laner that actually earned more weekly MVPs: EDG's Lee "Scout" Ye-chan. In fact, it was the second-straight split that Scout topped the weekly leaderboard only to see the split award go to another mid laner.
Scout took out any lingering frustrations on Kim "doinb" Tae-sang and Rogue Warriors in last week's semifinals. Playing like a man possessed, Scout dominated the series and prevented Rogue Warriors from getting any mid assistance to the side lanes, the key to their macro strategy.
Unlike Rookie with IG, Scout has had a harder time establishing himself on EDG, despite having a superior record. The team didn't really become his until Heo "PawN" Won-seok left to join KT before last season.
Similar to Uzi, Scout has had his issues on big stages. He threw a couple key games at Worlds last year by getting caught in unthinkable ways. If Scout really wants to become a local hero the way Rookie and Uzi have, he can't stop just at winning this Saturday's final. He'll have to create some magic just like PawN did in 2015: by beating an LCK team in the knockout round and winning the trophy at MSI.
---
It's tempting to think of this Saturday's final as just another in a long line of battles between EGD and RNG. But that drastically undersells how much history is on the line. These two teams always produce fireworks when they play, and this weekend should be no different.