Where has the time gone? Four weeks have flown by in the LEC, and we're already preparing for the second half of the 2022 Spring Split.
In that short time span, we've seen one team break away from the entire League of Legends league with a perfect record, while other squads are still trying to find their identity as a unit. A couple of teams have nothing to do except hope for a miracle, and a few contenders are buffing out any kinks in their armor before the race to the playoffs begins.
For this week's edition of Team of the Week, the consistent blue theme we saw rise in week three has continued to dominate Europe, with Rogue going undefeated across the first round robin. Here is Dot Esports' LEC 2022 Spring Split Team of the Week for week four.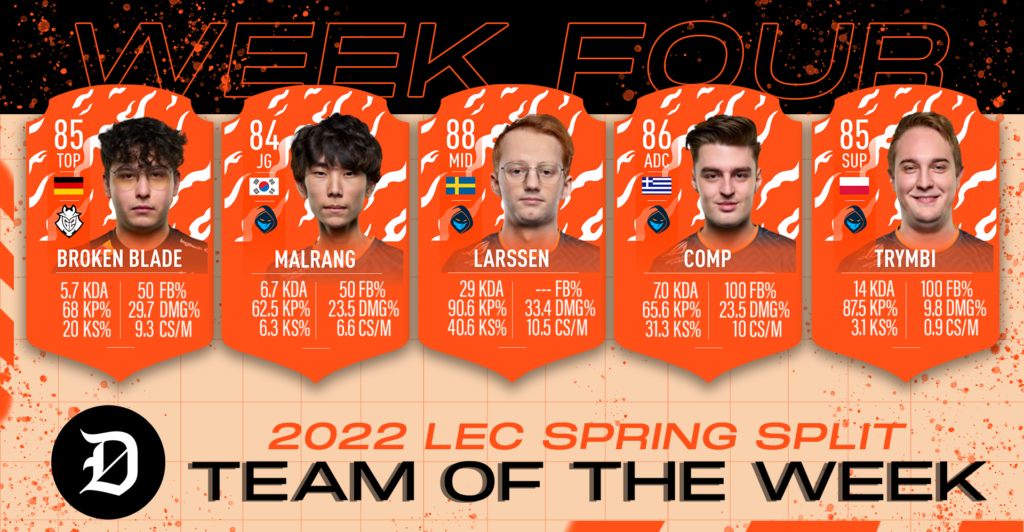 G2 Broken Blade
G2 Esports had a decent week four in the LEC 2022 Spring Split with a convincing performance against Team BDS and losing a match to an undefeated Rogue. Broken Blade had another phenomenal week with the team, however, and slowly became one of the team's primary carries this year.
In the match against BDS, he solo-killed Adam's Irelia twice before two minutes into the match, setting the game's pace. He played the match elegantly with Jayce (4/1/10) and his aggressive playstyle allowed the team to have top-side control on the map. He also played the Akali match against Rogue, where he had a 75-percent kill participation despite his team's poor showing. He has the highest number of kills among the top laners after the first round robin and second-highest assists, KDA, kill share and KP, according to Oracle's Elixir. His statistics show just how much an asset he is to the revamped G2 lineup.
Rogue Malrang
Rogue are the LEC's best team, and there's a strong case to be made that Malrang is their most dependable player. Malrang leads all LEC junglers in assists and KDA through the first round robin of the Spring Split, according to League stats site Oracle's Elixir. 
Interestingly enough, Malrang's early-game statistics this week weren't the most impressive; his gold, experience, and CS differentials at 10 minutes were the lowest among all junglers, according to Oracle's Elixir. When he emerged from the jungle, however, his teamfighting prowess and overall impact on the game was practically unrivaled. Plus, Malrang has only had one multi-death game in his last five, meaning he's been alive and contributing on the map for Rogue extensively during the back-half of their nine-game winning streak. 
Rogue Larssen
Larssen leads in statistics against the other mid laners, sitting at the top of the ranks with 13 kills and zero deaths. The mid laner played Corki both against Excel and G2, and he flew over the competition like it wasn't even there. 
His playstyle isn't aggressive, but the second an opponent makes a mistake, Larssen is there to punish, denying them the chance to get back at him. He is the only mid laner who has not died more than 10 times during this season so far, according to Oracle's Elixir. Larssen has been playing in the mid lane for Rogue since 2019, and since then he has been getting better and better, moving up the European rankings one step at a time along with his team. 
His success can be summarized with one word: consistency. That's what it took Rogue to beat G2 in the regular season for the first time. That's what it took Rogue to become the undefeated team this split. And that's what it took Larssen to become the best mid laner Europe has to offer now.
Rogue Comp
Simply put, Comp has become a star in the making with Rogue. He currently leads the entire league in kills with 54 and has only died eight times during the past four weeks, according to Oracle's Elixir. He's also been a key carry in his team's perfect record, with a whopping 75.6-percent kill participation rate and the second-highest average damage to champions per minute in the LEC.
He has shown great positioning in his teamfights and made Jinx's Super Mega Death Rocket look like a point-and-click ability with his snipes throughout the weekend. Rogue are currently in a league of their own, and Comp has improved himself to a new degree in turn. Let's see if his aimbot is still functioning this coming weekend.
Rogue Trymbi
Rogue have shown exceptional cohesive gameplay, while at the same time the individuals have been outplaying their counterparts in their roles. The case is no different when it comes to Trymbi.
Statistically, no support matched the Polish player last week. Among them, he scored the best K/DA ratio (14.0) and the highest kill participation (87.5 percent), according to Oracle's Elixir. But admirable stats aren't the only reason Trymbi found himself in our Team of the Week.
His vision control often allowed Rogue to find picks against Excel and G2. He showcased almost faultless ability usage on Nami and Rakan, once again becoming a fantastic engage and disengage tool for his team. And if you listen to any of Rogue's voice comms, you'll realize Trymbi is achieving all this while being the main shotcaller for the team. Chapeau bas!