Jeon "ikssu" Ik-soo, former top laner for Jin Air Green Wings famous for his bubbly personality and overly aggressive plays, has moved on to greener pastures as a bitcoin investor, according to his Facebook announcement on Saturday.
Jin Air released a statement in November, following Worlds, explaining that ikssu had chosen not to renew his contract. Since then, ikssu has followed a regular schedule of streaming on his Afreeca TV channel, but has been otherwise silent on his plans for returning to the LCK.
Now, thanks to his announcement, we know that he has retired, at least temporarily, in order to keep streaming. Oh, and invest in bitcoin.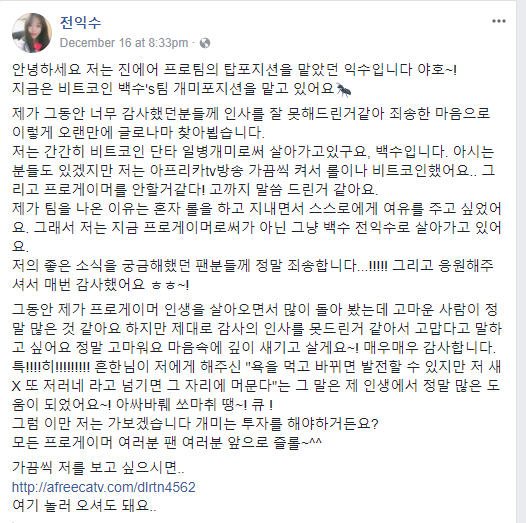 Followers of his stream have probably known, or at least assumed, that this would be ikssu's plan. His stream has become a show, showcasing both League of Legends and investing in bitcoin, so his fans can experience both with him. In his announcement, he mentions that he doesn't want to return to pro gaming, something he has already said on his stream, too.
This may seem like a foreign concept to fans in Europe and North America, but South Korea is home to up to 20 percent of all bitcoin transactions, according to a report from CNN. From the time ikssu left Jin Air to become an investor in November to now, the worth of one bitcoin has skyrocketed by almost $10,000, according to a data chart from cryptocurrency trading platform Coinbase.
Ikssu isn't the only LCK player to have an interest in it, either. SK Telecom's Lee "Faker" Sang-hyeok has also shown great interest in bitcoin. Don't worry though, he probably isn't going to resign from SK Telecom T1 to focus on investing.