League of Legends European Championship team G2 Esports may be looking to replace Slovenian support player Mihael "Mikyx" Mehle for the remaining games in the 2019 LEC Spring Split regular season.
Origen player Alfonso "Mithy" Aguirre Rodríguez revealed a Facebook conversation between him and G2 ADC Luka "Perkz" Perković on stream last week. "We might have to use sprattel on stage last weke [sic]," Perkz wrote.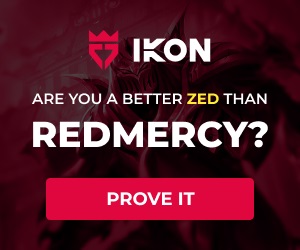 Perkz is referring to Swedish support player Hampus "promisq" Mikael, formally known as sprattel, who previously played for EU LCS teams like H2K, Ninjas in Pyjamas, and Elements. He saw little success during his time in the league, but remains a suitable replacement nonetheless.

This news comes after it was revealed that Mikyx has been suffering from long-term wrist issues. The head coach of G2, Fabian "GrabbZ" Lohmann, wrote on Twitter that in response to Mikyx's problems, the team has decided to reduce its practice time.
G2 are the top team in the LEC standings right now with a 13-3 record. The team secured their place as the No. 1 seed for the upcoming playoffs after beating second-place Vitality on Sunday.

G2 have two games left before the playoffs begin against Misfits and Fnatic, but these matches won't affect G2's place in the standings. If promisq fails to perform on stage, it shouldn't have a negative impact on the team.

It could affect the overall standings, however. "Might fuck some tandings [sic] up XD," Perkz wrote to Mithy. If G2 lose their next match against Fnatic, which is scheduled to take place next Saturday, Fnatic have a good chance of making the playoffs. The team were previously at an all-time low, but have made the comeback, winning multiple consecutive games.

Additionally, Misfits, despite being at the bottom half of the table, still have a slim chance of making the playoffs. If they win their next game against G2 on Sunday, and Fnatic and Schalke 04 lose their next two games, Misfits will advance.