Esports Charts has revealed the top 10 most watched League of Legends teams of 2018, based off of viewership hours.
Europe's Fnatic leads the pack by a large margin, followed by North America's Cloud9, China's Royal Never Give Up, and Europe's G2 Esports. Note that these numbers do not include any Chinese viewership.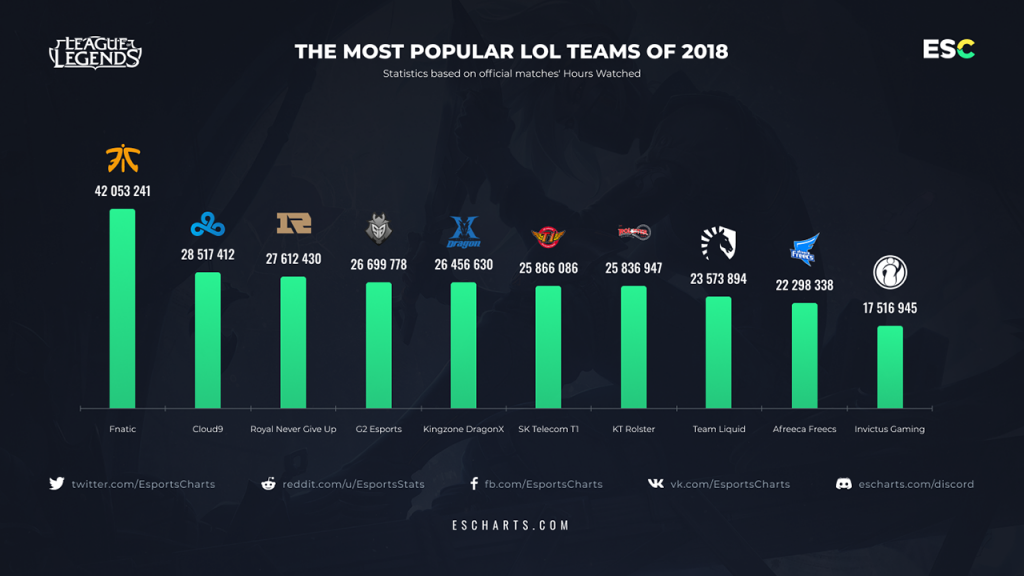 It isn't surprising that Fnatic topped the leaderboard, seeing how they were one of the most exciting teams of the year for the Western viewership. Not only were they the best team in Europe at the time, but they also had an amazing run at the 2018 World Championship. That run actually brought a Western team to the Grand Finals of Worlds for the first time since 2011.
Cloud9, for its part, had an incredible journey to North America's first Worlds semifinals appearance since 2011. They were an underdog right from the Group Stage but the team persevered.
The rest of the top 10 consists of teams like Kingzone DragonX, SK Telecom T1, KT Rolster, Team Liquid, Afreeca Freecs, and Invictus Gaming. Korea had a pretty off-year in terms of performances, so it makes sense that the region's viewership dropped.
It will be interesting to see which teams will jump up in viewership this year. G2 Esports, SK Telecom T1, and even perennial LCS champions, Team Solomid could have big years when the numbers are tallied up.