The most prestigious League of Legends tournament of the year is right around corner, and Riot has just revealed the on-air talent lineup for the event.
Casting superstars from all around the globe, including OGN's Chris "PapaSmithy" Smith, the NA LCS' James "Dash" Patterson, and Europe's own Trevor "Quickshot" Henry will be on the desk when the play-in stage begins on Sept. 28. It's going to be one hell of a show.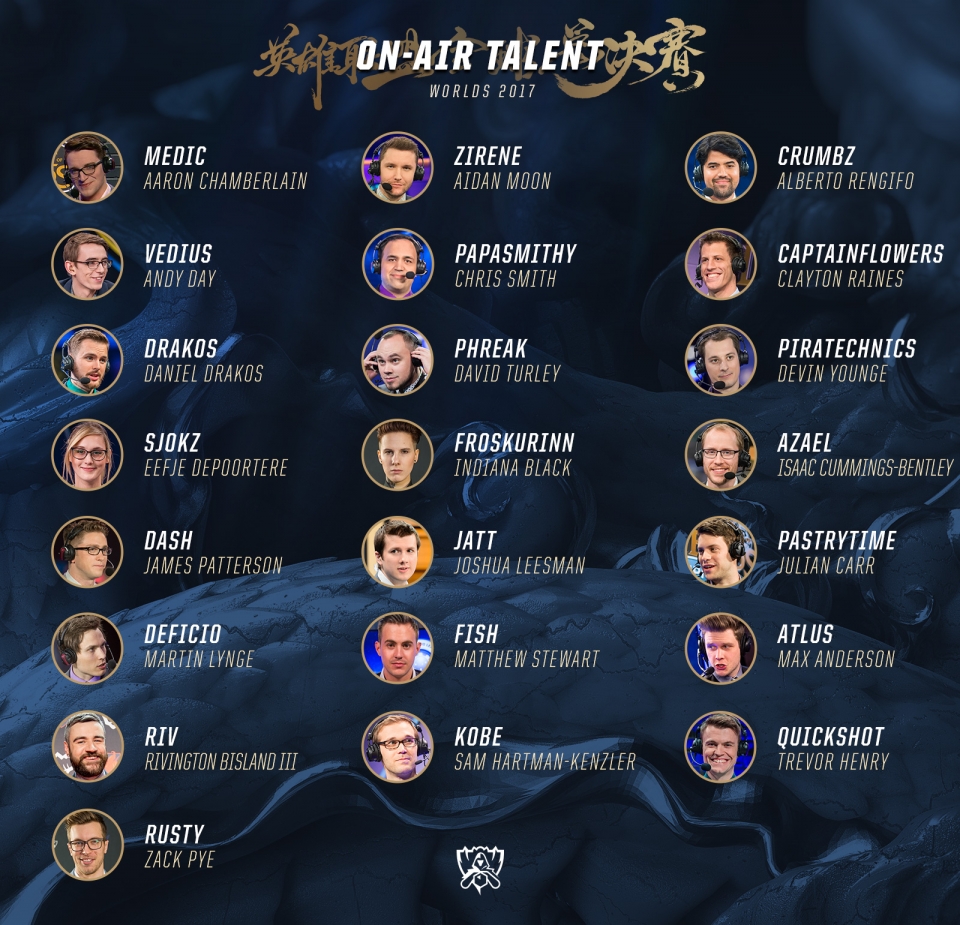 Play-By-Play Commentators
Aaron "Medic" Chamberlain
Clayton "CaptainFlowers" Raines
Daniel "Drakos" Drakos
David "Phreak" Turley
Devin "PiraTechnics" Younge
Julian "Pastrytime" Carr
Matthew "Fish" Stewart
Max "Atlus" Anderson
Trevor "Quickshot" Henry
Rivington Bisland III
Color Commentators and Analysts 
Alberto "Crumbz" Rengifo
Aidan "Zirene" Moon
Andy "Vedius" Day
Chris "PapaSmithy" Smith
Indiana "Froskurinn" Black
Isaac "Azael" Cummings-Bentley
Joshua "Jatt" Leesman
Martin "Deficio" Lynge
Sam "Kobe" Hartman-Kenzler
Zack "Rusty" Pye
Eefje "Sjokz" Depoortere and James "Dash" Patterson will host the massive event. With the casting team squared away, all the pieces of the Worlds puzzle are almost in place.
When the Regional Qualifiers tournaments wrap up in North America and Europe this weekend, the final spots at Worlds will be filled, and then it's only a matter of time. The League of Legends 2017 World Championship is finally almost here.