Mid lane is one of the easiest roles to carry within League of Legends, mostly because you have easy access to any other part of the map and can dish out a lot of damage. Great mid laners can effectively roam to other lanes while keeping good pressure on their own mid lane opponent, and champions that excel at it are indispensable.
This list of top-tier champions can change depending on a number of things. Sometimes the meta shifts for no apparent reason other than players' tastes, but usually there's some kind of balance adjustment behind the whole thing. It can be difficult to keep up with the flavor-of-the-month champs, so let us do it for you.
Here are our top five mid laners for League's Patch 13.1.
Syndra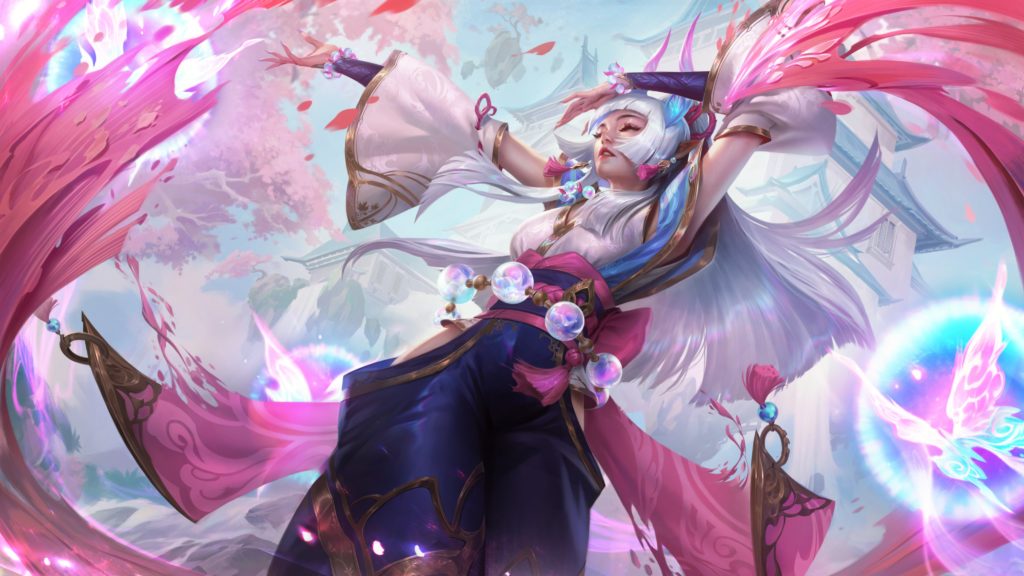 Pros
Great kill potential at level six
Scales well into the game
Strong laning phase by managing the wave
Cons
Requires to be mechanically proficient at her
Can be punished easily without flash
Reliant on hitting the spells
Ever since Syndra received asmall rework last season, she has become one of the best mid lane picks in the game. With the start of the new season and the rise of bruisers and tanks, her strength as a control mage pushed her back into the meta. Although she's not easy to play, with proper runes and items you should quickly get the hang of her.
Item build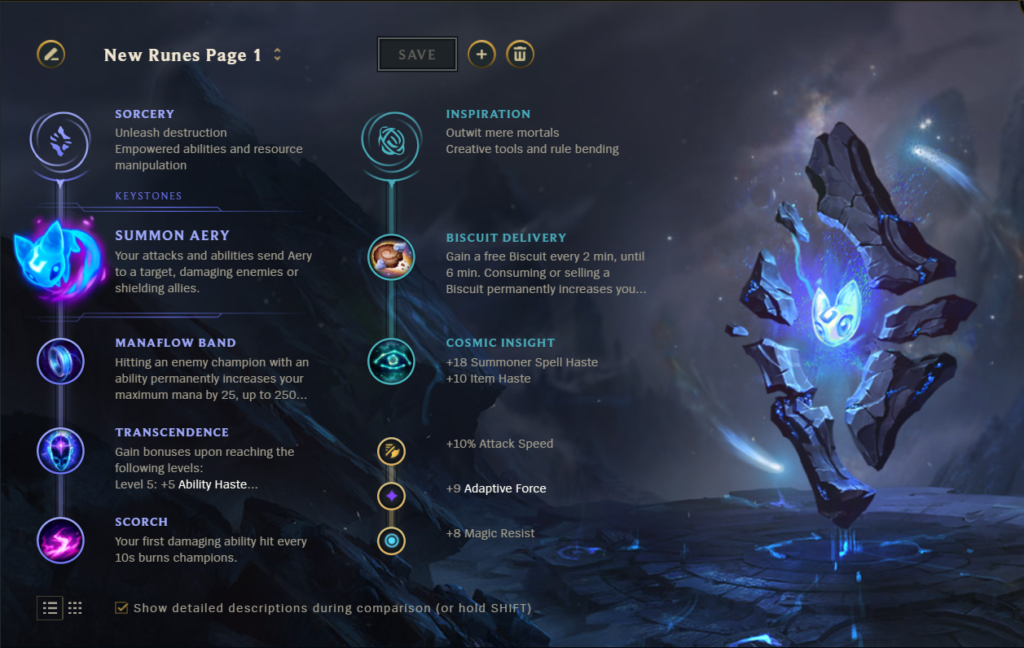 Syndra's main keystone runes are essentially two, and they largely depend on the enemy team composition and laner. The two choices are First Strike and Summon Aery, with the first being more commonly used to accumulate gold and hit the late-game item spikes faster. It also synergizes well with Syndra's kit, as she can use her range advantage and burst damage to gain lots of gold with one instance of the rune.
Summon Aery, on the other hand, is a more aggressive rune used to bully the enemy laner. The extra damage will allow her to have stronger harass and trades, leading to potential kills that wouldn't otherwise be possible. Regardless of which rune you run, the two rune trees to opt for are Inspiration and Sorcery.
Manaflow Band and Transcendence are your core Sorcery runes that must be chosen on Syndra, while Biscuit Delivery and Cosmic Insight are the two to go for in the Inspiration tree.
Build-wise, Syndra's core items are Luden's Tempest and Shadowflame for the maximum magic penetration and damage output. After that, continue stacking ability power by building Rabadon's Deathcap, Zhonya's Hourglass, and Void Staff to shred any type of target, from tanks to carries. Banshee's Veil can be a strong situational item to protect from insidious abilities.
Ability priority
On Syndra, there is only one proper ability priority: R>Q>W>E. Having said that, you typically get Scatter the Weak (E) at level two to defend yourself from a possible trade by the enemy team. Dark Sphere (Q) is Syndra's bread-and-butter and it deals the highest amount of damage. Following that, max Force of Will (W) to play increase the combo's damage. Now that E doesn't have a scaling cooldown anymore, max it for last.
Game plan
When playing Syndra, it's essential to not fall behind early on. It's fine to be even with the enemy laner, but you don't want to hand over a lead: Syndra is not that strong in the first stages of the game, but she'll eventually outscale most mid lane champions.
Farm and harass with the spheres whenever possible and wait for ultimate in order to attempt a kill on the enemy laner. After level six, your goal will be to assassinate low-health targets with the spheres. In the mid and late game, your goal will be to burst any squishy target with your combos and peel your teammates by knocking back enemies with your E. Syndra lacks mobility so positioning is crucial on her: don't get caught or you will be instantly taken down.
Irelia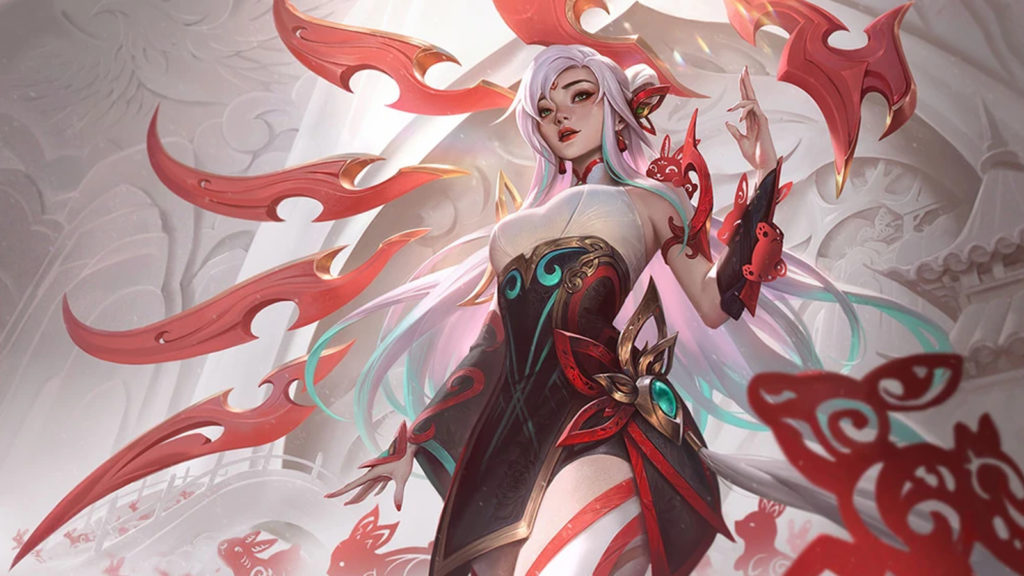 Pros
Has one of the best outplay potential
Mobile champion
Can be strong even from behind if played correctly
Great skirmishing power
Cons
Mechanically intensive
Hard to play teamfights well
Struggles in specific matchups
Item build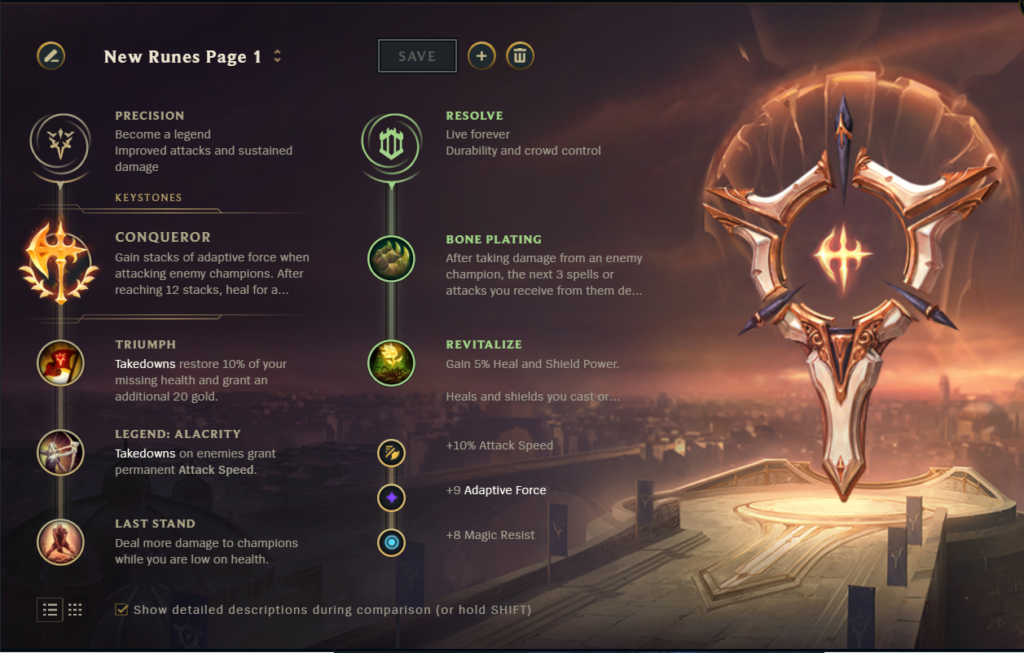 Irelia's rune setups are quite similar to the ones used in the top lane, with the exception of some of the minor runes. The main keystone rune is still Conqueror since it increases Irelia's adaptive force the longer she fights and gives extra sustain at max stacks.
Triumph, Legend: Alacrity, and Last Stand are the standard runes that Irelia usually goes for. For the secondary tree, instead, you can choose one between Bone Plating and Second Wind, depending on whether the enemy has strong short trades or constant poke. For the second rune, go for Revitalize.
The build for Irelia can vary depending on the enemy team composition and what kind of stats you need. Blade of the Ruined King and Wit's End are the usual core items to rush, with the latter being the better one against burst damage mages. Contrary to most champions, Irelia doesn't build the Mythic item until later in the game, as a third or fourth item choice.
After the nerfs and changes done to Jak'Sho, the Protean, Irelia players have started building the Immortal Shieldbow once again. That said, both items are viable and it depends more on whether you prefer having more resistances or more attack damage in the build. Round off with a Death Dance or Guardian Angel, or even a Frozen Heart against heavy attack damage team compositions.
Ability priority
Irelia's ability order is fairly straightforward: R>Q>W>E. Never change it since it's the most efficient one. Maxing Bladesurge (Q) is a given: it gives higher damage to the last hit and greater healing for better sustain during the laning phase. Ever since Defiant's Dance (W) was nerfed by lowering the damage reduction from magic sources, it has become crucial to have this ability ready as soon as possible. Putting points on it will greatly lower its cooldown, allowing Irelia to tank more damage and fight for longer. Since Flawless Duet (E) doesn't scale as well by putting levels into it, max it for last.
Game plan
The game plan on Irelia is simple: punish your lane opponent by pressuring him and denying farm and experience. Getting lane priority is easy on this champion so you can also coordinate with your other teammates to roam around the map or capture neutral objectives. Irelia spikes during the mid game after building the first and the second core items: take advantage of the window to push your lead. If you're mechanically confident on her, you can also attempt some sweet one-vs-two outplays when having minions around to stack the passive and gain more healing. Later into the game, you have to analyze the game state and understand whether your team composition is stronger. If yes, try to fight by finding flank angles and hitting multiple targets with your ultimate. Otherwise, consider going on a side lane and split push, absorbing pressure, and allowing your teammates to make cross-map plays.
Kassadin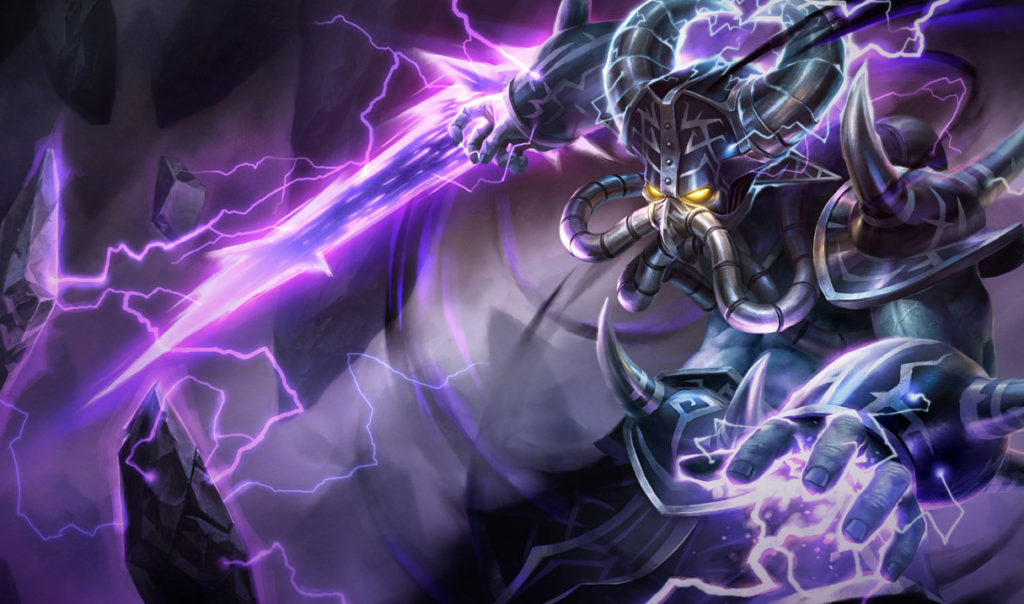 Pros
Impressive scaling, super strong after level 16
Many building options
Great both in split-pushing and teamfights
Cons
Weak early game and can be shut down easily
Tough to play against some champions
Kassadin is one of the better scaling mages in League. With his kit, players can shred through enemies' health bars in the late game in seconds. As a result, enemy squads will often target Kassadin in the early game to shut him down since no one wants to see it reach level 16 on the other team.
Item build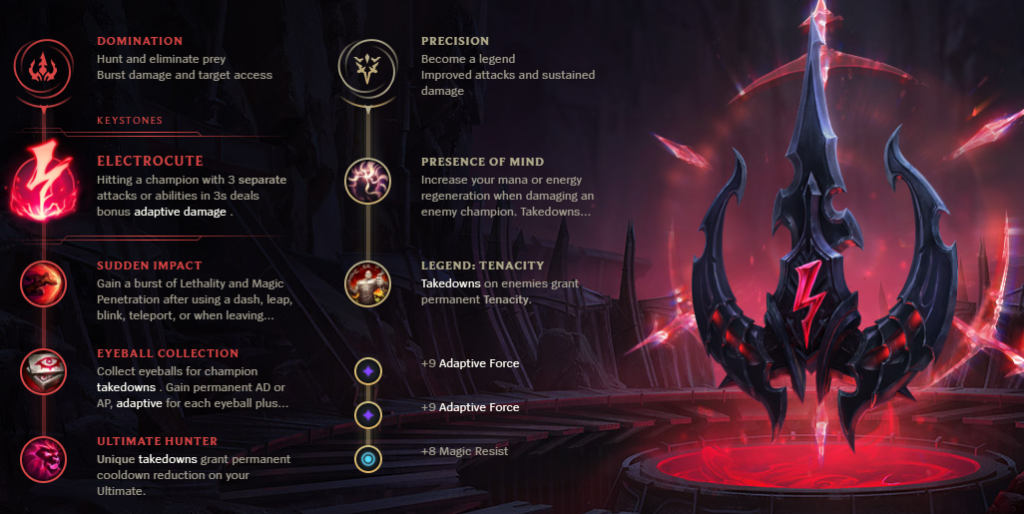 Kassadin's gameplay relies on going in with his ultimate, unleashing the rest of his abilities, taking a step back for a while, and repeating all this over and over. Therefore, the best major rune for Kassadin is Electrocute, which allows him to deal additional adaptive damage once he hits a champion with three separate attacks or abilities. With that under your belt, you will be able to maximize your all-in potential.
Other runes that are worth picking from the Domination tree for Kassadin are Sudden Impact, Eyeball Collection, and Ultimate Hunter. The former increases Kassadin's damage after he uses his ultimate, which is the basic mechanic of his kit. The other two runes are helpful in terms of maximizing Kassadin's scaling potential.
As far as the filler runes go, your best options would be Presence of Mind and Legend: Tenacity. With those two under your belt, you will have some additional, much-needed early mana, and more tenacity to navigate through the teamfights faster.
Ability priority
When it comes to abilities, Kassadin's path is very simple: R>E>W>Q. Your goal is to maximize his damage. Force Pulse (E) is an AoE ability that deals admirable damage and slows down enemies, making it a perfect choice for early-game skirmishes and wave clearing. Down the line, it's sensible to choose Nether Blade (W), since it restores mana and is helpful in solo encounters.
Game plan
As Kassadin, your main and most important goal is to get to level 16. At the same time, you don't want to fall immensely behind: if you reach that milestone minutes after your enemies do, you will still be too far behind.
In the early game, Kassadin players should just take the safe route. Simply clearing waves and gearing up is the most reasonable way of playing Kassadin in the first 20 minutes. Your damage isn't high to go for many solo fights, and long cooldowns will make it hard for you to engage in neutral objective skirmishes. Furthermore, you don't want to fall behind early, and due to your late-game potential, enemies will aim to take you down a bunch of times.
As you reach the late game, your gameplay should be simple. Go in, put your abilities to good use, get out, and repeat. Sometimes, though, there will be enemy team compositions that will make it hard for you to go in, especially those with many targeted CCs. In that case, try going around for some flanks and target enemy squishy targets.
In terms of items, Kassadin should build Tear of the Goddess first, and then follow it up with Rod of Ages, which are core for him. The former should transition into Archangel's Staff. Once you get these items under your belt, pick Rabadon's Deathcap, Void Staff, Zhonya's Hourglass, or Lich Bane, depending on what situation you've found yourself in.
Yasuo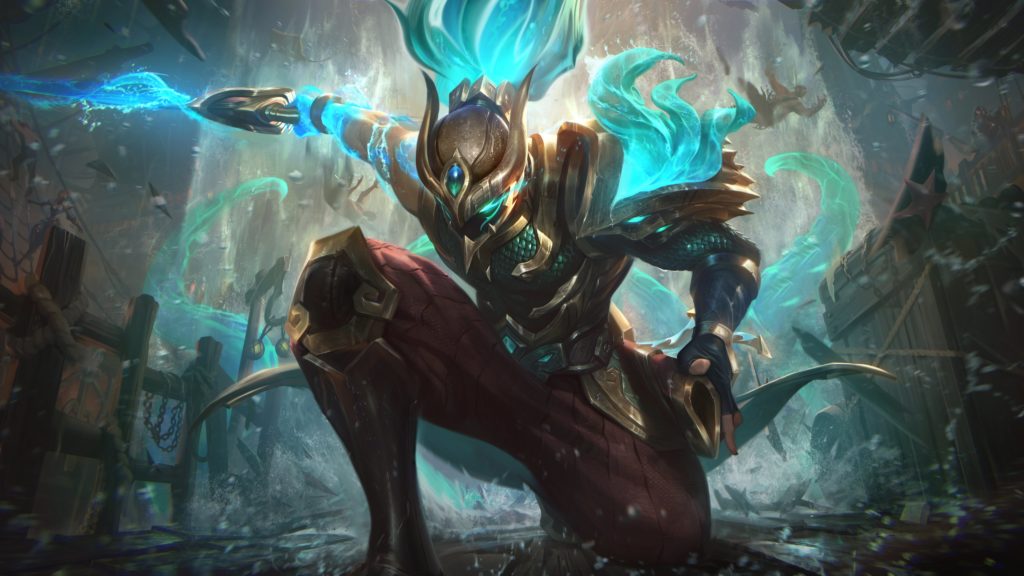 Pros
High damage
Great mobility
Unstoppable if well-ahead
Cons
Hard to master and unforgiving
Tough to make a comeback when you're significantly behind
Yasuo hasn'tbeen a strong mid-lane pick in recent patches, but just like Irelia, he does a good job at countering control mages thanks to his Wind Wall. He has great DPS and skirmishing ability, which makes him a unique pick compared to the other assassin mids. That said, he's not easy to play and requires a great understanding of his power spikes as well as mechanics.
Item build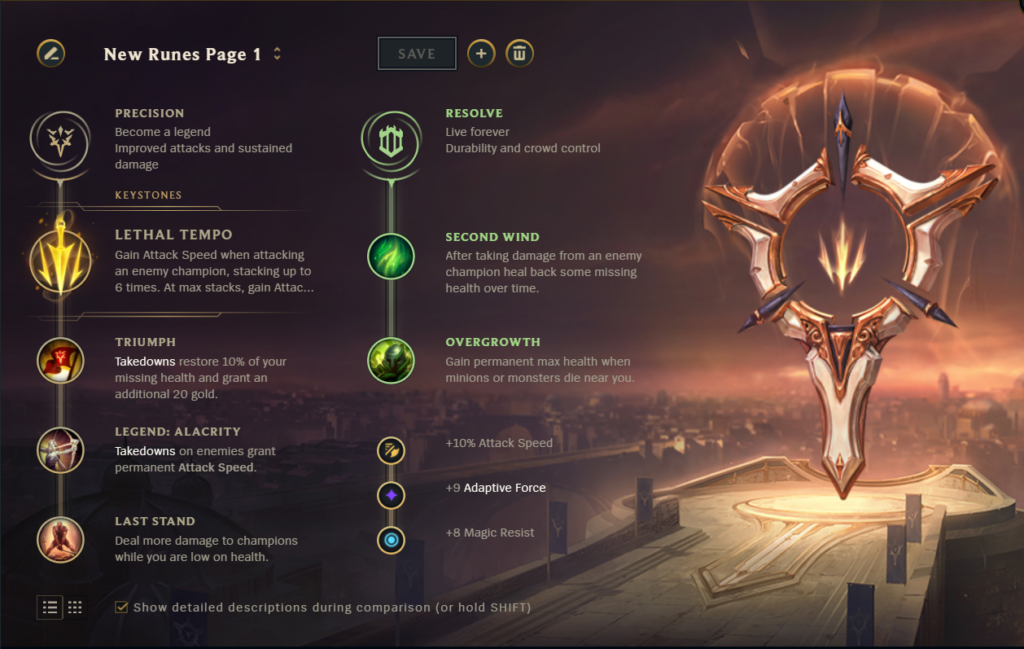 Like most fighters and bruisers, Yasuo used to be a hardcore Conqueror user. That said, ever since Lethal Tempo was introduced as a keystone, Conqueror is no longer the best rune for him.
The attack speed bonus the blademaster gets is substantial and grants him much stronger trading potential in the early game. This is because his attack speed scales directly with Steel Tempest's (Q) cooldown: in an extended fight, Yasuo can easily have his Q on a two-second cooldown.
For the rest of the Precision tree runes, choose Triumph, Legend: Alacrity, and Last Stand. As a secondary tree, choose Resolve and go for Bone Plating and Revitalize. Similar to Irelia, both benefit the most from this combination of runes.
Yasuo's build has remained fairly similar same over the years, with Immortal Shieldbow and Infinity Edge as the two main core items to be built. That said, rushing these two items make Yasuo a squishy champion that can be easily taken down, especially against magic damage champions. For that reason, consider buying Wit's End as the second item on Yasuo for the extra magic resistance.
Against high-sustain team compositions, Mortal Reminder can be a strong situational item to neutralize the healing. To close out the build, choose one armor item between Death Dance and Guardian Angel: in most scenarios, the second is preferred.
Ability priority
Zed has a simple ability path: R>Q>E>W. Steel Tempest (Q) is Yasuo's spammable spell, while Sweeping Blade's (E) is the ability that allows him to quickly close the gap with his targets. Against long-range spells, you might want to consider getting a few points on your Wind Wall to make it wider. Unless necessary, though, max E second.
Game plan
Yasuo is a particular champion that has various spikes that coincide with his items. Therefore, the main goal is to farm up enough gold to purchase his core items and allow him to become a one-vs-nine machine. Getting the early kills will accelerate that process, but takedowns are not needed if you farm consistently and with a champion like Yasuo, last hitting is not a hard job.
Yasuo's role within a game differs from the team composition he's in. You would typically prefer to have some set up by your teammates, either by allowing you to walk in and deal your damage, or knocking up the enemies for your ultimate.
Nonetheless, you need to be able to target the enemy carry and take him down. Remember to also use the Wind Wall at the right time to protect your allies from the enemies' spells. Once you become mechanically proficient at the champion, you will be able to solo carry most of the games.
Anivia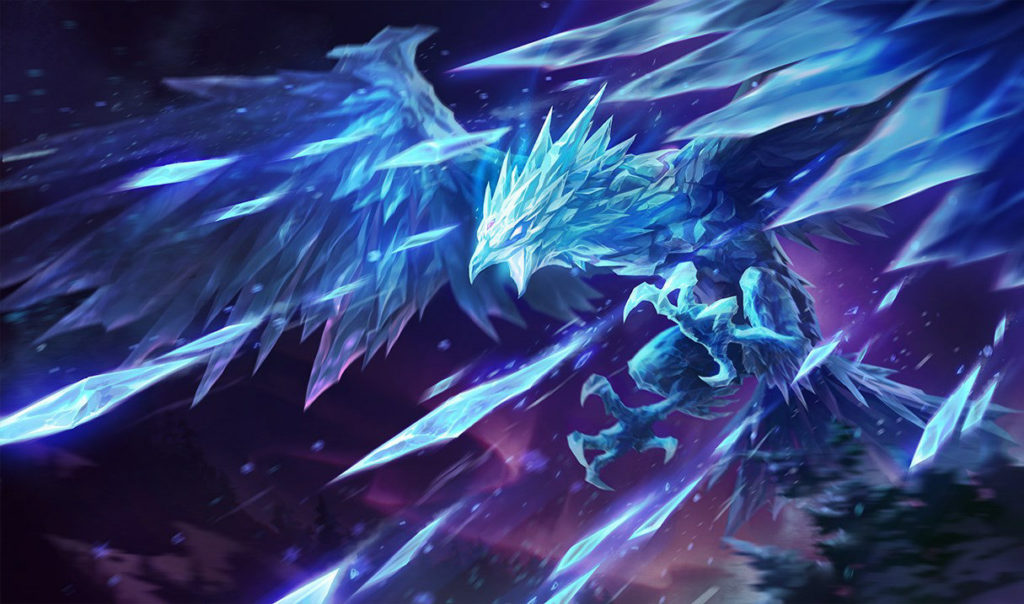 Pros
Strong AoE damage
Easy wave clear
Fantastic scaling
Cons
Easy to shut down early
Mana-hungry
Immobile
Mages have been returning to the mid lane in the latest patches, and Anivia is one of those that are making a comeback in an impressive fashion. The Cryophoenix hasn't changed at all in the few latest patches, though she still emerges as one of the best picks for the position as of now.
Item build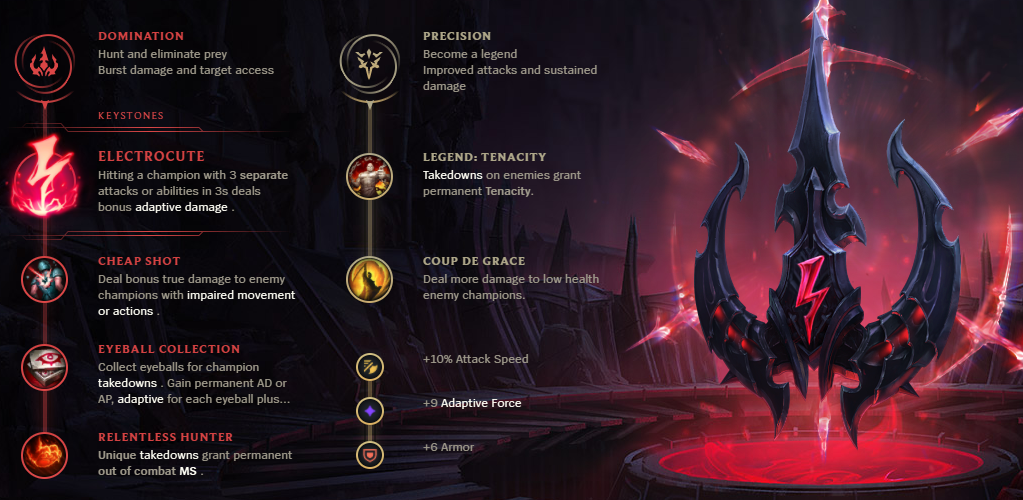 Anivia's greatest assets are her mid- and late-game scaling. She shines the most the closer she gets to have a full build and level 16. Therefore, it should be to no one's surprise that Electrocute is the best major rune choice for Anivia. With that under your belt, you will deal extra damage to champions that you hit with three separate attacks.
Afterward, you should choose Cheap Shot, Eyeball Collection, and Relentless Hunter. The former makes you deal bonus damage to champions with impaired actions, like those you get to stun with your Q. Other two runes increase your scaling by granting you additional AP and movement speed.
In terms of filler runes, you should choose Legend: Tenacity and Coup de Grace. The former grants you much-needed Tenacity, which will be crucial in teamfights, especially since Anivia isn't that mobile on her own. The other rune will allow her to finish low-on-health enemies. Although if the enemy team doesn't have a lot of CCs, you can swap Legend: Tenacity for Presence of Mind.
Ability priority
Anivia has one sensible ability priority: R>E>Q>W. Frostbite (E) is her main tool in one-vs-one scenarios, which has a low cooldown and deals tons of damage if the enemy is Chilled. Afterward, the only thing you should aim for in abilities is increasing damage, so putting points in Flash Frost (Q) makes tons of sense.
Game plan
Anivia's game plan is similar to Kassadin's. Your early game is quite weak, so you should play it safe and don't overextend. With your low mobility and late-game scaling, you want to go through the first 20 minutes of the game without any scratches.
Once you collect some core items under your belt, you might start engaging in fights over neutral objectives around the map. In teamfights, your best strategy is to stay behind your front line or support and launch your abilities toward enemy champs. You have to be extra careful, though, since you will most likely be a priority target for opponents.
As far as the items go, Rod of Ages and Archangel's Staff are essential for Anivia. Once you complete them, you should go for Rabadon's Deathcap and Zhonya's Hourglass, followed by the likes of Morellonomicon and Shadowflame.