Some champions in League of Legends are just flat-out stronger than others.
Mid lane is one of the game's easiest roles to carry with, mostly because you have easy access to any other part of the map. Oh, and a lot of damage. Great mid laners are those that can effectively roam to other lanes while keeping good pressure on their own mid lane opponent. Champions that can do that well are indispensable.
This list of top-tier champions can be affected depending on a number of things. Sometimes the meta shifts for no apparent reason other than players' tastes, but usually there's some kind of balance change behind the whole thing. It can be difficult to keep up on the flavor-of-the-month champs, so let us do it for you.
Here are our top five mid laners for League's Patch 10.3.
Diana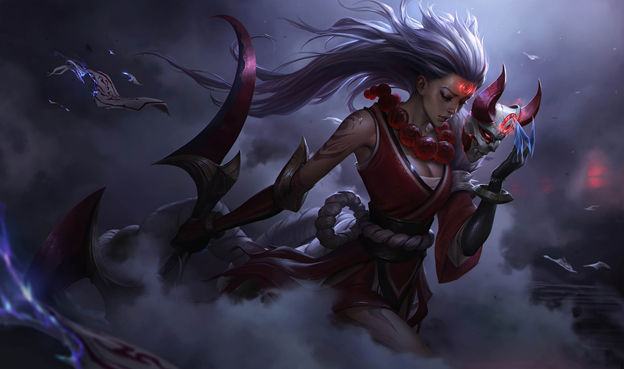 Pros
Great initiator
Innate tankiness
Can proc Conqueror quickly
Cons
Melee
Targeted mobility spell
High mana costs
If you enjoyed the previous iteration of Diana, you're going to love the current reworked version as well. While some players argue that the previous version was more enjoyable, it was mostly due to her being an assassin.
Riot has shifted some power into other areas of her kit, allowing her to excel in the laning phase before level six. The current version is healthier for the game and is more enjoyable to play during the early levels.
Item build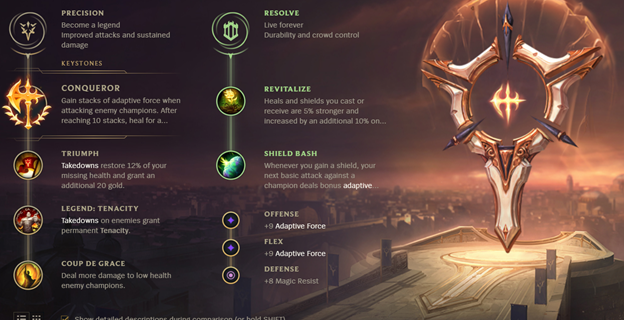 Conqueror is a must-have rune since it gives a lot of ability power alongside healing once fully stacked, which is easy for Diana to do with a simple combo. Tenacity is great against teams with a lot of CC. Otherwise, Alacrity is a good choice as well. Coup de Grace gives you the extra damage needed to finish enemies with your combo.
Ability priority
Diana's skill priority is the following: R(Moonfall)>Q(Crescent Strike)>W(Pale Cascade)>E(Lunar Rush). Her ultimate is self-explanatory, Q is the bread and butter ability allowing you to farm, while W max second will give you a bit of extra AoE damage in team fights and more survivability. The E max is last since the extra damage/cooldown reduced on it isn't as impactful as other abilities.
Game plan
Farm early with your Q. If your enemy walks too close, try to land a Q and follow up with an E to punish them. Your goal should be to safely farm until you get Nashor's Tooth, after which you become much stronger. With Nashor's Tooth in your inventory, you can start roaming and pushing for objectives. Try to engage from unexpected angles to catch their backline off guard. Invest in a Zhonya's Hourglass to buy yourself extra time after you engage on enemies.
Syndra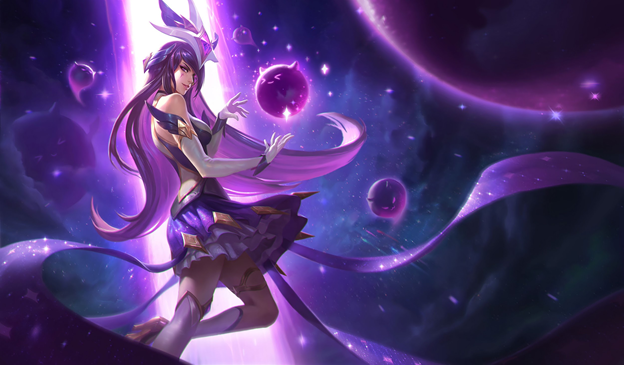 Pros
Great burst damage
Strong AoE control (slow/stun)
Can make the fight five-vs-four with a single combo
Cons
Immobile
Skillshot reliant
Requires good positioning and awareness
Syndra is one of two mages in the top five mid lane tier list who has no mobility spells. But that doesn't stop her from competing with mobile champions in the current meta. She has an extremely flexible kit, which allows you to initiate a fight or disperse it. Once you reach level six, you have kill pressure on most mid laners outside of tanks. If you land a good stun, you can easily follow up with a Q/R to finish them off.
Item build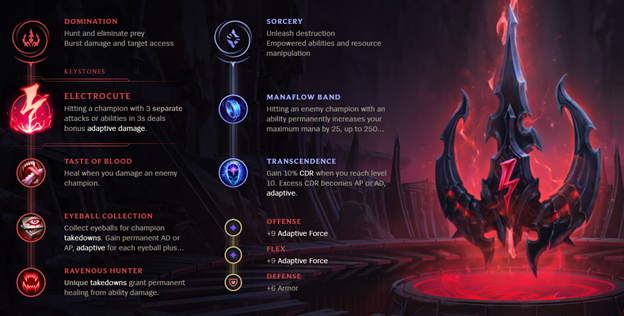 The Domination primary tree is a staple on Syndra. It grants everything you need: extra burst damage with Electrocute, healing to sustain yourself via Taste of Blood and Ravenous Hunter, and additional ability power after you get kills from Eyeball Collection. The secondary tree is more flexible, with some players going for Inspiration for the improved potions and biscuits, while most go for Manaflow Band and Transcendence for the increased mana and CDR required to spam your abilities more often.
Ability priority
Syndra's skill priority is the following: R>Q>W>E. Her ultimate allows her to blow up squishy champions instantly. Q is your core ability, which allows you to poke safely and set up good stuns for your E. Maxing E second will give you a lower cooldown on your stun. When maxed, it'll have an increased width as well. W max is last since the maxed-out E is powerful and allows you to set up fights easier.
Game plan
Last hit minions with your auto attacks and use your Q on enemy mid laners when they get close. Try to reach level two before them so you can throw out a Q>E>auto combo to get a good trade without losing any health. The game plan is to poke the enemy constantly. When they get in a bad position, throw your E then follow it up with your ultimate to finish them off.
In team fights, try to be aware of your ball positioning. They'll decide if the fight is in your favor. Try to not waste your E instantly. Wait for the enemy to engage or be in a choke point and keep your ultimate for squishy targets.
Kassadin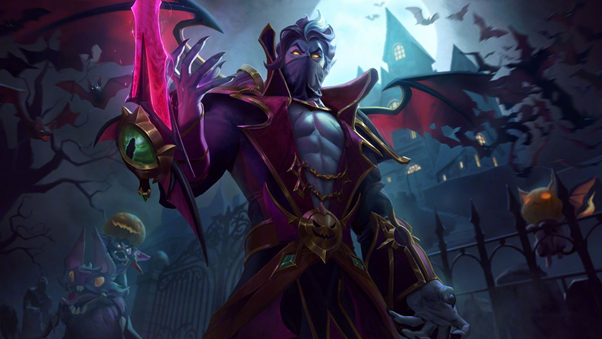 Pros
Low-cd flash with ultimate
Strong AoE damage
Scales really well
Cons
Weak laning phase
Melee
Requires constant jungler attention vs ranged AD matchups
Kassadin is one of the best mid laners to carry with once you have items and have reached your power spike. While his weaknesses can be minimized with proper rune and item builds, he still needs time to scale to be effective. Once you reach level 16, you become completely unstoppable and your chances of losing are slim if you juggle around a teamfight properly.
Item build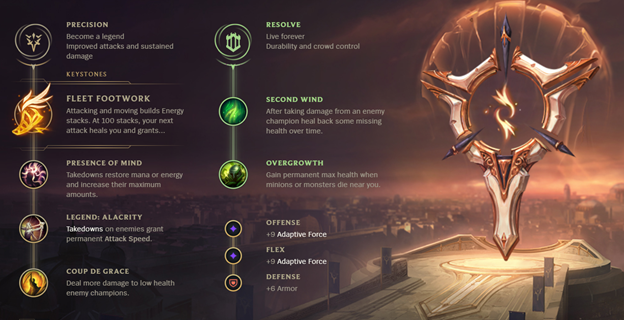 This is a defensive rune build. Kassadin is flexible and can use all trees effectively. We recommend going with this since it'll help out in most matchups and won't need much tweaking.
The Precision primary tree is strong on Kassadin. Fleet Footwork grants a lot of needed sustain and some movement speed to avoid ganks. Presence of Mind allows you to dominate team fights, Coup de Grace grants extra damage to finish off opponents, and Legend: Alacrity allows you to do your combo faster. Resolve as a secondary tree grants some more sustain via the Second Wind health regeneration and extra health based on minions killed.
Ability priority
Kassadin's skill priority is the following: R>Q(rank three)>E>Q(rank five)>W. While Q is the only ranged ability and allows you to farm single minions or poke out the enemy champion, E is your primary wave clear tool and you need to max it as soon as possible. If you're facing a heavy AP-focused team, you can max out Q first instead. If you're facing a heavy AD-focused team, you can max out E while keeping Q at rank one until level nine.
Game plan
Kassadin scales well with items and experience. He's weak before level six, and as a result, you need to pay attention to the trades you take. It's fine to let minions die without last-hitting them, as long as you get the needed experience to survive the laning phase. Once you reach level six, you can switch to an aggressive playstyle and engage on enemies with your ultimate. But without your ultimate, you're walking bait for the enemy jungler. Your main goal should be to get Rod of Ages as soon as possible, alongside Archangel's Staff. These two items combined will make you insanely strong and hard to deal with.
Cassiopeia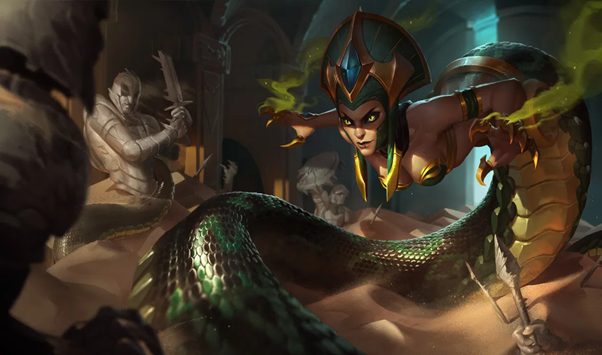 Pros
High-impacting ultimate
Strong single target damage
Has a basic ability to deny flashes/dashes
Scales really well
Cons
No boots
Skillshot reliant
Needs to be close to melee range to deal damage
Cassiopeia is the second mid laner in the top five tier list without mobility. She has a medium skill floor and a high skill cap. She's one of the best champions to practice a lot. The more time you put into her, the better you'll understand your limits. Her lack of boots hurts her laning phase toward the mid game but that's compensated later on by an additional item slot.
Item build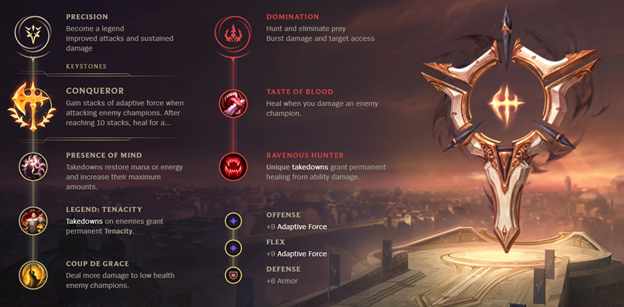 Cassiopeia is one of the best Conqueror and Ravenous Hunter users. The keystone grants her the needed ability power early on, alongside great healing capabilities when combined with the Domination tree. The Presence of Mind will grant you the ability to spam your E to kill enemies fast in team fights, while Ravenous Hunter will keep you topped up both during the laning phase and in team fights.
Ability priority
Cassiopeia's skill priority is the following: R>E>Q>W. Maxing E first will allow you to poke enemies down quickly if caught with a Q or W, while also allowing you to last hit more efficiently. Q second will let you keep up the movement speed buff longer in team fights, allowing you to compensate for the lack of boots in your inventory.
Game plan
Cassiopeia needs to rush Tear of the Goddess as soon as possible. Archangel's Staff is the core item on her. It enables her to be a terror in both pro play and solo que. With Archangel's Staff charged, you can start forcing plays with aggressive ultimates. When the enemy goes all-in, you can pop the shield and turn around on them. Cassiopeia deals a lot of damage with her E spam on poisoned enemies, so try to poison them before you start spamming E.
Qiyana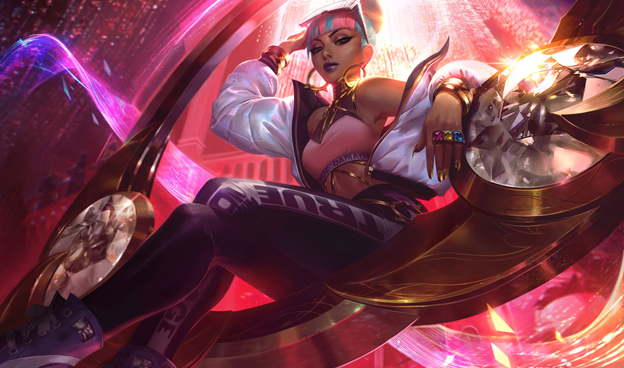 Pros
Flexible playstyle
Strong roaming capabilities
Stealth
Low cooldowns
Cons
Doesn't scale very well into the late game
Weak against tanks
Qiyana is one of the best mid laners on this patch. Her kit allows her to push mid lane without getting punished quite easily and then roam to a side lane for a gank or objective. Her low cooldowns enhance her abilities to poke, root, and juke enemies depending on elements nearby.
Item build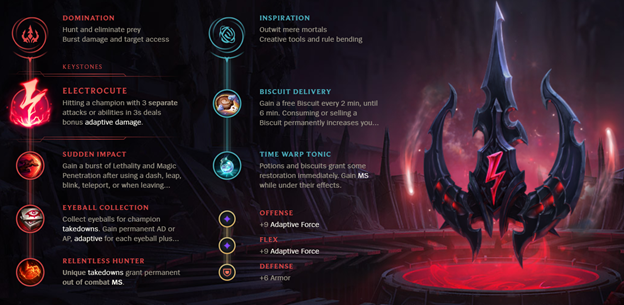 The Domination primary is essential for Qiyana. It has the extra damage needed from Electrocute with Eyeball Collection, additional armor penetration, and movement speed needed for quick roams. Inspiration secondary allows you to remove some weaknesses during the laning phase by having more sustain and allowing you to spam your abilities more often.
Ability priority
Qiyana's skill priority is the following: R>Q>E>W. Q is the bread and butter ability enhanced by the elements picked with W. By maxing it, you get the needed damage to farm safely and poke opponents. E second will allow you to get in and out of fights more effectively by having a lower cooldown on the dash.
Game plan
Qiyana is an early to mid game champion. She doesn't transition that well into the late game. As a result, you need to apply pressure early on. A core item to rush on her is Boots of Mobility. They'll allow you to base and move to a side lane without losing much pressure in the mid lane. Rushing lethality items will increase your mid-game power spike and allow you to have one-shot capabilities on squishy champions. Focus on snowballing yourself and your teammates before the game goes into the late game where Qiyana is weak.