Maryville University will head to Los Angeles this week to defend its League of Legends College Championship.
Maryville ULoL made history when they beat the University of Toronto to bring the championship trophy to the United States of the first time in years. Canada has dominated the University League of Legends tournament and looked primed to extend that run before Maryville's dominant victory.
Maryville will have big targets on their backs heading into this year's tournament, which kicks off on Thursday, June 7. They aren't only the defending champs, but also the first seed in the field.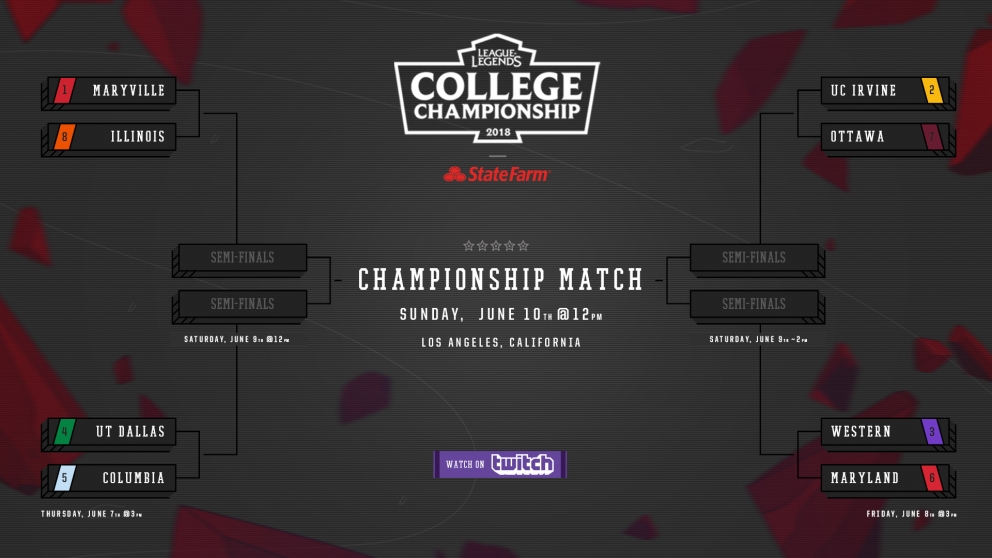 Maryville will open the tournament by taking on eight-seeded Illinois in the quarterfinals at 5pm CT on Thursday. That match will be followed by fourth-seeded UT Dallas against fifth-seeded Columbia College.
On Friday, two seed UC Irvine will play seven seed Ottawa at 5pm CT, followed by third-seeded Western against six seed Maryland.
The winners advance to the semifinals at 2pm CT on Saturday, followed by the Championship Final on Sunday, June 10 at 2pm CT.
The quarterfinals will be played as best-of-threes, while the semifinals and final will be in the best-of-five format.
This year's tournament is noteworthy for the lack of big names that have previously been associated with the collegiate League of Legends scene. While Ottawa and Western are around to represent Canada, Toronto won't be present to try to improve upon its runner-up finish from last year. And North American stalwart Robert Morris, who were eliminated by Maryville in last year's semifinals, also won't play for the championship.
That means the field is wide open for one of the new teams to compete—if they can stop Maryville, that is.