Paladin is the class of righteousness, justice, light, and holiness in Hearthstone. Yet, most of its successful archetypes revolve around punching you in the face with big things. Be it Standard, Wild, or Classic, aggressive Paladin decks tend to be the name of the game, with some notable exceptions.
Here are the best Paladin decks in Heartstone if you want to take down your opponents with this class.
The best Standard Hearthstone Paladin decks
Control Paladin
This is a traditional control deck chock-full of removal tools, mostly in the form of Holy spells (which is why it's also often referred to as "Holy Paladin"). You keep stalling and stalling until you play Lightforged Cariel and use her Hero Power to buff Mr. Smite until you have lethal. Righteous Defense also helps you to execute this game plan.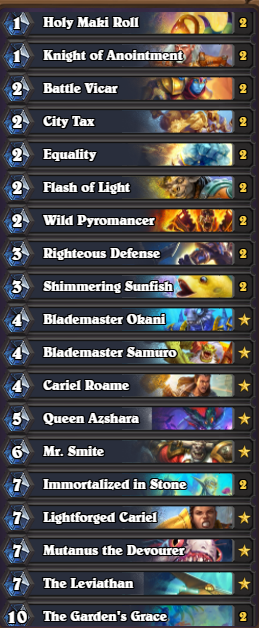 Code: AAECAZ8FCPvoA5HsA6bvA7+ABOCLBLCyBMeyBNu5BAvM6wOL+AO3gATunwTQrATQvQTXvQTavQSS1ASh1ATw8QQA
Mech Paladin
An interesting alternative to Mech Mage, Mech Paladin only emerged as a reasonable contender in the Standard metagame after the first round of nerfs. Play Mechs on curve, buff some stuff, refill your hand with Radar Detector, and never let go of board control until your opponent's HP reaches zero. The one copy of Battleground Battlemaster will help a lot in that regard.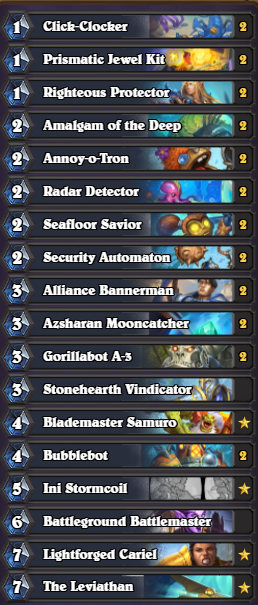 Code: AAECAZ8FBvvoA8f5A+CLBPmkBLCyBOy6BAzw9gOq+APJoATWoASStQThtQTeuQTUvQSywQTa0wTa2QSUpAUA
The best Wild Hearthstone Paladin decks
Mech Paladin
Mech Paladin has long been a viable archetype in Wild, and the combination of the new Mechs coupled with its existing ability to utilize stuff with the Magnetic keyword offers unprecedented flexibility for the deck. You can go wide and win the game with Bubblebot, swing the early game with Mechwarper and Galvanizer shenanigans, and if all else fails, play Lightforged Cariel and try to grind the game out. It is an excellent anti-aggro deck with a fairly easy game plan.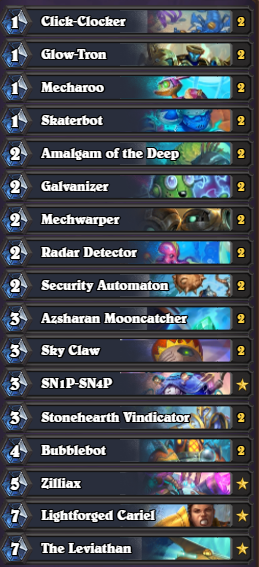 Code: AAEBAZ8FBJ+3A6CAA+CLBLCyBA3htQTW/gL2/QKf9QKywQTX/gKUD9rTBJK1BN65BIeuA/mkBNS9BAA=
Highlander Paladin
Ah yes, Reno Paladin. Perhaps not the class you'd expect to have a viable Highlander deck in Wild, but the class-specific support tool in the form of Sir Finley of the Sands alongside the usual staples of Reno Jackson and Zephrys the Great is a great starting point. Several cards from the Voyage to the Sunken City set are viable additions: Sir Finley, Sea Guide, The Leviathan, The Garden's Grace, and the defensive option of Holy Maki Roll are all viable considerations. This build is full of value and has a flexible enough game plan to give any archetype a good game.

Code: AAEBAZ8FHpXNA9n+AszrA+WwBIv4A9/EAu6fBMrBA/neA4OhA/yjA/D2A5jUBM6HA5PQA7eABJbUBMeyBPvoA5HsA4etA/oOoIADmtQE4IsEpu8DsLIE2fkD76QE3AoAAA==
The best Classic Hearthstone Paladin decks
Aggro Paladin
Sometimes referred to as "Shockadin," it's one of the less efficient aggro decks in the format. Individual high-power cards like Truesilver Champion and Divine Favor will steal you a lot of wins, making this a viable tier-two deck, but it doesn't change the fact that Paladin is one of the weaker classes in Classic Mode.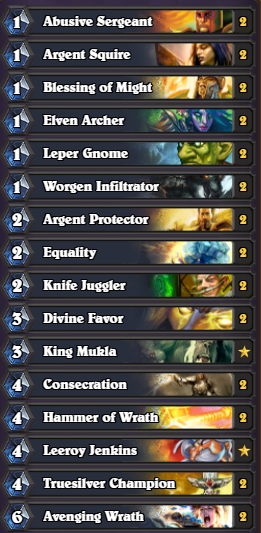 Code: AAEDAZ8FArahBNyhBA6HlgSOlgSPlgSQlgSzlgSBoQSyoQS0oQS9oQSsogSwogS3ogSpowTDowQA
Control Paladin
Also known as "Healadin", this deck's strategy revolves around high-value minions and making use of the slow trickle of extra resources from your Hero Power. Unfortunately for players, it only has specific benefits against Control Warrior (and does a surprisingly reasonable job against Druids, too), but its struggles against aggro decks and Miracle Rogue makes it one of the weaker decks in the Classic format.
However, since fans haven't really seen many other proper removal-based Control Paladin decks in Hearthstone since these days (until the release of Voyage to the Sunken City, at least), it's worth messing around with.
Code: AAEDAZ8FAu6WBLaiBA6JlgSOlgSPlgSQlgSvlgSzlgT6oAS+oQSTogSuogS1ogSpowTEowTSowQA