Another Hearthstone card has been revealed from the upcoming expansion, Rastakhan's Rumble.
Splitting Image is the name of this Epic spell, and it requires three mana. The Mage Secret works "when one of your minions is attacked, summon a copy of it."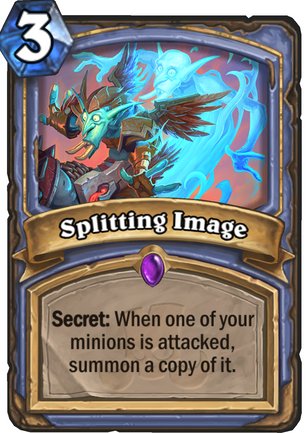 This card is pretty self-explanatory—after you play Splitting Image, it'll activate when a minion you control is attacked. And once this happens, you'll get an extra copy of that targeted minion summoned straight to your board.
Related: All of the cards revealed from Hearthstone's upcoming expansion, Rastakhan's Rumble

Hearthstone players can pre-purchase Rastakhan's Rumble. There are two bundle options: One for $20 and another for $50. These pre-purchase bundles will be available until Dec. 4.