Today's second card reveal from Hearthstone's next expansion, Rastakhan's Rumble, was announced by UDN. This one is a new Warrior minion card called Spirit of the Rhino.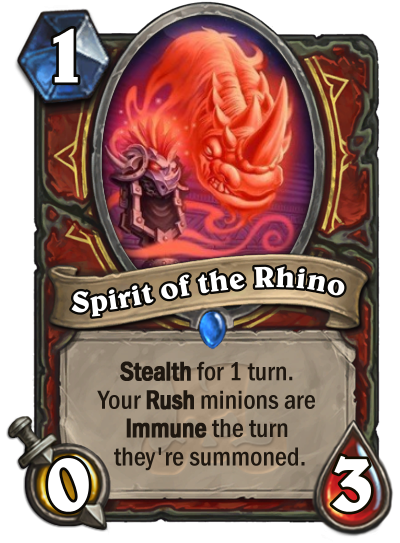 This early-game card is a 1-mana cost 0/3 minion with Stealth for 1 turn. It will also give your Rush minions Immune during the turn they're summoned. Spirit of the Rhino's low cost makes this a pretty strong card, especially in a Warrior deck with strong Rush minions, such as The Boomship or Dr. Boom. It also synergizes well in early-mid game with cards such as Town Crier.
Related: All of the cards revealed from Hearthstone's upcoming expansion, Rastakhan's Rumble
Rastakhan's Rumble is available for pre-purchase now under two bundle options: One for $20 and another for $50. This offer will be on until Dec. 4 when the upcoming expansion comes out.