Valve unveiled today its new portable gaming console, the Steam Deck, and while it has a similar look to a Switch or PlayStation Portable, it's bigger than most devices of its kind.
Steam Deck: Dimensions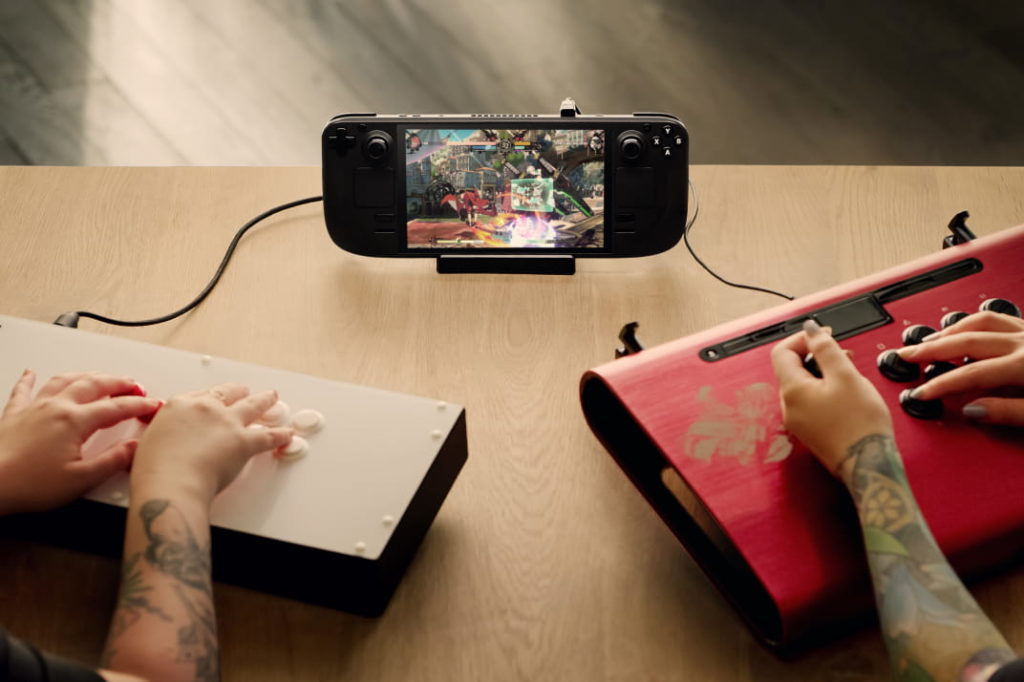 The Steam Deck will be 298mm x 117mm x 49mm, or 11.7 inches long and 4.6 inches tall and just under 2 inches thick. For comparison, the standard Nintendo Switch is 173mm x 102mm x 14mm, or 9.5 inches long, 4 inches tall and 0.55 inches thick.
Meanwhile, the Steam Deck will weigh in at approximately 669 grams or 1.47lbs, just less than twice the weight of a Switch with the Joy-Con controllers attached (0.88 pounds).
Steam Deck: Screen, resolution, refresh rate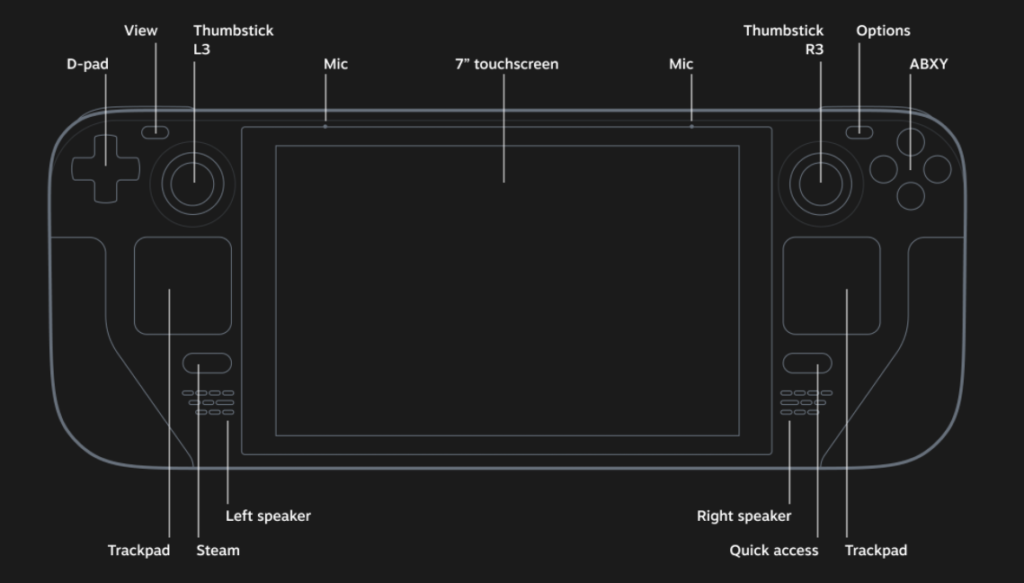 So no matter what version of the Switch you're looking at, the Steam Deck is bigger than a Switch. Valve appears to have put that space to use, according to the blueprints on the official website. There's a plethora of buttons, two thumbsticks, a D-pad, and a trackpad on each side of the 7-inch IPS LCD screen.
Additionally, the console comes with Right and Left analog triggers and bumpers, as well as four more bindable buttons on the back (R4, R5, L4, L5). The Steam Deck comes with a 7-inch touchscreen display. It's larger than the original Nintendo Switch and Switch Lite, although the Switch OLED matches it in size.
The Switch OLED also has better color reproduction and contrast thanks to its OLED panel, whereas the Steam Deck relies on an optically bonded IPS LED screen. It's also running at a fairly standard 60Hz refresh rate and a native resolution of 1280×800, marginally more than the 1280×720 of the Nintendo Switch.
Steam Deck: CPU, layout, battery and Steam Dock

While the Steam Deck will have a Switch-like dock for easy use with TVs, Valve has confirmed the Steam Dock won't be available at launch. The official page says "more information [is] coming soon" about the Dock, including a release date and pricing.
Like the Nintendo Switch, Valve has quoted the Steam Deck's battery life at somewhere between two and eight hours, depending on usage and gameplay. Anything that pushes the Deck's 4-core/8 thread APU—which is powered by AMD's Zen 2 design and its RDNA 2 graphics architecture—to its limit will use up the battery more quickly, while less demanding indie titles will get you closer to six to eight hours use.
Valve has opted for a fairly standard port layout with the Deck. The top left and right of the console house shoulder and bumper buttons—much like the Switch—and there is a 3.5mm headphone port, volume buttons and a power switch. Valve has also placed the USB-C charging port at the top, making it easier to use the Deck while charging.
Steam Deck's operating system
While the Steam Deck will officially ship with the Linux-based SteamOS, dual booting Windows is officially supported. Valve also confirmed they're working with Microsoft to get the Deck supported for Windows 11. "There's nothing to indicate to us yet that there'll be any issues with Windows 11," Greg Coomer, one of the designers of the Steam Deck, told PC Gamer in an interview.
With the support for external displays and traditional mouse and keyboard devices, this means you could turn the Deck into a portable desktop-type PC—although it's worth stressing that performance of games on the Deck under Windows is likely to be compromised due to the extra overhead that Windows adds.
Steam Deck's storage
While the Steam Deck comes with different storage options, it's worth noting the vast difference in performance between the base model and everything else. The entry-level Deck only comes with 64GB of eMMC storage, which is substantially slower than the 256GB and 512GB NVMe SSD-powered offerings that retail from $529 and $649 respectively.
However, users do have the option to upgrade the storage further. The Steam Deck comes with a microSD slot that supports expandable storage. It's worth noting that microSD cards are typically much slower than SSDs though—so if you want a microSD card with comparable speeds, expect to pay $150 or more. That said, if you're happy playing older titles or mostly indie games where loading times are not a major factor, then a slower SD card will do.
Where to buy the Steam Deck
If you live in one of the supported countries, you can place a preorder for the Steam Deck through the official page. The first Steam Deck orders are expected to ship sometime in February, with the console missing its original launch date because of COVID-induced shocks to the supply chain. For those living outside of the United States, Canada, United Kingdom, and the European Union, Valve says "information about expanded regional availability [is] coming soon".
The Deck's price ranges from $399 to 649, depending on storage options.