Tokyo Game Show has released its schedule for the event, revealing that there will be a new Xbox Game Showcase as the first panel after the opening. Microsoft Japan will go live on Sept. 24 at 7am CT.
Xbox has teased a September event and this might be it. But the description of the panel could mean anything since it reads "we've got something for everyone who loves games to enjoy."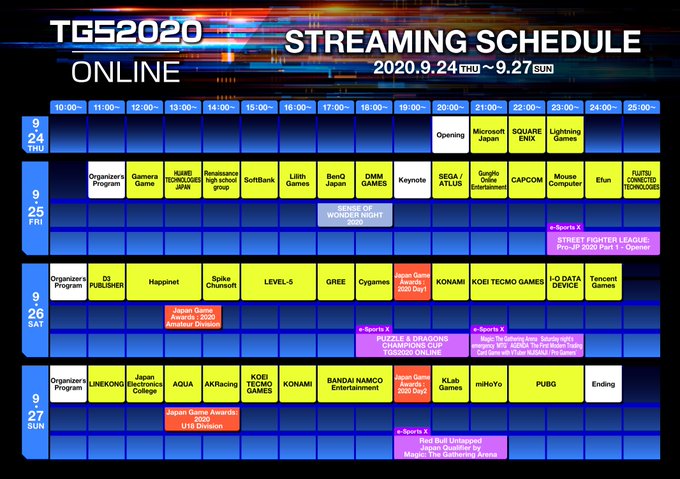 The last Xbox Games Showcase happened on July 23. Fans were treated to game trailers for Halo Infinite, As Dusk Falls, Avowed, Fable, Forza Motosports, Destiny 2: Beyond Light, and many others.
Since Halo Infinite's release was pushed back to 2021, it's unlikely that fans will see any updates on that title. Perhaps there won't be any next-gen games announced or we'll get smaller updates on games already confirmed, like Fable.
Because of the COVID-19 pandemic, the event has to be held entirely online this year. The event will be streamed on TGS's YouTube channel. You can already set a notification for the Xbox Game Showcase, too. This convention will be one of the last events before the Xbox Series X launches in November.
Right after Microsoft, Square Enix will probably complement the Xbox Game Showcase with more in-depth content of what was announced by the publisher during the previous panel.
SEGA, KONAMI, Tencent Games, Bandai Namco Entertainment, and PUBG will have their own panel in the four-day event. Konami will have the most screentime with two panels planned on different days.
Here are the descriptions of the major publishers' panels for the Tokyo Game Show:
Sept. 25: "SEGA Atlas TV" – SEGA/Atlas has a large lineup of titles that are on sale and distributed this fall, as well as the hot titles that are on sale. Introducing TGS exhibit contents such as special programs commemorating SEGA's 60th anniversary and distribution programs that invite various guests to convey the latest information.
Sept. 26: "KONAMI information program" – The latest information will be delivered as soon as possible.
Sept. 26: Tencent Games- "Tencent Games presents two masterpieces, Dorabra and Saint Seiya, tonight's excitement."
Sept. 27: "KONAMI's Momotaro Dentetsu-Showa Heisei
Rewa is a classic." – A special program for Nintendo Switch scheduled to be released on Nov. 19.
Sept. 27: "PUBG JAPAN Esports conference 2020″ – This will introduce the trajectory of esports deployment that PUBG has done in Japan so far, as well as future efforts.