Over the last 12 months, an unprecedented amount of investment has flowed into esports.
The charge has been led by owners of traditional sports franchises investing in teams like the Boston Uprising and Golden Guardians. But those teams compete in leagues run by publishers like Blizzard and Riot Games. The revolutionary next step will begin this summer when the NBA launches an esports league of its own: the NBA 2K League.
The 2K League is a sign of the NBA looking to make up for lost time in esports. For Josh Barney, the director of esports and technology for the NBA's Utah Jazz and the head of its 2K League franchise, Jazz Gaming, this development has been a long time coming. A few years ago, nobody in the Jazz organization knew what esports was. Convincing a conservative group of sports executives to expand into esports was already a big win. "I think we've already succeeded in a way," he said about the Jazz investing heavily in the 2K League.
That doesn't mean there won't be big challenges along the way. The 2K League will be revolutionary, which is good and bad. It may take years for 2K esports to grow to the scale of competitors like Overwatch and League of Legends. But the potential payoff for the venture is too big to ignore.
Breaking barriers
---

The 2K League will be groundbreaking in many ways. For the first time, an entire traditional sports league has gone all-in on esports. Teams will be directly sponsored by existing NBA franchises and will operate as extensions of those franchise's brands.
It's also the first league of its kind for a sports game, with the NBA partnering heavily with publisher 2K Sports to drive development. Although some European soccer teams have invested in FIFA players and tournaments are held for 2K and Madden, this is the first time a traditional sports game will be the centerpiece of an esports league.
It's easy to see why the NBA is interested in video games. Sports games like 2K are top sellers every year. And esports are hugely popular among younger audiences, as well as international viewers, two key demographics that traditional sports leagues are struggling reach. But getting the NBA to buy in was no small task.
"Before the whole 2K League even started, I had to present esports to the Utah Jazz senior management," Barney said. "These were guys who had no idea what esports was." Even after the NBA decided to invest in esports, there were challenges getting people to understand the industry. "I remember one of our first meetings with the NBA about esports," Barney recalled. "I put up a picture of [Fnatic ADC Martin "Rekkles" Larsson], and they called him 'Wreckls.'"
But slowly, Barney got buy in from the executives within Larry H. Miller Sports & Entertainment. "They realized that esports is entertainment," Barney said. "And that it fits in with the 'entertainment' aspect of the company name."
A unique opportunity
---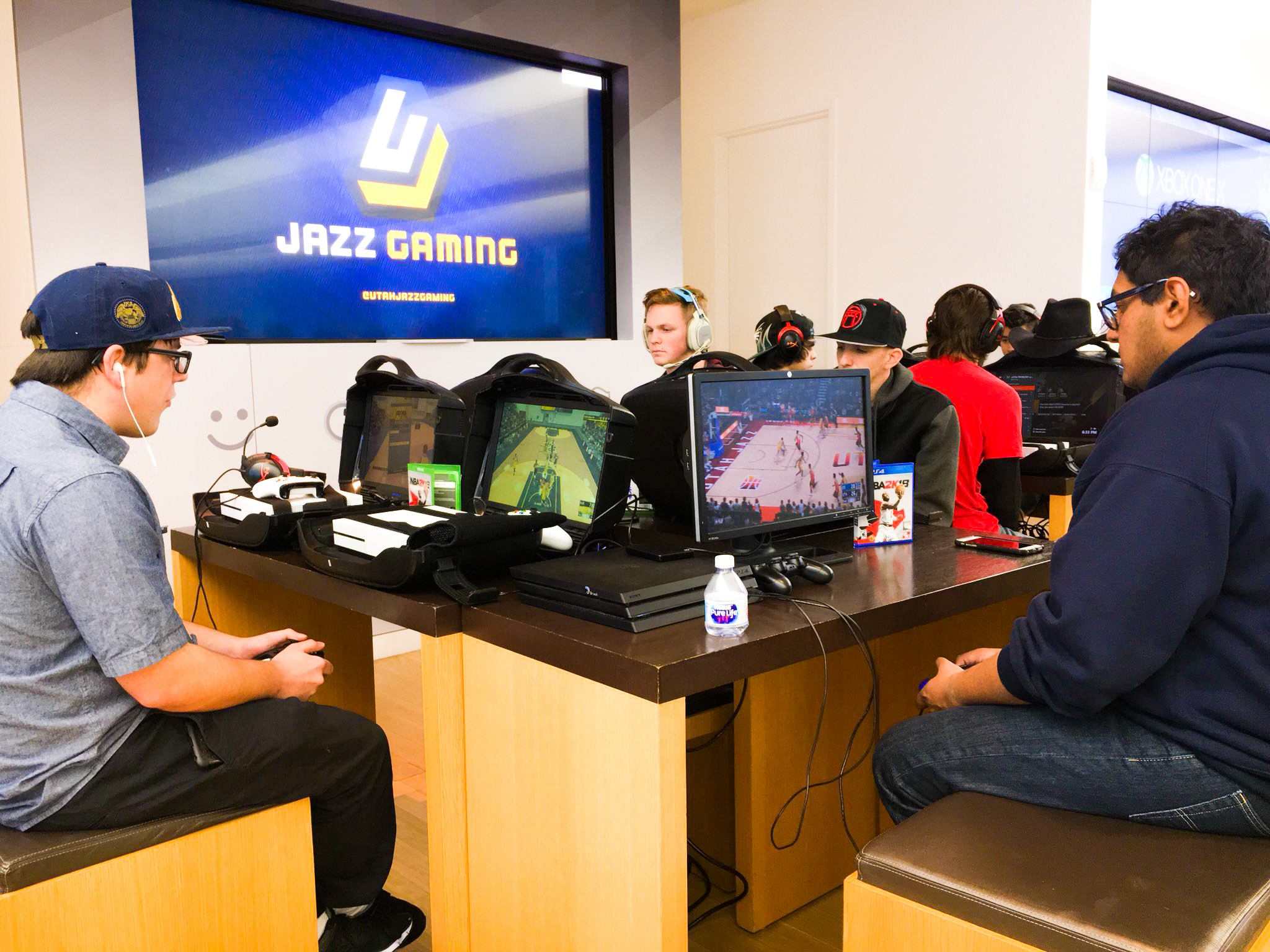 As the NBA studied esports over a multi-year period, they realized that this was an opportunity they could not afford to miss. But other leagues identified that opportunity years ago, and have a leg up in competition. How could the NBA make an impact beyond investing in LCS teams?
To Angie Klingsieck, Jazz Gaming's manager, the 2K League was the answer. It seems obvious now that the NBA would invest in a basketball video game. It's new, and therefore a risk, but being a first mover has its advantages. "This is the first big esports development in sports games," Klingsieck said. "And we don't have a lot of competition in that segment."
Klingsieck has experience growing regional organizations from the grassroots level. Her career in esports started when she founded Crimson Gaming, an esports club associated with the University of Utah. Over the last several years, Crimson Gaming has evolved from a simple student club to a regional gaming powerhouse, complete with a varsity program, Utah Esports.
Because of her experience with regional esports, Klingsieck believes that the 2K League's regional model is a major advantage for the league. Not only will teams have opportunities to cross-sell to fans of the NBA teams that sponsor them, but they can expand the reach of esports beyond traditional hubs like Los Angeles. "The Utah gaming environment is incredible," Klingsieck said. "We've had people come in from Portland, Vegas, all over the region for casual gatherings. We think there's going to be a lot of growth here."
Playing with the big boys
---
But the regional aspect alone will not ensure the success of the 2K League. At some point, it will have to compete with Overwatch League and the NA LCS for viewers. What then?
Barney isn't worried about that just yet. "Our viewership is not going to be within a city block of League of Legends or Overwatch League," he said. "Where we think we have an advantage is in fan engagement. We've had incredible community events where people have even traveling from surrounding states even to participate. That's where we're going to win."
In order for the 2K League to succeed in that goal, it will need to pour a lot into the local gaming community. The good news is that league teams have little regional competition from other esports. Overwatch League comes closest to associating teams with a city, but with the players still based in Los Angeles, it's hard to truly establish those bonds.
The 2K League will also have to embrace that the entertainment aspect of esports. In some cases, establishing a brand is more than putting a winning team on stage. "We are going to expand so far beyond just the game," Barney said. "Gamers are people too—they consume content. That's why this fits so well within the world of Larry Miller Sports & Entertainment—it's entertainment."
It remains to be seen how effectively NBA teams can cross-sell fans on their 2K League franchises. There's risk that there just isn't a lot of overlap between sports and esports fans.
A tall task
---
Barney and Klingsieck acknowledge there are a lot of unknowns for Jazz Gaming and the 2K League. Klingsieck has plenty of experience managing from her time with Crimson Gaming, but the pressure will be amped up when 2K League begins play in May of this year. Players are currently in a scouting process, after which will come a draft for placement on one of the seventeen founding teams. For Klingsieck, this will be like a sprint, only one that lasts more than six months.
Like Klingsieck, managers for several other 2K franchises have been plucked from relative obscurity. Many have not worked for or led established esports organizations. That's true of most startups, but not every esports league begins with the fanfare that has accompanied the 2K League and its 17 founding teams. Player management, sponsor negotiations, and much more will be placed under the purview of relatively green leaders.
Even the game itself is a bit of a mystery. 2K Sports is developing a custom instance of the game that the 2K League will run on. This is to ensure consistency and prevent cheating or hacking. It's like a completely new game is being made, and nobody is quite sure how it will behave under the scrutiny of competition.
Even if the games go off without a hitch, the league is not out of the woods. "A big challenge will be communication," Klingsieck said. "The gaming universe includes a huge population from people playing Candy Crush to more competitive games. Esports is then a smaller subset of that, and within the esports landscape, sports games don't even register right now. So the challenge is reaching all those esports and gaming fans and getting them involved in 2K esports."
Those are big mountains to climb, but Barney isn't worried. He's overcome greater odds before, and he's fine taking a long view on the 2K League.
"I think we've already succeeded in a way," he said. "Me being in a room with executives from traditional sports and getting them to buy into esports before the 2K League had even been created was an incredible achievement."