Brian Roberts, the principal designer of Guerrilla Games, talked about the extensive list of accessibility features that Guerrilla will include in Horizon Forbidden West and how the devs want to create "an immersive and accessible experience that can be enjoyed by everyone" in a PlayStation blog post today.
There are undoubtedly players who enjoy the utmost challenge of their favorite games, but there are also players who want an immersive and relaxed world and story. The majority of games today have difficulty options to ensure anyone can play as they want. But Guerrilla brings out options like modifying camera shake, motion blur, and even a new co-pilot system with sightless players in mind. These options are made not for some players but all players, giving a wider audience a chance to access the game without encountering barriers of any kind.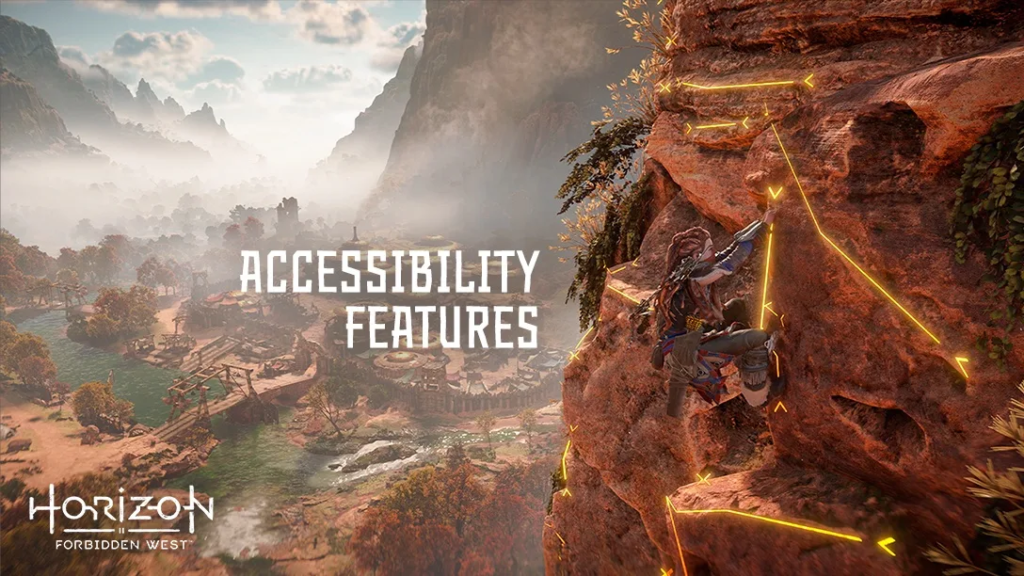 With the launch of Horizon Forbidden West only a few days away, here's what you can expect in terms of the accessibility features:
General accessibility settings
There will be options automatically enabled upon starting the game, like subtitles. Players will have options to change the size and background used with subtitles for better visibility. In the game menu, players can find the Notebook, an encyclopedia containing useful information about different elements of the game to ensure players can easily find any help needed. This includes a separate Tutorials section regarding game mechanics or controls.
Difficulty settings
Guerrilla made five different difficulty levels, from the already known Story Mode, which "eases the combat experience so you can focus on exploration and story," to Very Hard, with "tough, demanding combat experience" to test players. But the game also includes a new Custom difficulty that enables players to adjust the damage levels that Aloy deals to and receives from enemies.
Easy Loot is a new option that makes it easier to catch resources from machines that normally would be needed to be detached in battle before killing the enemy. With Easy Loot on, any resource that's still attached when killing a machine is added to its loot inventory. This option is the default for Story and Easy difficulties.
Controller settings
Guerrilla tried to make the controls as accessible as possible, including presets for controls with left-handed support and fully remappable gameplay controls with guidance on any potential conflicts.
A big new and innovative feature is the co-pilot system, which allows a player with a second controller to access the game to help another player control Aloy. This feature was implemented thanks to Guerrilla's sightless accessibility consultant and aims to aid blind and partially sighted players.
The game will also have optional motion sensor controls, including the ability to make micro-adjustments to aimed shots using the DualSense wireless controller's built-in accelerometer and gyroscope.
Players can change the sensitivity of movement, adjust the dead zones for the analog sticks, and swap the functionality of the left and right sticks for character and camera movement. For players with the PS5 version of the game, which uses the adaptive triggers and vibrations, it's possible to change the vibration intensity on cinematics, traversal, combat, UI, or the environment.
Gameplay assist settings
"These settings are aimed at supporting players who may experience difficulties with any aspect of the game," Guerrilla said.
With that in mind, players can adjust how much the game slows down when the Weapon Wheel is activated, enable aim assist, increase the duration of Concentration, and even set Auto Concentration, which temporarily slows down time when aiming the bow automatically.
There are more automatic settings like auto sprint, auto heal (when below 50 percent health), and auto shieldwing. Climbing Annotations Always On makes the available climb options easier to see without requiring the use of Focus. But Guerrilla notes that some of the auto settings only work in the Story/Easy and Custom difficulty modes.
To help with the navigation of the vast area of the game, there will be guidance tools, like the possibility to show markers for quest and waypoints. And for longer adventures, players have the option for Mount Follows Road, where the player mount will navigate with minimum player input.
Players can toggle on or off pop-up reminders on how to use abilities, weapons, or engage with certain enemies. And there's a Story So Far screen when players boot up the game after shutting down their console to help get back into what's happened so far. PS4 players will see loading screens with helpful tips, but PS5 players who prefer to read the loading screen tips will have the option to do so, even with the console loading the game a lot quicker.
Audio and visual settings
To reduce any discomfort players might experience, it's possible to adjust the camera shake and motion blur settings and completely customize the game's HUD to control what information is visible and when.
Concerning audio, there are individual volume controls for music, speech, and sound effects. Players can also force a mono audio option and have the possibility to remove Tinnitus sounds, like some machine shrieks. In the PS5 version, there are additional options to trim the volume of machine sounds, weapon and explosion sounds, or ambient sounds.
---
Horizon Forbidden West is set to be released on Feb. 18 for the PlayStation 4 and 5. Sony will offer a PS4 to PS5 upgrade for free.