Artifact, the latest virtual card game based on the world of Dota 2, was released yesterday. But it doesn't seem like Valve's newest game is off to a booming start.
In the first 24 hours since it was released, Artifact saw a peak player count of 60,740, according to Steam Charts.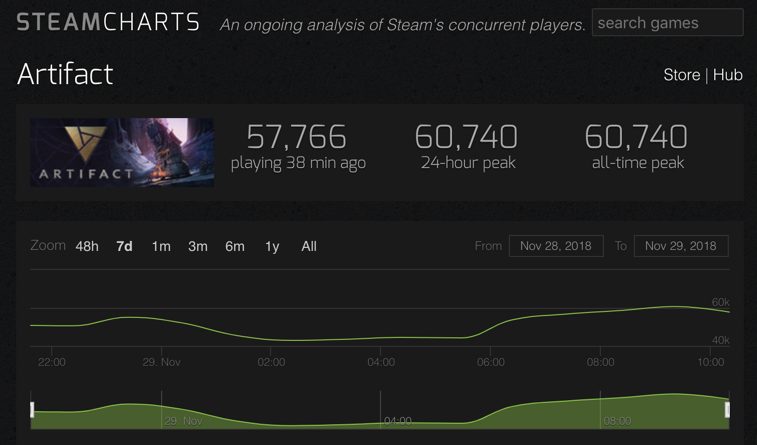 The relatively low peak player count could be partially due to the fact that Artifact isn't free-to-play like other virtual card games, such as Hearthstone. Artifact costs $19.99, unlike Dota 2, which is free-to-play.
Valve teamed up with legendary designer Richard Garfield, the creator of Magic: The Gathering, to create Artifact.
"We hope all gamers enjoy Artifact, especially fans of Dota 2 and card gaming enthusiasts," said Valve's Gabe Newell. "Working with Richard Garfield has been an incredible opportunity for everyone at Valve, and we look forward to expanding the game with him based upon feedback and input from the community."
Artifact is obviously still a very young game, but it has a long way to go if it wants to catch up to Dota 2, which had just under 600,000 players on the game at 10am CT today.
Artifact is now available across the globe via Steam (for PC, Mac, and Linux).