Since it was announced during The International 2017, Artifact has been the talk of not only Dota 2 fans, but also card-game players around the world.
Artifact, which is Valve's first new game in over two years, will feature Dota 2 heroes, items, abilities, and characters. Valve president Gabe Newell reiterated in March, however, that Artifact is not a Dota 2 card game—it's a card game that happens within the Dota 2 world.
Outside of a press event in March that showed off some of the plans for the game and its inevitable community, Valve has remained quite tight-lipped about Artifact. There's still enough information to get a feeling for how the game will be, however.
Here's everything we know so far about Artifact.
Release date
Valve has confirmed Artifact will be available for Linux, Mac, and Windows on Nov. 28, 2018. There was a placeholder release date for Dec. 27 when the Steam listing arrived in March, but that was quickly removed. A mobile release date is set for mid-year in 2019.
A private beta, which supposedly hosted a variety of pro card-game players and other industry professionals, took place in March.
Price
Unlike Hearthstone, the most popular digital card game in the world, Artifact won't be free-to-play. In March, Valve held an event where Newell said he didn't want the game to be pay-to-win because he believes it would have a negative effect on the community.
Along with the release date, Valve has said the game will cost $19.99.
Gameplay
Cards shown in preliminary screengrabs indicated cards will be based on units, heroes, and abilities in Dota 2, with minions having attack and health values. The game is played across three lanes like Dota 2 and three towers seem to be barriers between the opponent and the Ancient. Once a player tears down the towers, they can attack the Ancient, which will end the game if destroyed.
There have been several confirmed Dota 2 heroes that will appear in the card game. Players can select any of the available 44 heroes. Each deck has 40 cards, with more than 280 cards available in the game. Cards and heroes have four colors that dictate what theme they may carry: Red, green, black, and blue.
Heroes have the ability to use equipment, and they can use either a weapon, armor, or accessory. The heroes can die if they take too much damage, but they aren't gone forever—they can respawn after a round and be re-deployed into a lane of the player's choosing.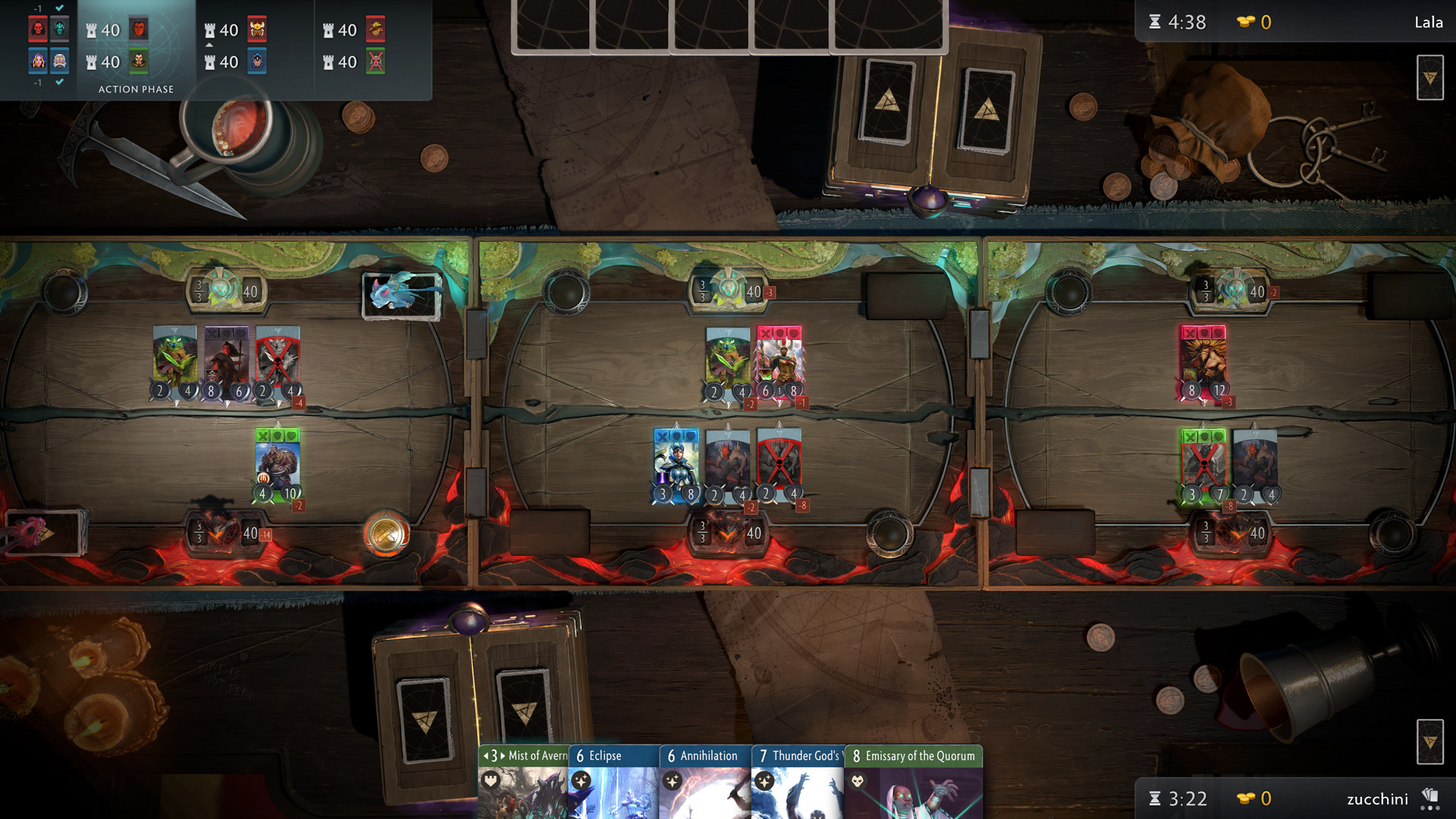 Steam Marketplace integration
Artifact will feature full Steam Marketplace integration, meaning players can trade and buy individual copies of cards. This differentiates itself from other card games, such as Hearthstone or Magic the Gathering Arena, which both use in-game currency, crafting systems, and booster packs.
Trading and selling on the Steam Marketplace has proven to be very successful for other Valve games, most notably Counter-Strike: Global Offensive with its skins and crates, so it's no wonder why Artifact would encourage consumer trading.
The game's trading system made even more sense when it was revealed that Magic the Gathering creator Richard Garfield is working on Artifact with Valve. Garfield created Magic in 1993, and it has become one of the most popular trading card games in the world.
Esports
Similarly to how Valve approached Dota 2 with The International's inaugural event in 2011, there will be a $1 million tournament held to kick off events for Artifact in 2019. Following the tournament, automated competitions will be held for all skill levels.
There will also be traditional professional tournaments as well, with Newell likening them to the ones seen in CS:GO, Dota 2, and Team Fortress 2.