Once every week in Dead by Daylight, the Shrine of Secrets rotates in and out a collection of teachable perks for Survivors and Killers alike to acquire and learn. Players can purchase the available perk to unlock it for the specific Survivor and Killer without needing to level the character up to the necessary level.
Players can spend their Iridescent Shards to acquire the Shrine of Secret perks. Players earn the Iridescent Shards by playing matches and earning experience from those matches by completing various objectives. You can also earn Iridescent Shards during special events and every time you level up. If you purchase a perk from the Shrine of Secrets that you already own, you can earn Bloodpoints instead.
Current Shrine of Secrets perks
These are the Shrine of Secrets perks that are available to purchase on July 12. These perks will refresh on July 19. Each perk currently costs 2,000 Iridescent Shards.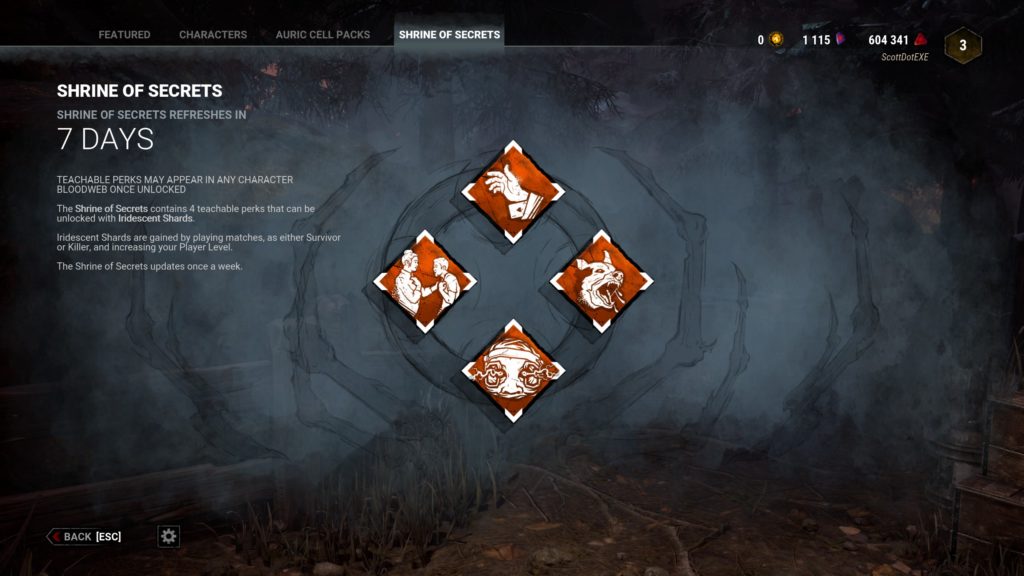 | | | |
| --- | --- | --- |
| Perk | Killer/Survivor | Perk Description |
| Ace In The Hole | Ace Visconti | When retreiving an item from a chest, there is 100 percent chance that a Very Rare add-on will be attached to it. Ten percent chance it has an Uncommon add-on. Add-on stays with item after escaping. |
| Solidarity | Jane Romero | While injured, healing a Survivor without using a Med-kit also heals you at a 40 percent conversion rate. |
| Monitor & Abuse | The Doctor | While in a chase, your Terror Radius is increased by eight meters. Otherwise, your Terror Radius is decreased by eight meters and your field of view is increased by three degrees. |
| Bloodhound | The Wraith | Fresh blood marks are considerably more discernible than normal and can be tracked for two seconds longer than normal. |
The Shrine of Secrets perk rotation resets every week. Most if not all perks available in the Shrine of Secrets unlock in the level 30-35+ Bloodweb for each character.