Snow is slowly expanding over the Fortnite: Battle Royale island.

Reddit user Burning Tooth shared an image that compares the Fortnite season seven map when the season started with how it is now, and they claimed that some areas are starting to be covered by snow three weeks after the season debuted.
Related: When does Fortnite: Battle Royale's season 7 end?
The rate at which the map is being covered is still unknown. If developer Epic Games decided to make the snow expand as part of the holiday event 14 Days of Fortnite, it could be that a bigger part of the map will be covered in snow in the next couple of days. So far, there are only very small changes.
In Snobby Shores, the are between the second and third house right above the "Y" of the area's name used to be grass, and is now snow. The peak of the mountain right east of that area now also has a bit more snow covering it.

Following the snow line until Tilted Towers will also show that the small snow portion above the first "T" in the area's name has also grown a bit, despite leaving the towers unaffected.

A treeline between Shifty Shafts and Salty Springs is now surrounded a bit more by snow, just like the hill between Shifty and Fatal Fields. The trees southwest of Fatal are also surrounded by snow, unlike in the beginning of the season. A nearly unnoticeable expansion is also happening north of Lucky Landing, and it seems to be moving towards the desert.

If this snow expansion has been ongoing since the beginning of the season, it's a rather slow rate to cover the entire map by the end of that period. If it instead started these last couple of days, players might be able to see more noticeable changes anytime soon.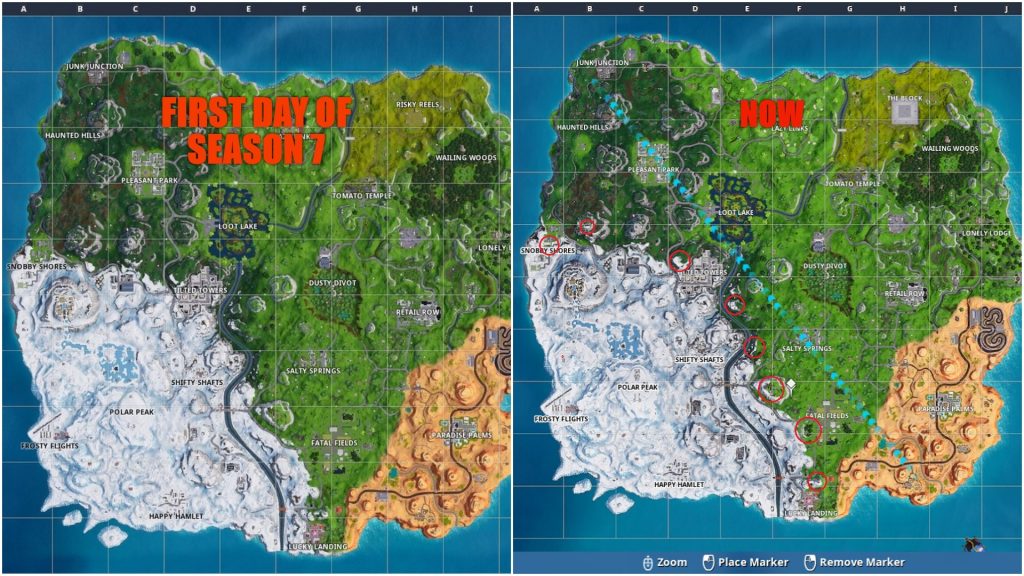 In that Reddit thread, some players also claim to have heard snow in the mountain south of Pleasant Park, which is perhaps a clue that this area will be white soon.

Fortnite could use some weather watchers from now on.