Fornite: Battle Royale developer Epic Games and Microsoft have paired up for a Fornite Xbox One S bundle.
Announced during the Sept. 25 Xbox Inside live stream, the Fortnite Xbox One S bundle will include a 1TB Xbox One S, Fortnite, 2,000 V-Bucks, the EON skin, a Resonator Pickaxe, and the Aurora Glider. The bundle also includes a one-month trial for the Xbox Game pass and Xbox Live Gold. Nintendo Switch and PlayStation 4 already  have their own bundles for Fortnite, so naturally Microsoft had to have one, too.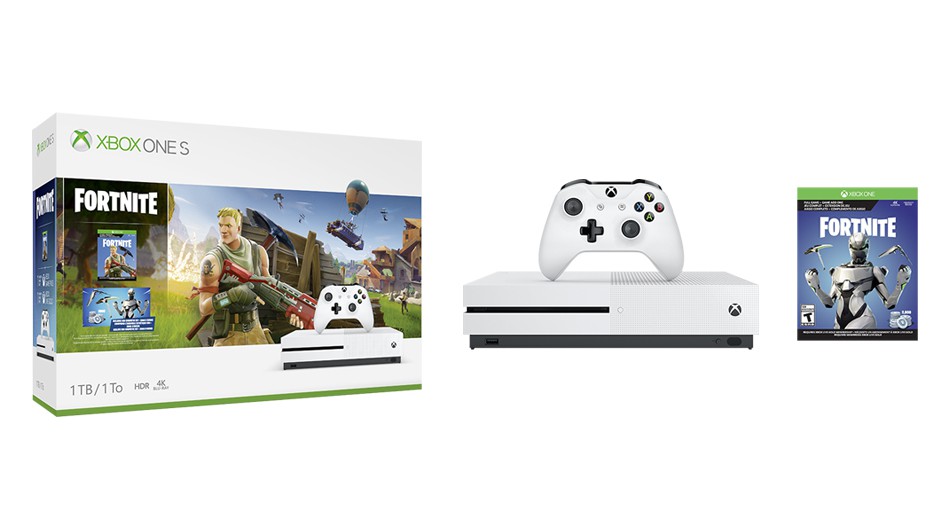 Related: The Nintendo Switch is getting its own Fortnite bundle
The console bundle will cost $300, which is standard for Xbox One S consoles. It'll be available at retailers like Best Buy and the Microsoft Store "starting this week," according to Xbox Wire. 
Nintendo and Epic announced their new Fortnite-themed Nintendo Switch bundle last week. Nintendo's console bundle is scheduled to launch on Oct. 5 for $300. The game comes downloaded on the console, with a Switch-exclusive cosmetic set called "the Double Helix bundle." One thousand V-Bucks are also included.
Microsoft's bundle ups that number by 1,000 V-Bucks. Depending on when the console launches, those V-Bucks will come in handy when purchasing Fortnite's season six battle pass. Epic's been teasing the launch of season six for a while now, scheduled for a Sept. 27 kick-off. The newest teaser image dropped this morning, featuring a cowgirl and a purple lightning bolt.  The color suggests a link to the infamous purple cube, but that's yet to be confirmed. A few days ago, the purple cube crash landed in Loot Lake.