The identity of Street Fighter V's next character was likely confirmed on Saturday.
A hidden page on the Capcom website all but confirms that Abigail from the Final Fight series will be the next character added to the Street Fighter V roster. The hulking villain is best known as a boss in the original Final Fight.
The page comes from the character data section of the Capcom Fighters Network webpage. Each of Street Fighter V's playable characters have their own pages listed under this section. Although only characters currently playable in the game have active pages, changing the three-letter character abbreviation in the web address to "abg" directs the visitor to a page with an exclamation mark titled "ABIGAIL|Character Data." Changing the abbreviation to anything else other than an existing character's abbreviation redirects to a "page not found" screen.
The page was publicized on Saturday morning by reddit user Johasthan on the Street Fighter subreddit.
Many of the Street Fighter universe's side characters―including Abigail and other rumored DLC characters―do have bios on the Capcom Fighters Network site, but in a different section.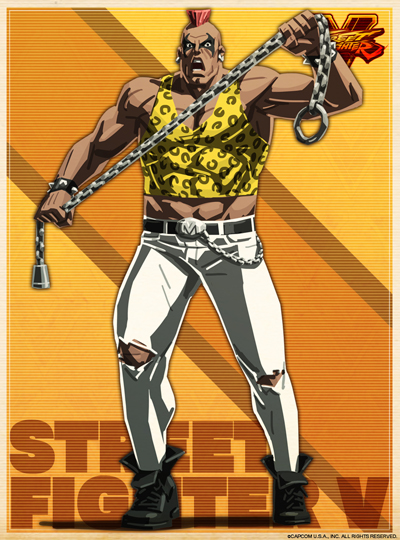 If Abigail is indeed the next character, he will be the fourth of six characters to be released in the game's second season. The popular Akuma was released in December, with new characters Kolin and Ed added in February and May, respectively. All of this season's characters, aside from Akuma, will be ones who had not been playable in any previous Street Fighter game.
Exactly how he will play is up in the air. Standing eight feet tall and weighing in at over 580 pounds, Abigail has the build of a traditional grappler. That said, he holds a long chain as a weapon in his official art, which suggests he may have some long-ranged attacks. And like Street Fighter debutantes Kolin (freezing ability) and Ed (single-button inputs) before him, Abigail may feature a mechanic new to the series.
The release of the new character will come a month later than originally anticipated. Capcom announced plans late last year to release a new character every two months, but that schedule hit a snag with the release of Ed. His release was delayed from April to May to launch alongside an update to Street Fighter V's online platform, the Capcom Fighters Network.
Capcom hasn't publicly commented on the rumors as of yet, but official confirmation is expected soon. The company will play a big role at EVO, the year's largest fighting game tournament, next weekend. The company will host a panel on Friday, and Street Fighter V's finals will serve as the main event of "Championship Sunday."
Once released, the new character will be available for purchase for $5.99.