Nintendo is once again its own worst enemy when it comes to leaks. A post on the company's website has placed an SNK trademark on the next DLC pack for Super Smash Bros. Ultimate, suggesting the next fighter will be from an SNK game.
This has happened in the past with other DLC for the newest title, but this information greatly narrows down the speculation as the wait for Challenger Pack 4 continues.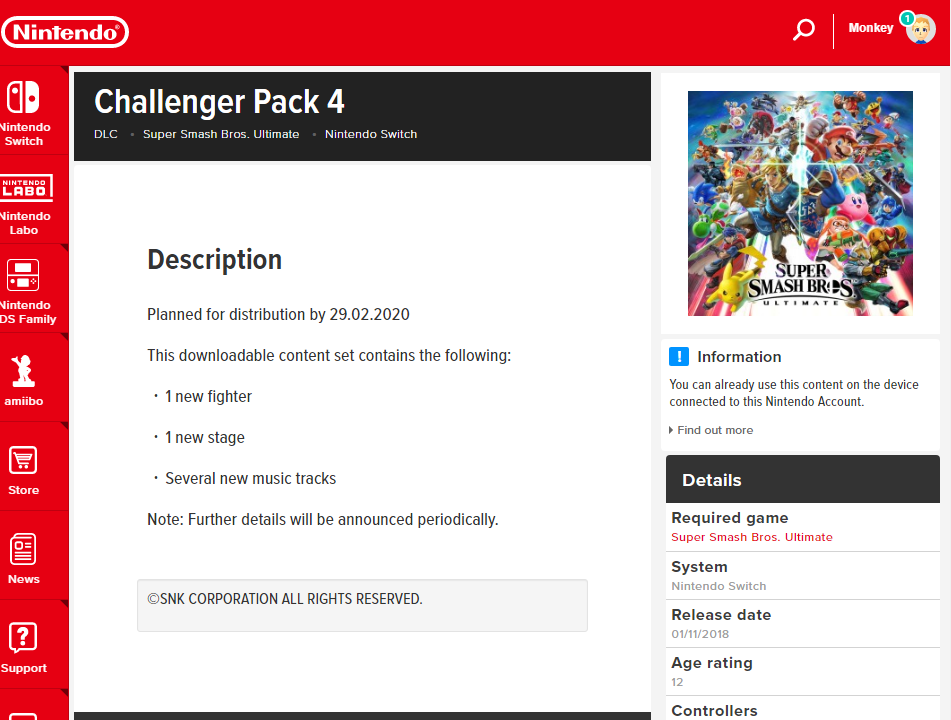 The SNK copyright appears at the bottom of the page along with the information above it about a stage, character, and music being added to the game. SNK has a rich catalog of fighting games that play perfectly into a Smash Bros. theme, so now it's just a matter of which series will be represented.
SNK's mascot, Terry Bogard from Fatal Fury, immediately comes to the forefront. He's already fought Ryu and Ken from Street Fighter before, so he fits right in among the current roster.
Even if it isn't Terry, a representative from Fatal Fury or King of Fighters is the safest bet for this potential DLC fighter. Metal Slug is also a prominent SNK property, but that's more of a long shot.
The other big option could be Samurai Showdown, which will release on Nintendo Switch on Dec. 12. Even though this is a big release and the SNK game with the biggest following right now, Haohmaru is already set to join Soul Calibur VI's roster later this year.
Update Sept. 1 8:33pm CT: This information could have just been an error from Nintendo's website.
All of the other Challenger Pack DLC pages have the copyright information for all companies involved with the Super Smash Bros. Ultimate roster up to that character's release. This means the appearance of only SNK's trademark on Challenger Pack 4 points to some mistake being made.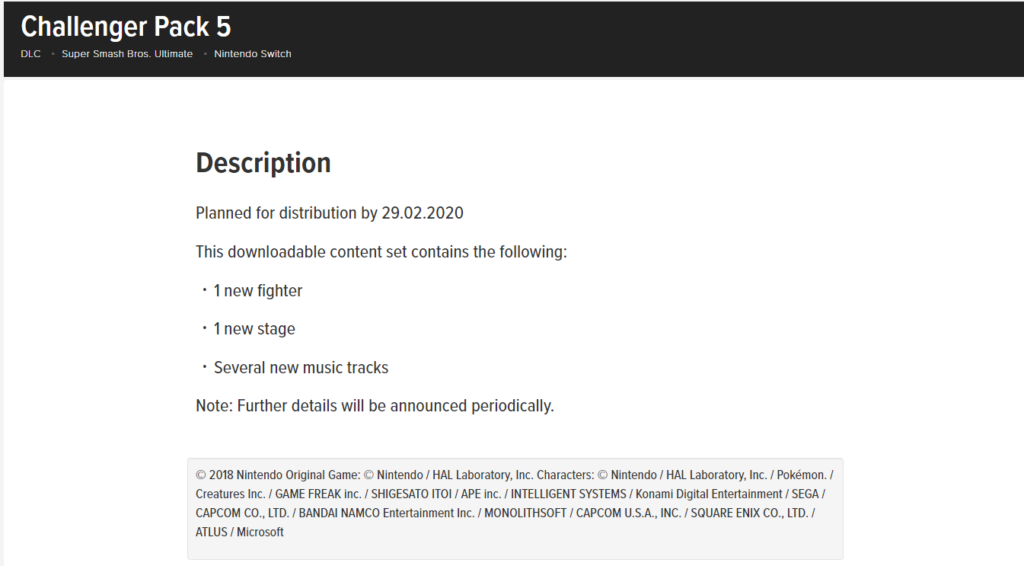 It also lines up with a potential reason for the error, since SNK Heroines also had its fourth DLC updated today with the same trademark that appeared on the Challenger Pack 4 page. This doesn't outright delegitimize the chance that an SNK character will make it in, but it does show an error is most likely the cause.

Challenger Pack 3 has yet to receive a release date yet, although Banjo-Kazooie has been set for a fall release. The SNK character would likely be released sometime this winter, closer to December if Nintendo expects to keep to its statement of all Challenger Pack DLCs being out before February 2020.