League of Legends has overtaken Counter-Strike: Global Offensive as the most-watched game on Twitch by esports hours, while still holding steady as the number one watched game in general.
In January, CS:GO amassed 47.9 million esports hours watched, compared to its 12.7 million esports hours in February. League, on the other hand, racked up 31.1 million hours in February, up from 21.7 million in January. Esports hours, according to marketing analysis Newzoo, only count hours watching "professionally organized esports competition," excluding professional player streamers. A month rife with League tournaments around the world certainly impacted the viewership hours, increasing the number eight percent from the same time last year, too.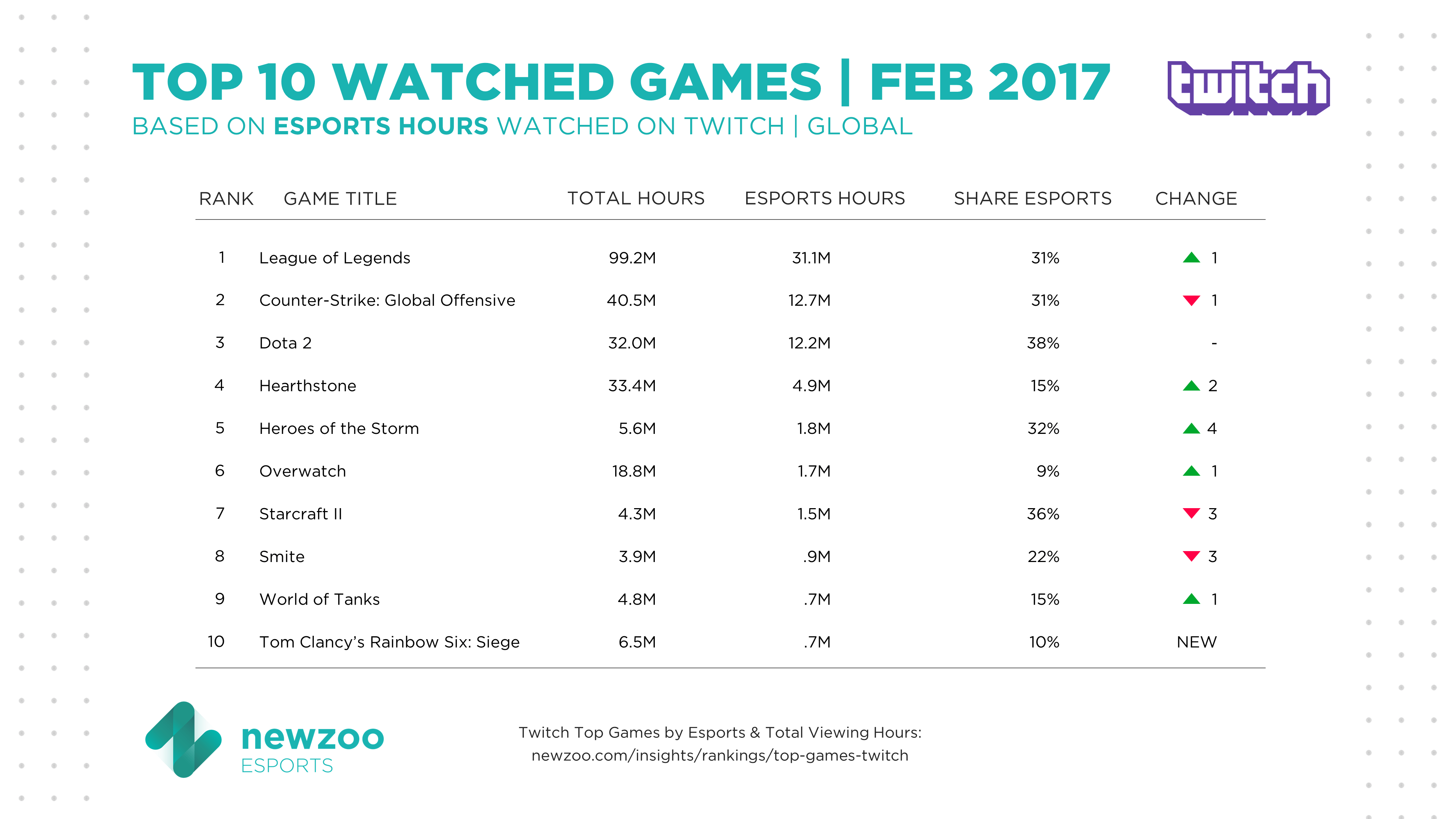 Heroes of the Storm jumped up four spots on the esports watched list, taking into account the extra round of the Heroes of the Storm Global Championship. Rainbow Six: Siege also got a boost, entering the top 10 esports hours watched list for the first time after the Six Invitational.
If we're including professional player streamers—and everyone else on Twitch—League fans watched 99.2 million hours in total in February. It's a huge amount, but actually down from total hours watched in January, which clocked in at 99.8 million hours.
Counter-Strike pulled up behind League in total hours with 40.5 million hours. Hearthstone and Dota 2 have 33.4 million hours and 32 million, respectively. Overwatch rounds out the top five in total hours watched with 18.8 million hours.
League will likely stay on top in March, too, as Counter-Strike's tournament scene doesn't pick up again until April. In the meantime, we'll be over here pouring one out for StarCraft 2, which is two slots away from getting kicked out of the top 20 games by total hours watched.
About the author