You guys, it's happening. You can officially change your username on Twitch now.
Twitch users have been bugging the streaming service to implement this feature for a long time and, starting today, players can change their usernames once every 60 days. All you have to do is go to your profile settings.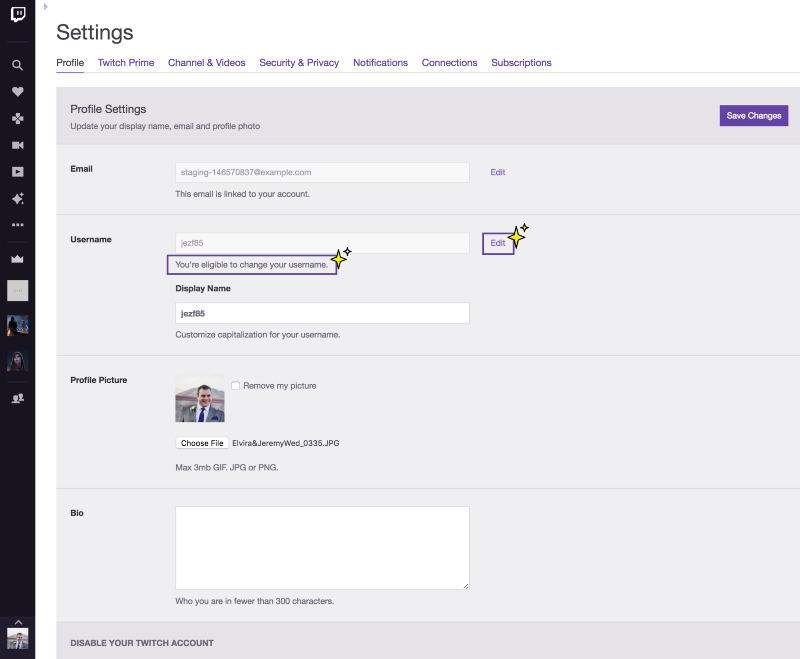 Usernames left behind will be held by Twitch for six months, and eventually move back to the pool of available usernames. Partner usernames won't be recycled, however. You still can't directly request a name steal from an inactive account, but they are still subject to the username recycle and reuse policy, Twitch said.
Three character usernames are off limits, Twitch's Anna Prosser said during the Twitch Weekly livestream. Likewise, all new usernames must still follow Twitch's terms of service.
Prosser also mentioned that Twitch Partners will want to check their email accounts before making a name change. There are potential consequences for changing usernames, like losing access to streaming stats. "To preserve your streamer stats, you must export them prior to changing your username," Twitch said in the announcement. "It should also be noted that the URL for your channel page will change and the old one will not redirect to your new one, so be sure to update the link wherever you are using it externally."
Some Twitch streamers are having lots of fun with the feature.
Through the years Twitch has been in existence, there's bound to be tons of terrible names across the community. Thank goodness we can change 'em now!