Twitch has just released almost 30 million inactive Justin.tv usernames to Twitch Affiliates.
The usernames went inactive when Justin.tv retired in 2014 and rebranded as Twitch. The streaming platform will allow Twitch Affiliates to access the newly-released names ahead of the public, according to email sent to Affiliates.
Related: You'll soon be able to gift Twitch subscriptions and see your progress towards Affiliate and Partner status
Users simply need to change their name through the settings page. Anyone who's changed their name in the past 60 days will be able to change their name again regardless of the cooldown period, too. Changing a username doesn't impact revenue, and the old username won't be recycled. Twitch Affiliates should be prepared to lose access to broadcaster stats associated with the old username. Likewise, channel URLs will not redirect from the old username to the new one.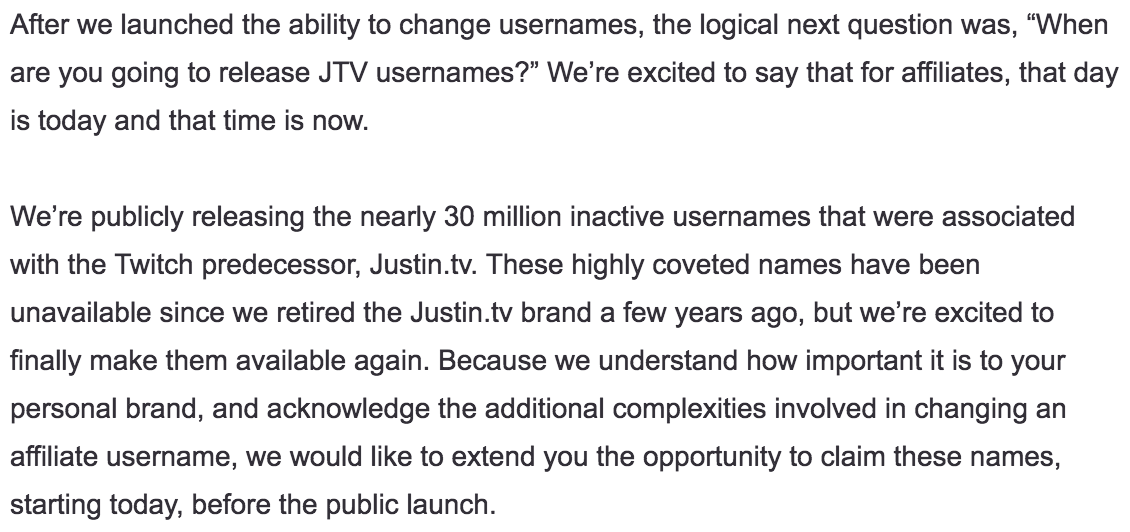 Twitch Partners were able to access the usernames ahead of Affiliates, starting on Nov. 10.
Name changing was added to Twitch in February this year. A long-awaited feature, Twitch users were extremely excited to see the addition. Usernames left behind by regular Twitch streamers will be held for six months then recycled, and usernames must still follow Twitch's terms of service.
Twitch has not outlined a timeline for making the Justin.tv usernames available to the public.