Last week Twitch announced that Affiliate streamers can now make money from game sales, but a line in the original press release points to a bigger shift in the Affiliates and Partner divide. Soon, Affiliates will get subscription buttons and the opportunity for ad revenue.
The Affiliate program, which was announced in April, is still in its early stages. It allows streamers that meet a basic set of requirements to make money through game sales via a button on their channel and when viewers Cheer with Bits.
Additional monetization features, like ad support and subscription options, will begin rolling out "soon," Twitch told Dot Esports, but the company did not give an exact release date. Up until now, these two features were reserved for Twitch's hallowed Partnership program, which has over 17,000 members.
Twitch wants to lessen the gap between Partners and Affiliates, allowing more streamers to sustain themselves with full-time streaming, which will also give the streaming service an opportunity to make a cut from a much larger audience. The Affiliate program boosts up lesser known streamers as they build out their audiences, and has much less stringent qualifications for entry. It's a major program for smaller streamers interested in growing their streams. Though the new Affiliate and Partner programs sound similar, there are some key differences that make being a Partner sweeter than being an Affiliate.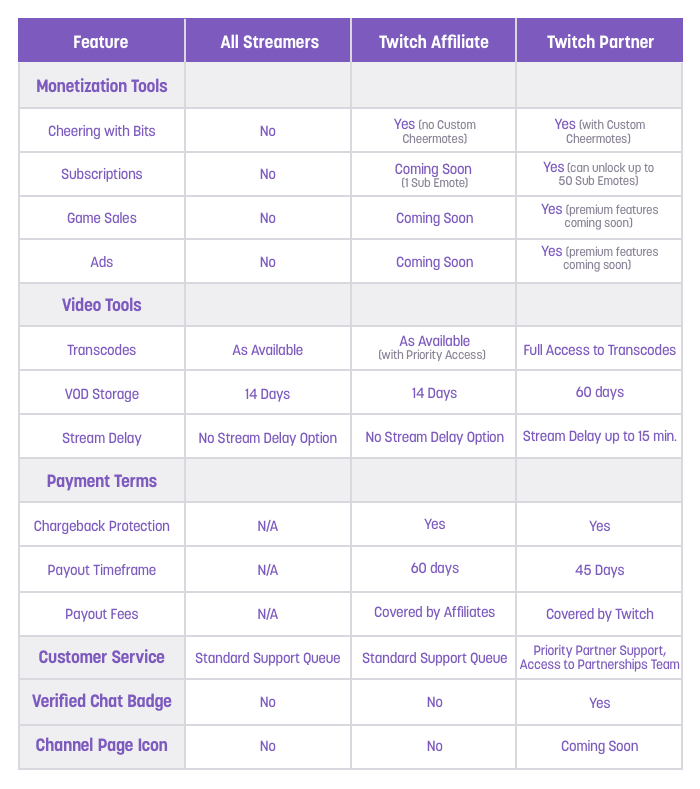 The biggest deal for Affiliates is likely subscriptions and ad support—that's where Twitch streamers make a lot of their money. Smaller differences between the two programs include payout timeframe and payout fees, as well as customer service support and chat badges.
Twitch Partners get a certain percentage of each subscription amount, with Twitch taking the rest. Partners are sometimes able to negotiate different percentage shares with Twitch, and it's unclear if Affiliates will have the same privilege. It's likely, however, due to the number of Affiliates and the lower bar to entry, that it will be a standard, set cut. Twitch declined to comment on the rates.
To keep partners happy, however, Twitch will eventually introduce premium features for both game sales and ads, while allowing Partners up to 49 more sub emotes than Affiliates. Twitch hasn't addressed what these premium features will be, however.
The idea is that Twitch will continue to invest in both programs, with Affiliate features geared toward growing streamers and Partner features designed to manage large communities. Big or small stream, all broadcasters are about to get a piece of the Twitch pie.
About the author