Exclusive Halloween emotes are now available on Twitch.
Twitch users that Cheer with Bits will unlock a spooky Halloween crate that contains one of six new zombie emotes. Should you collect all six emotes, you'll unlock the Zombie Lord Kappa emote to keep forever. The six other emotes will only be unlockable until Nov. 3, but usable until the end of the year.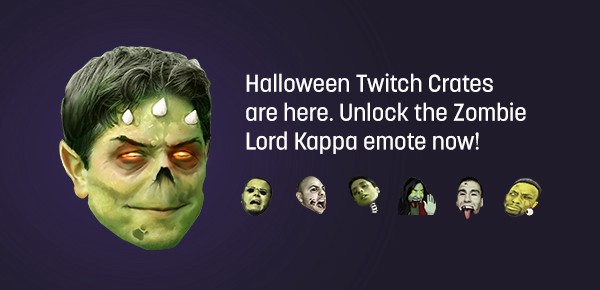 Users can unlock crates by Cheering with at least 250 bits. Yeah, that means you have to spend actual money for these temporary emotes. "As you unlock zombie emotes, you'll find them in the emote selector for Chat, Pulse, Feeds, and Whispers so you can truly make them overrun Twitch," the company wrote in a blog post.
Cheering more than 250 bits won't earn you more crates. One Halloween crate is earned per single 250 cheer—Cheering 5,000 bits in a single Cheer will unlock Zombie Lord Kappa, though.
New Cheermotes are available for Halloween, too. Spooky!