Two more familiar faces are being added to the ELEAGUE Major: Boston talent lineup, as the final stage of the $1 million event is set to begin Friday Jan. 26.
Former Misfits in-game leader Sean Gares will be an analyst on the illustrious broadcast team, alongside other big-name talents such as Janko "YNk" Paunovic and Jason "Moses" O'Toole. Alex "Goldenboy" Mendez, a former Halo and Call of Duty caster, will also be joining the team as the main host for the New Champions stage.
Related: N0thing will be a guest analyst at the ELEAGUE Major: Boston
Gares is the second North American player to transition over to casting part-time so far, after n0thing did the same right after his benching from Cloud9 in mid-2017. The former Misfits playcaller is now a free agent, and it seems that he's testing the waters in the realm of Counter-Strike analysis once again.
As for Goldenboy, this is the first Valve Major that he will participate in as on-air talent. He's currently a host in Overwatch, but is also well-known for his previous work in Halo and Call of Duty esports. Mendez will be the main face of the Major at the Agganis Arena in Boston, where he will introduce the teams for each of the best-of-three matches.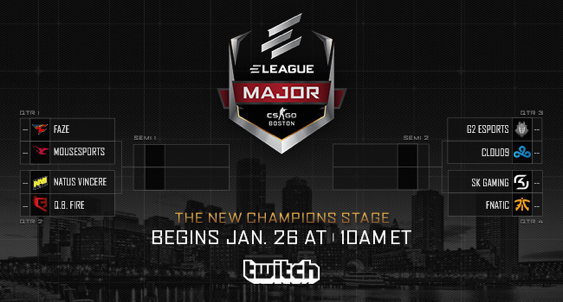 The first three playoff games begin on Friday Jan. 26, with FaZe Clan and Mousesports kicking off the New Champions stage at 10am ET.
Correction 1/23 4.30pm CT: An earlier version of this story incorrectly stated that n0thing will be attending the New Champions stage of the ELEAGUE Major: Boston this upcoming weekend. We regret the error.