Immortals and star player Vito "kNg" Giuseppe are under massive scrutiny following incidents during and after the grand finals of this weekend's DreamHack Montreal event.
Several players from Immortals were tardy to their grand final match against North, and as a result, the Brazilian roster forfeited the first map. North later won Cobblestone 16-9 to take the title win from Immortals, and many of the Danish players felt it was undeserved. The three Immortals players that were late to the team's match against North were kNg and the twins, Henrique "HEN1" Teles and Lucas "LUCAS1" Teles, according to CLG's coach Steve "Ryu" Rattacasa.
Related: North win DreamHack Montreal after Immortals forfeited a map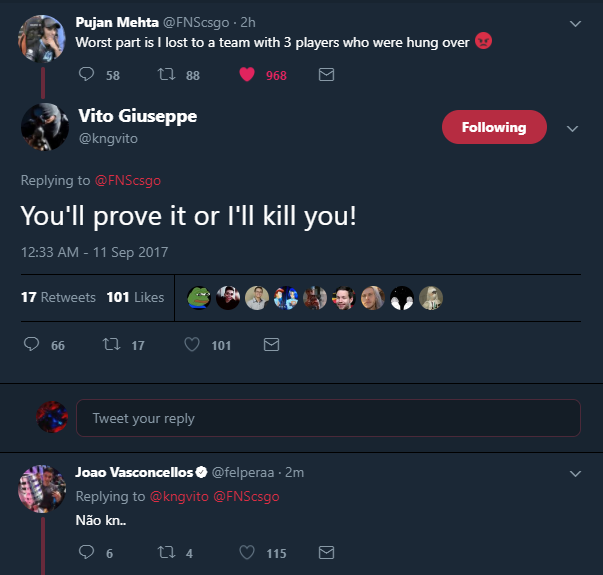 Following the match, kNg became a major focal point of discussion on Twitter, as he threatened CLG's in-game leader, Pujan "FNS" Mehta. FNS criticized the roster earlier today following his team's loss to Immortals in the semifinals. More drama ensued after a string of tweets from FNS and Ryu upset kNg.
"Apologies to #IMTCSGO fans," said Immortals' CEO Noah Whinston. "We will address this internally. Actions should have consequences. Thanks for enforcing the rules, [DreamHack]."
Let's hope that a solution to this ordeal is found and that all organizations involved will denounce future unprofessional behavior on social media.