The opening matches have been announced for the first Counter-Strike: Global Offensive Major of 2018.
ELEAGUE's second-ever Major will start off in Atlanta, Georgia at Turner Studios on Friday. Eight Challenger teams and eight Minor Champions will fight for survival in a Swiss format in order to advance to the next stage of the Major.
Related: A beginner's guide to the long-awaited ELEAGUE Boston Major
The best-of-one games will kick off at 10am ET, and the remainder of the day's games will follow a rolling schedule. The Swiss format has been tweaked by ELEAGUE, as teams have been put into pools to reduce randomness in each round of matches. After the opening round of matches are done, the teams will be re-grouped based on their win-loss records, before they go on to play another round against teams with similar records.
Below are the opening matches for day one at the ELEAGUE Major: Boston and the starting pools.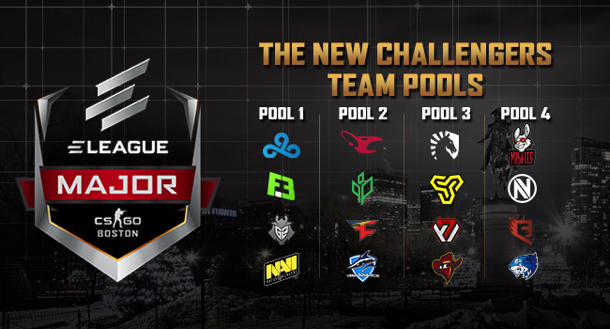 Vega Squadron vs. Renegades
Mousesports vs. AVANGAR
FaZe Clan vs. Team Liquid
FlipSid3 Tactics vs. Misfits
Sprout Esports vs. Space Soldiers
Natus Vincere vs. Quantum Bellator Fire
G2 Esports vs. Flash Gaming
Cloud9 vs. Team Envy
A seasoned lineup of casters are also ready to take the international stage alongside the teams throughout the entire Major. Casters James Bardolph, Daniel "ddk" Kapadia, Henry "HenryG" Sadokist, Matthew "Sadokist" Trivett, Anders Blume, and Jason "Moses" O'Toole will be joining ELEAGUE host Richard Lewis as the main talent.
Janko "YNk" Paunovic will also be providing post-match analysis, while Sue "Smix" Lee will be conducting player interviews before and after games, per usual.
The New Challengers stage of the Boston Major will continue through Monday Jan. 15, and the eight surviving teams will continue to the following weekend of competition at the New Legends stage from Jan. 19 to 22.
More info on the Boston Major can be found on ELEAGUE's website.