Counter-Strike: Global Offensive's cosmetic weapon skins are one of its best features. But there are only a few of many that are really worth commending.
Whether they be flashy, minimalist, or even sensual, many of them wield enormous price-tags that the common CS:GO layman may not be able to afford. Some range in the lower tens. Others skyrocket in the thousands.
Skins were only recently a driving force behind a huge gray-market gambling economy—until government lawmakers and, in turn, Valve, started to take notice. While that's a period of history some would like to forget, it's important to note that these skins have laid the economic foundation for what the Counter-Strike esport is today.
In giving the proceeds of sales back to organizations, players, and content creators who make the skins, Valve is giving life to an esport by funding several million-dollar tournaments every year. Paying homage to skins isn't materialistic idolatry; it's a way of expressing appreciation for what was once an influential factor in the growth of Counter-Strike.
The skins featured below are organized in no particular order of extrinsic or intrinsic value. The rarities, the methods of unboxing, and the estimated prices are also listed for each weapon. Price estimation is based on sales numbers found on both the Steam Community Market, opskins.com, and bitskins.com. Outlying skin sales were not accounted for on the basis of additional rare stickers or conditions (such as the $88,8888.88 M4A4 Howl on opskins).
---
AWP | Dragon Lore
The Cobblestone Collection – Covert Sniper Rifle
Estimated Price Range: $600-$30,000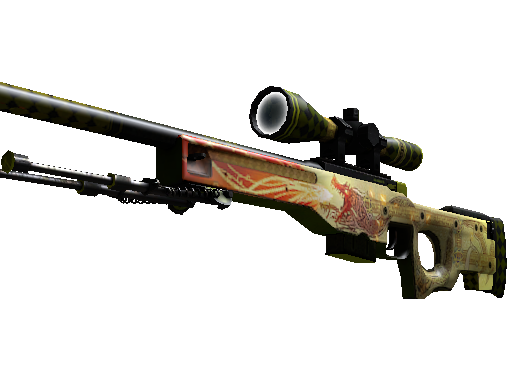 "It has been custom painted with a knotwork dragon. 200 keys could never unlock its secrets."
AWP | Medusa
The Gods and Monsters Collection – Covert Sniper Rifle
Estimated Price Range: $400-$1,500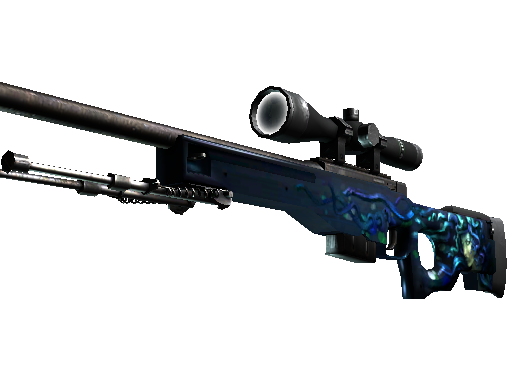 "It has been custom painted with the image of a gorgon. If you can see me, you're already dead."
M4A4 | Howl
Formerly The Huntsman Collection – Contraband Rifle
Estimated Price Range: $600-$6,000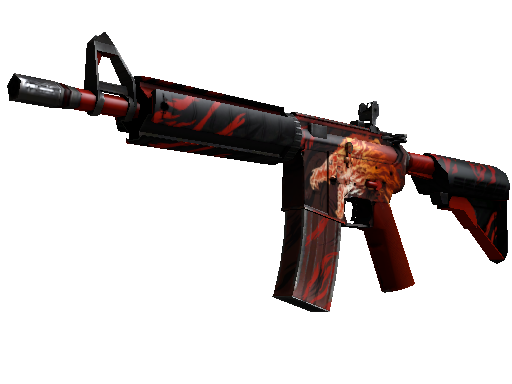 "It has been custom painted with the image of a snarling wolf."
M4A4 | Poseidon
The Gods and Monsters Collection – Classified Rifle
Estimated Price Range: $150-$600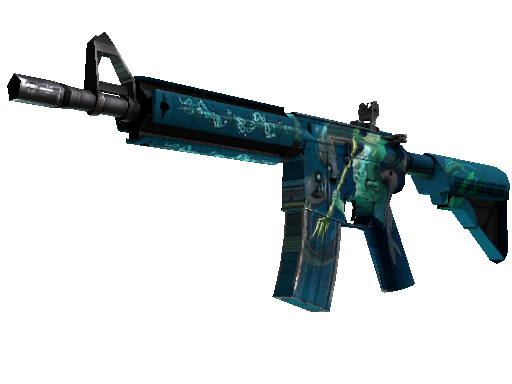 "It has been custom painted with a depiction of a battle between Pisces and Poseidon. Three can keep a secret if two of them are dead."
M4A1-S | Decimator
The Spectrum Collection – Classified Rifle
Estimated Price Range: $20-$160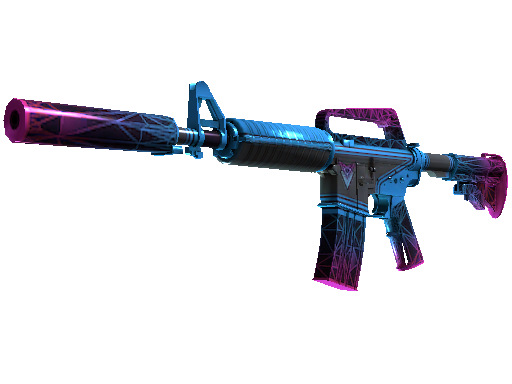 M4A1-S | Chantico's Fire
The Chroma 3 Collection – Covert Rifle
Estimated Price Range: $20-$1,500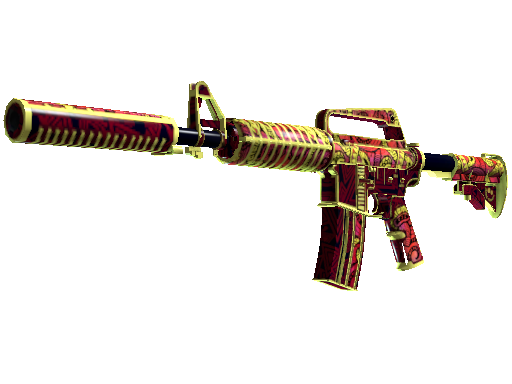 "It has been hand painted in vibrant colors and accentuated by a smiley face on the stock. Protect what is yours."
AK-47 | Fire Serpent
The Bravo Collection – Covert Rifle
Estimated Price Range: $100-$7,000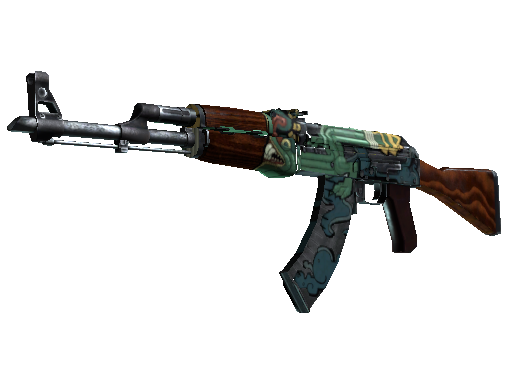 AK-47 | Bloodsport
The Spectrum Collection – Covert Rifle
Estimated Price Range: $60-$450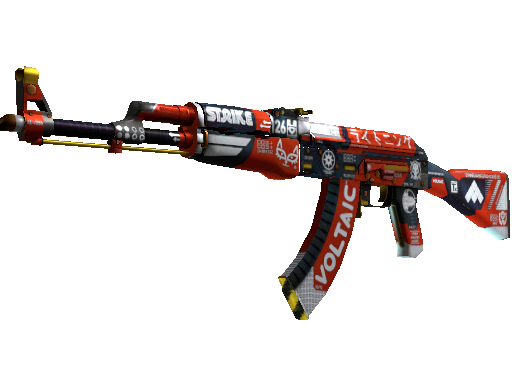 AUG | Akihabara Accept
The Rising Sun Collection – Covert Rifle
Estimated Price Range: $40-600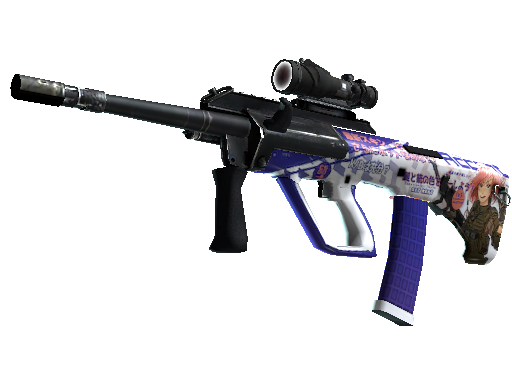 "It has been decorated with a heat transfer vinyl of an anime magazine cover. Yatta!"
UMP-45 | Primal Saber
The Chroma 3 Collection – Classified SMG
Estimated Price Range: $3-$70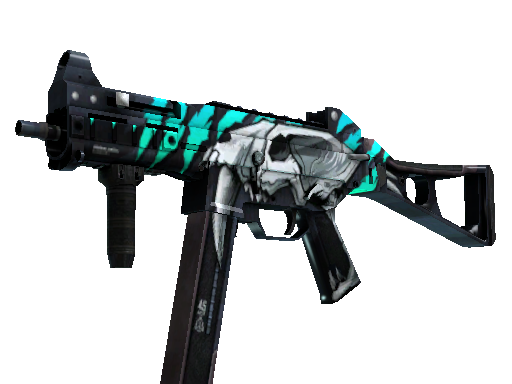 P90 | Emerald Dragon
The Bravo Collection – Classified SMG
Estimated Price Range: $20-$1,500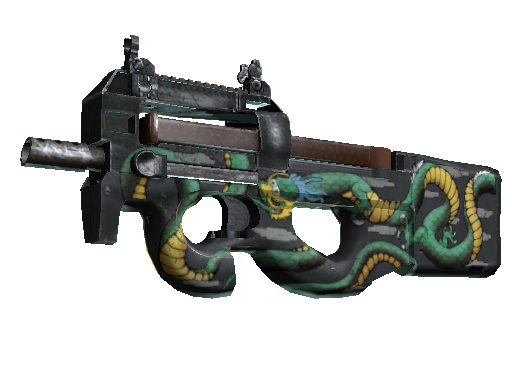 "This memento from Chinatown has been painted with a dragon motif. Tradition can be dangerous."
PP-Bizon | Judgement of Anubis
The Chroma 3 Collection – Covert SMG
Estimated Price: $3.00-$37.00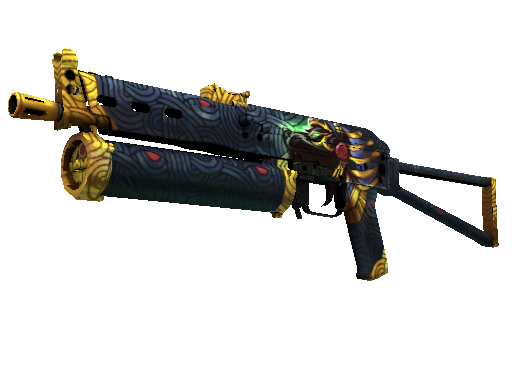 "It has been custom painted in an Egyptian theme. Its trigger weighs lighter than a feather."
USP-S | Neo-Noir
The Spectrum Collection – Covert Pistol
Estimated Price: $20-$350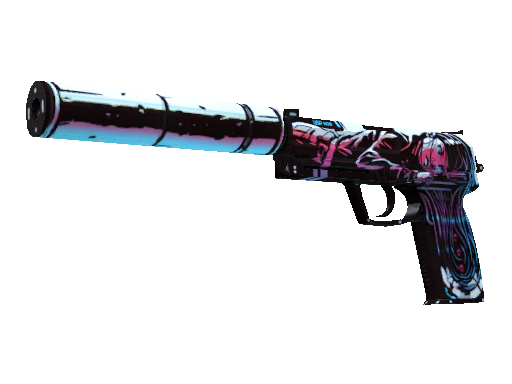 USP-S | Kill-Confirmed
The Shadow Collection – Covert Pistol
Estimated Price: $20-$1,300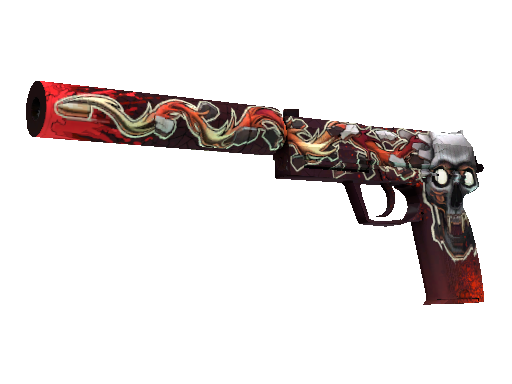 "It has been custom painted with the image of a bullet shattering a skull. 2 in the chest, 1 in the head."
---
The Asiimov Loadout
"It has been custom painted with a sci-fi design. Anyone can predict the future… a visionary shapes it."
AWP | Asiimov
The Phoenix Collection – Covert Sniper Rifle
Estimated Price: $20-$500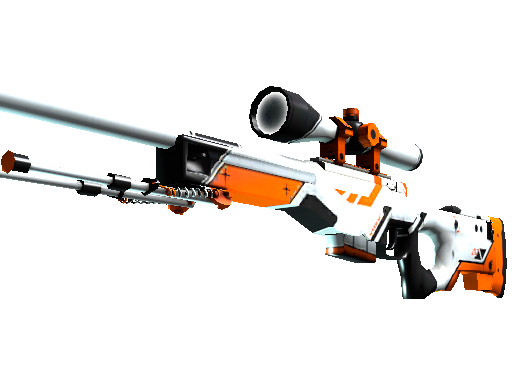 M4A4 | Asiimov
The Winter Offensive Collection – Covert Rifle
Estimated Price: $15-$300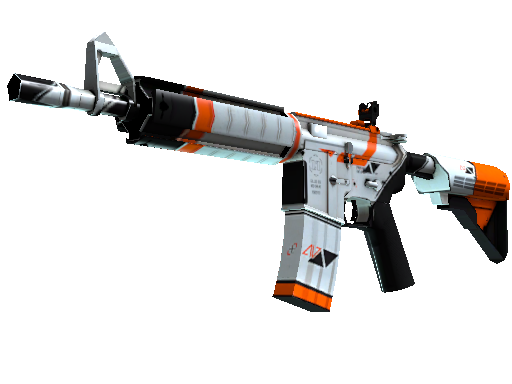 P90 | Asiimov
The Breakout Collection – Covert SMG
Estimated Price: $2-$160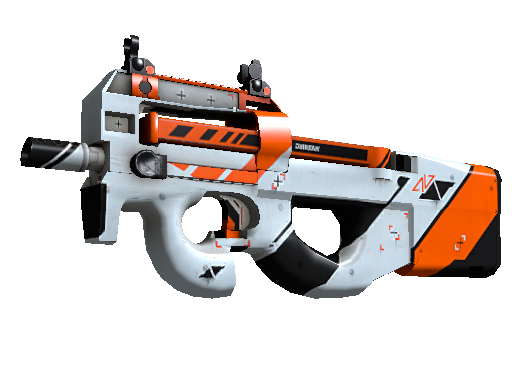 P250 | Asiimov
The Chroma 3 Collection – Classified Pistol
Estimated Price: $2-$100
---
The Hyper Beast Loadout
"It has been custom painted with a beastly creature in psychedelic colours. You really want to impress me, Booth? Make this black light sensitive – Rona Sabri, Rising Star"
AWP | Hyper Beast
The Falchion Collection – Covert Sniper Rifle
Estimated Price: $10-$300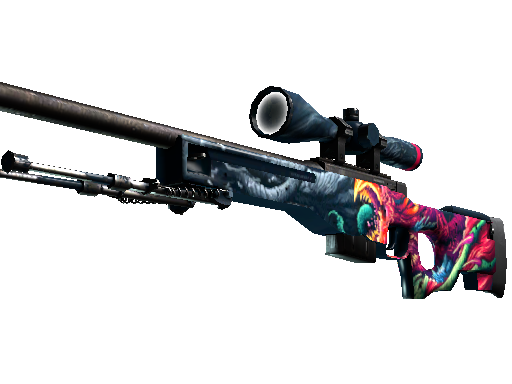 M4A1-S | Hyper Beast
The Chroma 2 Colection – Covert Rifle
Estimated Price: $8-$300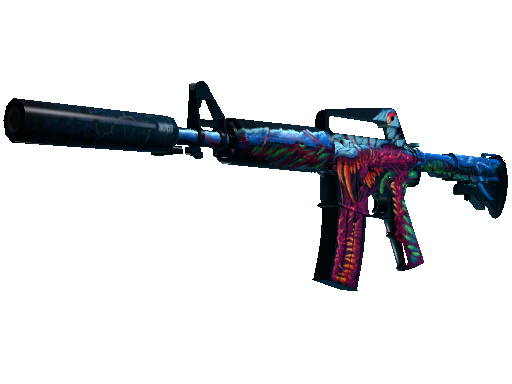 Nova | Hyper Beast
The Wildfire Collection – Classified Shotgun
Estimated Price $2-$20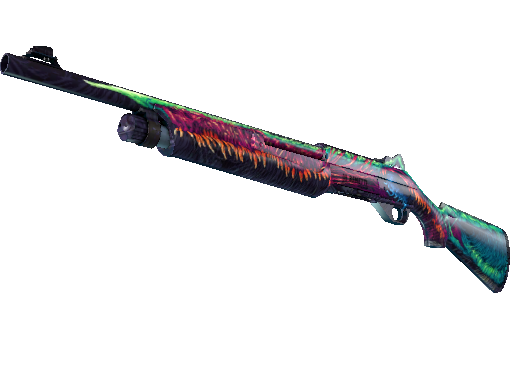 ---
The Fade Loadout
"It has been painted by airbrushing transparent paints that fade together over a chrome base coat. This isn't just a weapon, it's a conversation piece – Imogen, Arms Dealer In Training"
Glock-18 | Fade
The Assault Collection – Restricted Pistol
Estimated Price: $300-$700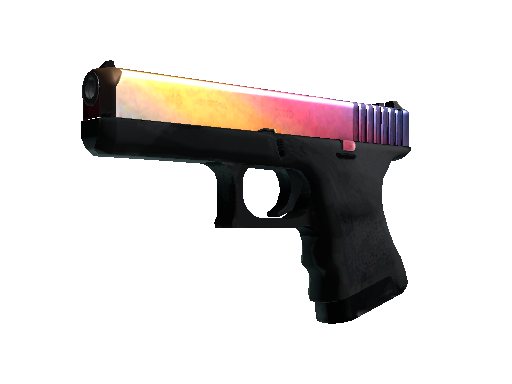 R8 Revolver | Fade
The Revolver Case – Covert Pistol
Estimated Price: $3-$250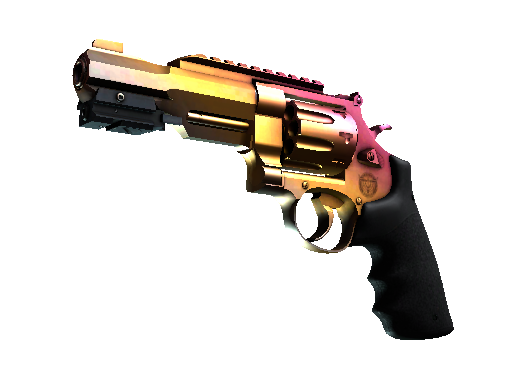 Mac-10 | Fade
The Chop Shop Collection – Mil-Spec SMG
Estimated Price: $2-$30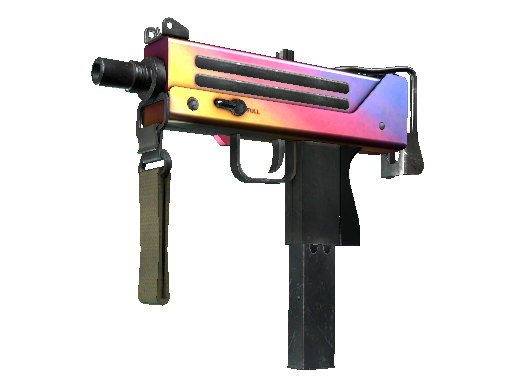 ---
The Blaze Loadout
"It has been painted by airbrushing transparent paints over a chrome base coat."
Desert Eagle | Blaze
The Dust Collection – Restricted Pistol
Estimated Price: $50-$200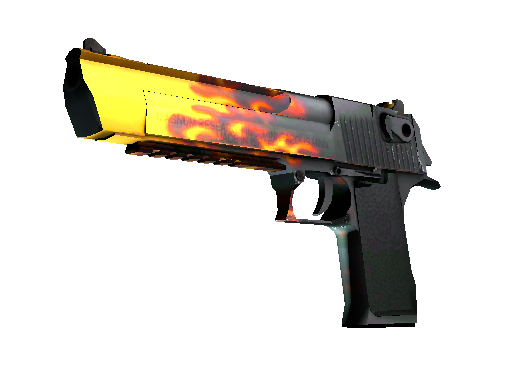 UMP-45 | Blaze
The Mirage Collection – Mil-Spec SMG
Estimated Price: $10-$130