One of the first major content updates of Call of Duty: Black Ops 4 is now live on PlayStation 4.
Black Ops 4 update version 1.09 can now be downloaded—it's a 15.3 GB file on PS4. Treyarch released the patch notes at 11:51pm CT, and now we know exactly what is in the latest update.
Related: The official CoD: Black Ops 4 Operation Absolute Zero trailer shows off the new Specialist, Zero, and Hijacked coming to Blackout
Multiplayer
Specialists
Prophet
Reduced Tempest ammo count from 14 to 10.
Firebreak
Purifier now more reliably connects with enemies.
Seraph
Increased Annihilator earn rate.
Custom games
Addressed an issue in Search & Destroy Custom Games with higher round limits ending after the 4th round.
Scorestreaks
RC-XD
Addressed an issue that prevented activating a second RC-XD after one was already used.
Drone Squadron
Start-of-round restriction timer is now applied to the Drone Squadron.
Gunship
Resolved an issue where some Gunship shots could impact the Gunship aircraft.
Miscellaneous
Addressed an issue where players with Diamond Camo equipped could face a different direction in third person.
Blackout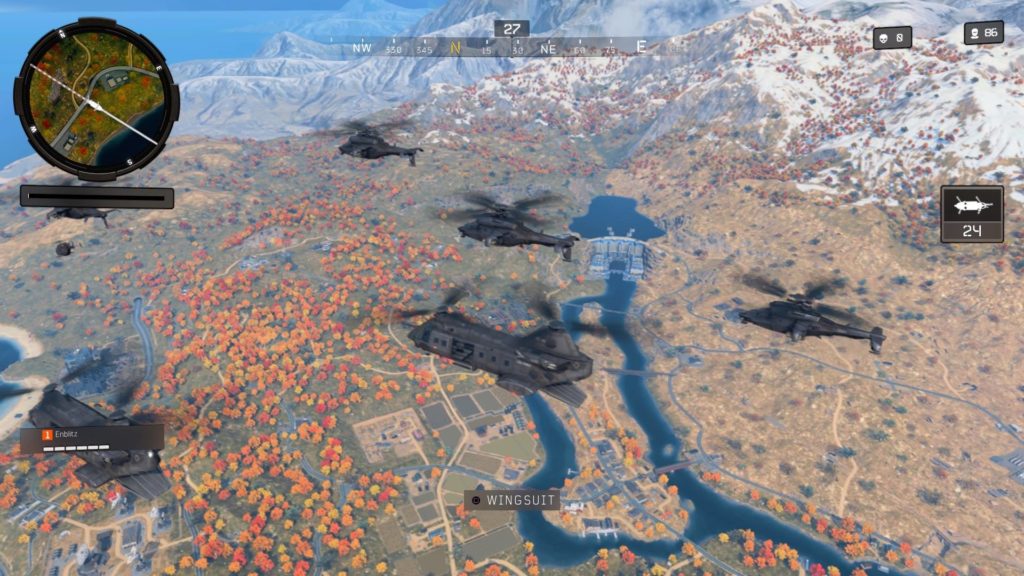 Audio
Changed occlusion levels to prevent situations that could make footsteps nearly inaudible.
Refactored occlusion code to properly occlude specific materials and buildings that were missing occlusion.
Terrain now occludes properly. Rebalanced the distances at which players can hear first hear someone approaching.
Unified distances related to certain movement types: For example, sliding should now be heard about the same distance as other player movement sounds.
Further lowered the first-person footstep volume that players hear themselves make.
Further lowered volume of teammates' footsteps.
Decreased first-person weapon audio slightly to balance with third-person weapons heard by others.
Armor redesign
Armor Plate locations
In enemy Death Stashes after destroying the Armor of an opponent.
In Equipment Stashes.
More rarely, on the ground as a lootable item.
Durability
Armor durability has been increased, allowing Armor to last longer through an engagement.
Armor durability indicators have been updated to display individual pips of Armor.
Damage mitigation
The percentage of damage that Armor mitigates has not been changed. As we monitor how these changes to Armor affect gameplay in Blackout, we will continue to evaluate damage mitigation values.
Map changes
Added seasonal changes to foliage and softer winter lighting across the entire map.
Expanded and improved upon boundaries on all sides of the map to be more consistent with the physical indicator of those boundaries seen inside the map
Weapon balance
SDM
Reduced damage.
Increased ADS time in and out.
Increased recoil.
Spitfire
Reduced damage.
Increased recoil.
Zombies
Added Daily Tier Skip credit for completing 15 rounds in a game of Classic Zombies each day.
Various crash fixes.
General
Warpaints can now be equipped with outfits across different Themes on the same Specialist without having to own a corresponding outfit.
Character Personalization menu updated to separate Outfits from Warpaints, with larger display of items.
Camos (Multiplayer & Zombies) and Reactive Camos (Multiplayer) obtained through the Black Market can now be equipped in the Weapon Personalization menu via the Black Market tab.
Reticles obtained through the Black Market can now be equipped in the Reticle Personalization menu via the Black Market tab.
Added ADS Sensitivity Options for both high zoom optics and regular weapons.
The new seasonal event, Operation Absolute Zero, is scheduled to begin tomorrow, Dec. 11. The event will bring a new Specialist, Zero, as well as a map and content update to the entirety of multiplayer and Blackout.