The NA VCT Stage Two Challenger Finals this weekend will feature an eight-team double-elimination bracket.
Some of the teams involved in the contest are Cloud9, Envy, 100 Thieves, Sentinels, and NRG.
The top two teams from the tournament will get an automatic spot in the VCT Stage Two: Masters Reyjavik at the end of May and all of the teams are fighting for their share of $100,000 in prizing this weekend.
The top team will get $40,000, while second place will earn $20,000. Placements below that will receive smaller and smaller pieces of the total prize pool.
All matches this weekend will be broadcast on one of Nerd Street's two official Twitch channels: www.twitch.tv/nerdstgamers and www.twitch.tv/nerdstgamers2.
Matches begin at 2pm CT on Thursday, April 29.
Bracket and schedule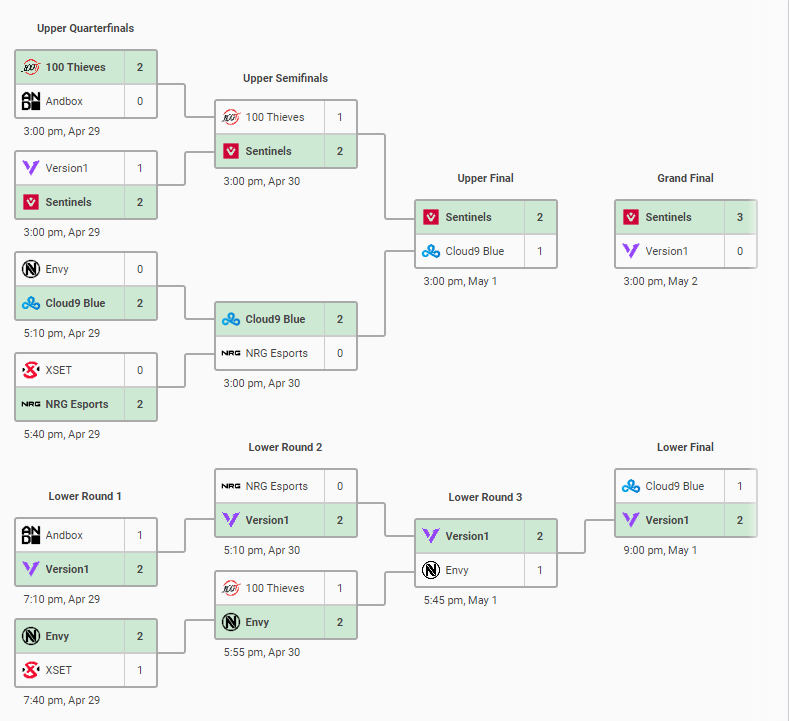 Scores and standings
Thursday, April 29
Upper bracket quarterfinals
100 Thieves 2-0 Andbox

13-9 (Ascent)
13-10 (Icebox)

Sentinels 2-1 Vesion1

4-13 (Ascent)
13-6 (Haven)
13-3 (Split)

Cloud9 2-0 Envy

13-7 (Haven)
13-9 (Ascent)

NRG 2-0 XSET

15-13 (Ascent)
13-6 (Bind)
Lower bracket round one
Version1 2-1 Andbox

13-4 (Haven)
10-13 (Ascent)
13-11 (Split)

Envy 2-1 XSET

13-11 (Bind)
10-13 (Ascent)
13-11 (Split)
Friday, April 30
Upper bracket semifinals
Sentinels 2-1 100 Thieves

13-11 (Haven)
3-13 (Icebox)
13-4 (Bind)

Cloud9 2-0 NRG

13-6 (Haven)
13-11 (Ascent)
Lower bracket round two
Version1 2-0 NRG

13-9 (Split)
13-6 (Ascent)

Envy 2-1 100 Thieves

13-11 (Bind)
8-13 (Ascent)
13-11 (Haven)
Saturday, May 1
Upper bracket finals
Sentinels 2-1 Cloud9

13-11 (Haven)
1-13 (Split)
13-6 (Icebox)
Lower bracket
Version1 2-1 Envy

13-10 (Split)
12-14 (Haven)
13-9 (Ascent)

Version1 2-1 Cloud9

13-5 (Haven)
5-13 (Ascent)
13-7 (Split)
Sunday, May 2
Finals
Sentinels 3-0 Version1

13-8 (Bind)
13-9 (Haven)
13-9 (Icebox)