A total of five rounds were played on day three of the Teamfight Tactics Fates World Championship and the title went to 8LJayWalking from Korea. 
The finals at TFT Worlds, which took place today, featured a different format from the first two days. The points were reset and players competed in a "checkmate format." The goal was to hit an 18-point threshold and then finish first in a lobby to earn the Fates World Championship title.
Related: TFT Fates World Championship: Standings, scores, and schedule
Heading into the fifth round of the day, a total of six players had passed the 18-point threshold. But 8LJayWalking banked $41,500 and the TFT Worlds title, earning the win with Kayle Adept.  
Representing Korea at TFT Worlds, SCSC and 8LJayWalking put the other players on notice in round one with a first and second-place finish. 8LJayWalking stumbled slightly in round two after coming in fifth and then hit rock bottom in round three with an eighth-place finish.
Heading into round four, ZyKOo was the only player eligible to win the tournament. He ended up taking an eighth-place finish instead, however, and it was 8LJayWalking who won the round four lobby with nine Dragonsoul/Slayer. 
Only Razza or Pas De Bol could prevent one of the six eligible players from earning the TFT Worlds title in round five. Pas De Bol went out in eighth but Razza was cruising toward a first-place finish with Dragonsoul Mage. ZyKOo was also gunning for a win, running what seemed like the best build—Samira Slayer with four Adept.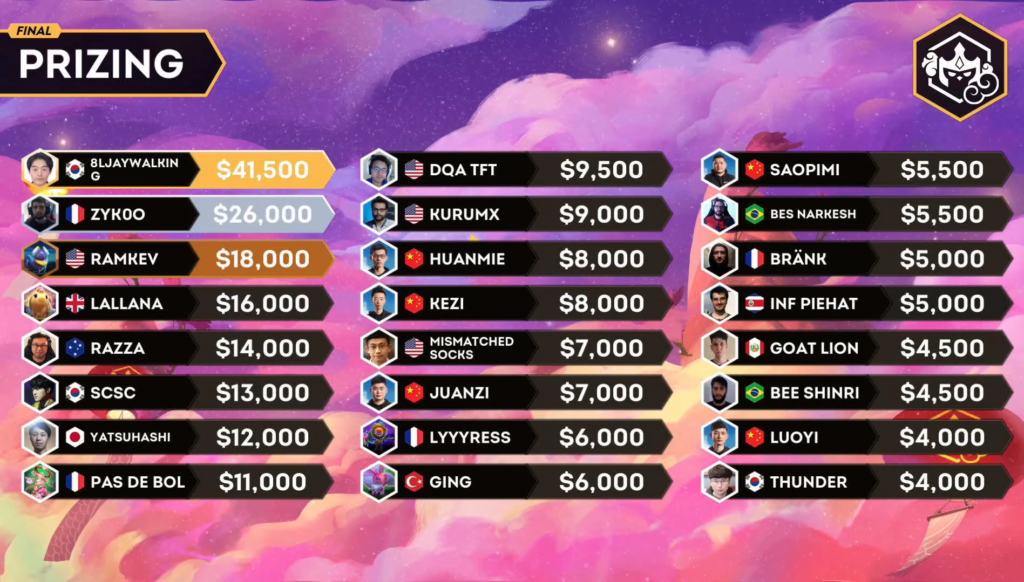 The championship title came down to matchmaking and positioning with Kayle gaining the upper hand over the other two players' builds. Kayle eliminated Razza and ZyKOo with a double kill and 8LJayWalking became the TFT Fates world champion.