Twitch had its third consecutive month of growth, setting another new record with 2.2 billion hours watched during May, according to Rainmaker.gg, StreamElements' analytics partner.
For comparison, year-over-year, Twitch has now seen a 37-percent growth, while Facebook Gaming has grown 23 percent to an average of around 400 million hours watched over the last five months.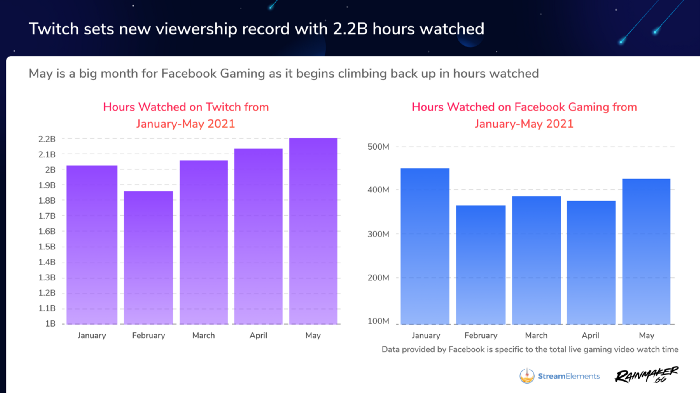 This milestone was reached despite Just Chatting actually experiencing its first decrease in month-over-month viewership in recent metrics, while games like Grand Theft Auto V, League of Legends, and VALORANT continue to pull massive numbers.
Just Chatting only dropped one percent in comparison to its April viewership, still sitting comfortably at the top of the leaderboards with 279 million hours watched. League was the only game to even come close with 250 million hours watched last month.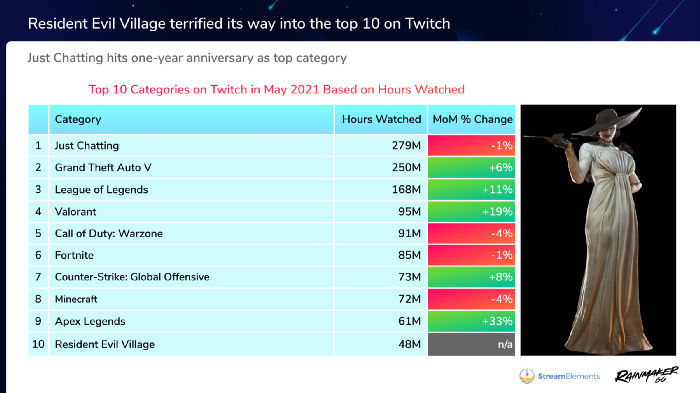 The lack of a major tournament saw Dota 2 drop out of the top 10 games, being replaced by Resident Evil Village, which surged onto the list at 48 million hours watched. Apex Legends also saw a strong increase in May, growing 33 percent overall to 61 million hours watched. 
For individual creators, xQc remains the biggest streamer on the platform with 39 million hours watched. Gaules, shroud, auronplay, and ibai rounded out the top five with 15, 13, 12, and 11 million hours watched, respectively.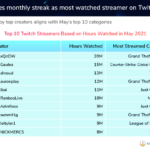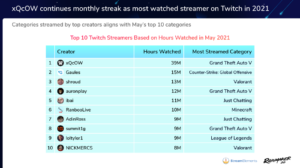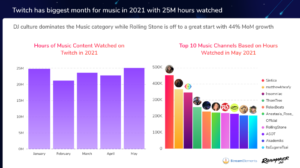 Twitch's music category saw a slight spike in viewership to 25 million hours watched in May thanks to "a trifecta of German DJs," Sintica, ThomTree, and Anastasia Rose.