Ubisoft is teaming up with Twitch Rivals today to promote the beta launch of its futuristic battle royale Hyper Scape for a $100,000 tournament loaded with well-known content creators.
With 21 teams of three players each, the first phase of tonight's event will have squads pub stomp for two hours and 30 minutes. Their top-three scoring games will be tallied up.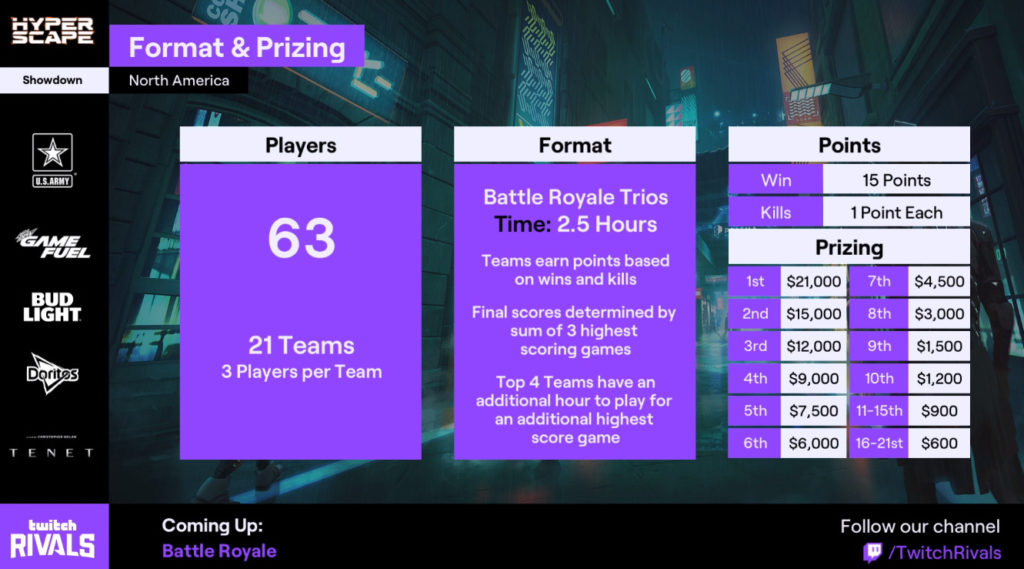 From there, the top four teams will play for 45 more minutes to try to get the highest-scoring game possible. The teams will finally be ranked based on their score from the first phase added to their score from the best game they played in the finals. 
To score points in a match, teams get one point for each kill they secure. In addition, teams get 15 points for winning a game. The tournament started at 4pm CT. Dot Esports will update this piece with scores and results throughout the evening as they become final.
Final scores
Team Tfue 264
Team Seagull 246
Team DrLupo 244
Team Aniemal 235
Team TSM Viss 182
Team Electra 157
Team Lil Lexi 157
Team SypherPK 155
Team FooYa 155
Team FATAL1TY 152
Team TheDanDangler 142
Team Sly 128
Team MacieJay 112
Team brofish 103
Team HCJustin 96
Team Missclick 95
Team Holo 85
Team BigCheeseKit 51
Team FeralWife 39
Team MsTeamKK 39
Team Caliverse 35