Thursday's monthly update to PlayerUnknown's Battlegrounds saw the inclusion of a whole bunch of new cosmetics, and players are already using the Steam marketplace to buy and sell some of the in-game items at crazy prices.
Two of the three crates, the Survivor and Wanderer crates, can be bought using Battle Points that are earned via playing the game. The third PUBG gamescom Invitational crate can also be purchased with BP, but they need a key to open them, and those keys are $2.50.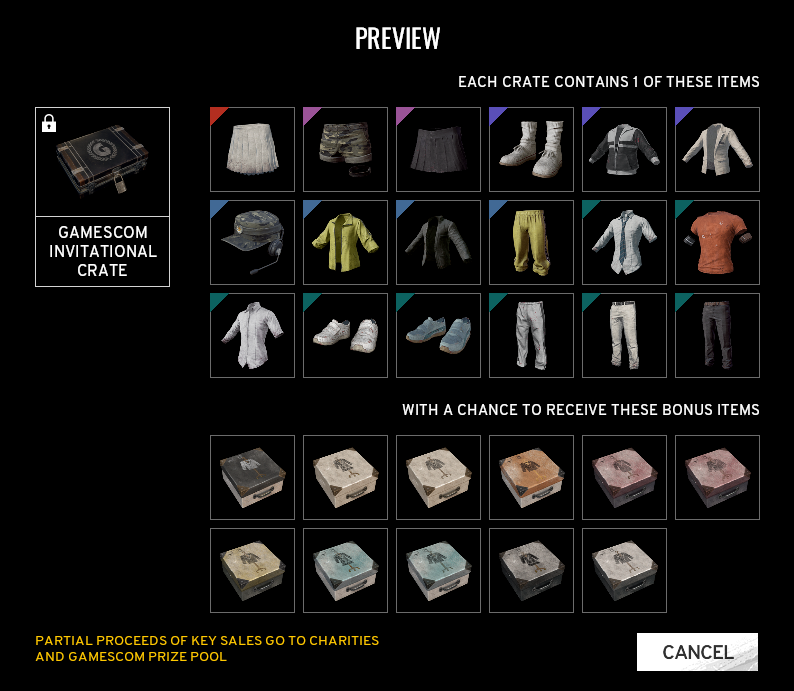 Each crate has a variety of items with a rarity level as seen above, with red being the rarest and green being the most common. These items can also be bought and sold on the Steam marketplace with real money.
On the first day of their availability, two items are easily the hottest commodities on the Steam marketplace. First is the purple mini-skirt from the Survivor Crate, which has an asking price starting at just under $600. The other piece is the blue hotpants from the Wanderer Crate, which starts out around $340.
Just like the default crates before them, there is a limit to how many can be bought in a week, at six apiece. The price of each of them goes up with each crate that is bought with BP, until the crates are reset every Monday.
The crates themselves can also be bought with real money on the Steam marketplace, and they are all going for around $3 or less. The Invitational crate will only be available through the length of the actual tournament, which takes place at the end of the month.
About the author