PlayerUnknown's Battlegrounds has passed yet another player milestone—one million concurrent players.
The game joins Dota 2 today as the only two games to ever reach these heights on Steam, leaving games like Counter-Strike: Global Offensive in the dust.
On Friday morning the game reached as high as 1,026,756 with the number still climbing. According to SteamCharts, Dota 2's record for concurrent players was 1,291,328 in March 2016.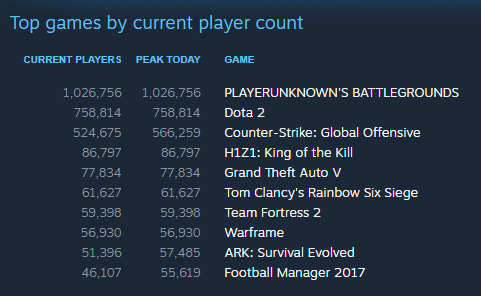 Dota 2 achieved this milestone years after its official release, while PUBG hasn't even been officially released yet. The game is still in early access—but boasts over 10 million sales, and now is in rarified air when it comes to player count on Steam.
Up next for PUBG is another early access update which will include first-person leaderboards, foggy weather conditions, and a brand new gun.
The game is still on schedule to be fully released before the end of 2017, and by that point, we might have a new king for concurrent player count on Steam.