PlayerUnknown's Battlegrounds Mobile has just received in-app purchases this week after it released in mid-March. But the early revenue numbers pale in comparison to its rival in Fortnite Mobile, according to a report by market analyst Sensor Tower.
According to estimates, players outside of China spent approximately $700,000 in the iOS version of PUBG Mobile. The report does not take into account Android sales since Fortnite is currently only available on iOS.
Comparatively, Fortnite Mobile made $3.7 million in the first week in the same set of countries during its first seven days on iOS. That means that PUBG Mobile's total revenue was about one-fifth of Fortnite's.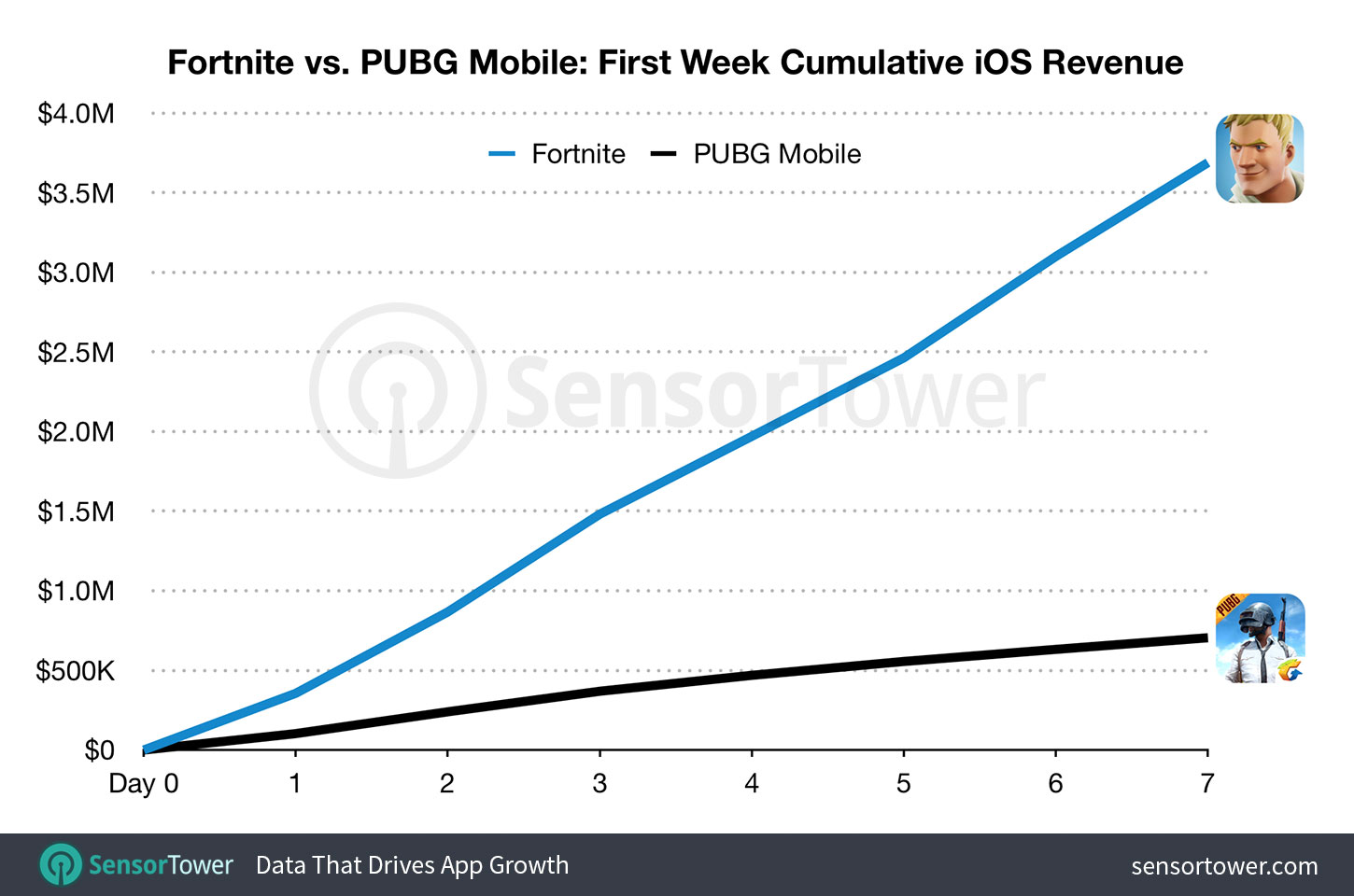 Sensor Tower said that about 48 percent of PUBG's revenue has come from the U.S., with the top five countries rounded out by Thailand (seven percent), Great Britain (five percent), Canada (four percent), and Russia (three percent).
What's even more impressive about Fortnite's first week numbers in comparison is that only 3.7 million users had downloaded the game in its first seven days. Meanwhile, PUBG had an install base of 22 million users by the time in-app purchases became available this week.
The report says the fact that Fortnite purchases carry over between mobile, console, and PC versions of the game undoubtedly helps in its ability to generate revenue, as players can play the same game on the same account across multiple platforms. PUBG Mobile is its own entity entirely and has no connection with the PC or Xbox One versions.
The two games offer skins in different ways, too, as Fortnite has limited time offers for direct purchase while PUBG generates most of its revenue through randomized loot boxes.
Whatever the reasons may be, Fortnite is continuing its dominance when it comes to the battle royale genre as it has now become more lucrative on mobile, too.