2017 has been the year of PlayerUnknown's Battlegrounds in many ways, but a new infographic shows that Fortnite: Battle Royale is gaining ground in the genre, at least when it comes to Twitch viewership.
Twitch livestreaming viewership data web site Gamoloco has compiled this infographic to show just how much momentum Fortnite has shown over the past few months.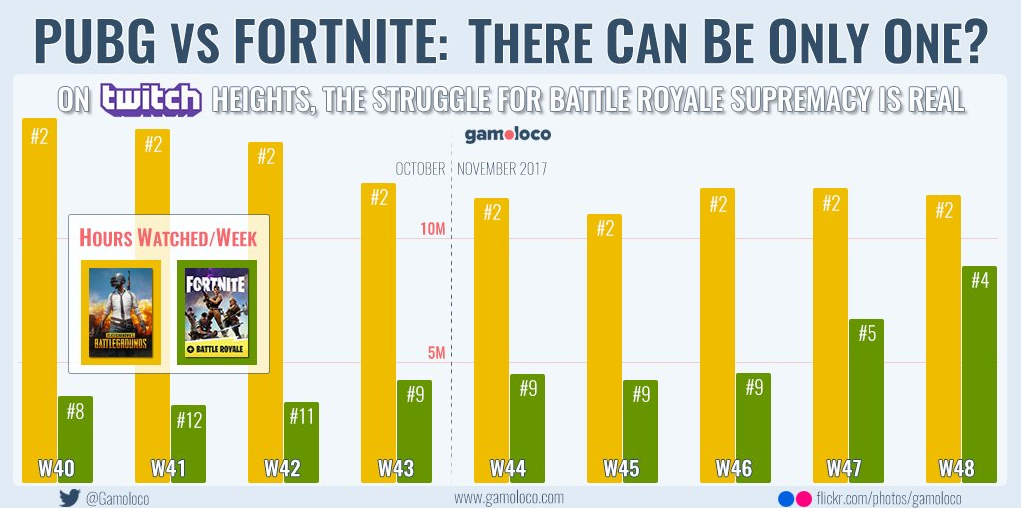 Going back to the first week of October, Fortnite was eighth when it comes to hours watched on Twitch. November is where the game really took off, however, as in the final week of the month, it moved all the way up to fourth.
Meanwhile, PUBG has held steady at number two the whole time, as it has been one of the year's most successful games in both sales and viewership. But the growing popularity of Fortnite can't be ignored, either.
Its success has been driven by a number of streamers, like Tyler "Ninja" Blevins and "Grimmmz" adopting it as their primary game instead of PUBG.
Fortnite does have a PvE mode, but a quick glance at the game's directory on Twitch will show you that people are all about watching the free-to-play Battle Royale mode instead.
The month of December will be important when it comes to the PUBG vs. Fortnite debate, as PUBG's 1.0 update will release. But the great news for both games is that the genre's popularity only seems to be growing.